Widening wage gap with Australia, rising inflation cause growing numbers of Kiwis to jump the Tasman. Your view?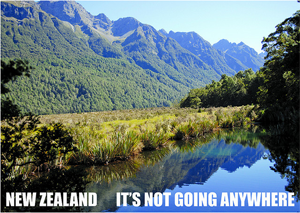 By Amanda Morrall
New Zealand's low wage economy may be attractive to foreign businesses looking to exploit a cheap labour pool, but as John Key and Bill English learned recently it's a sales pitch best made far offshore and well out of earshot of those Kiwis who have to make do with anemic salaries here.
Stagnating wages compounded by unrelenting cost of living increases are tempting otherwise faithful Kiwis, many in a state of perpetual bill shock, to leave home.
Australia is proving more irresistible than ever with average weekly wages 40% higher than Aotearoa.
(To calculate how you would fare in Australia check out our new calculator.)
National's attempt to mollify restless Kiwis with discounted tax rates is proving ineffectual amid skyrocketing food and petrol increases and 15% GST.
(For further analysis on why personal tax cuts have failed see Bernard Hickey's opinion piece here.)
In February, 3,908 Kiwis made the leap to Australia, bringing to 23,500 the running total of those who have left in the year to February.
(See Gareth Vaughan's article from April 13).
The trend has leading companies in New Zealand surveying the economic landscapes at closer range to determine whether it is possible to woo and retain high skill labour.
Global consultancy firm Mercer says demand for business analytics focused squarely on the problem has surged since the financial crisis.
Mercer's Anthony Shippard, a principal with the research house, said New Zealand businesses want to know if, and how, they can stay competitive as the economic powerhouse across the Tasman continues to flex its muscle.
Shippard said business can no longer afford to bury its head and pretend the growing threat and allure of Australia doesn't exist.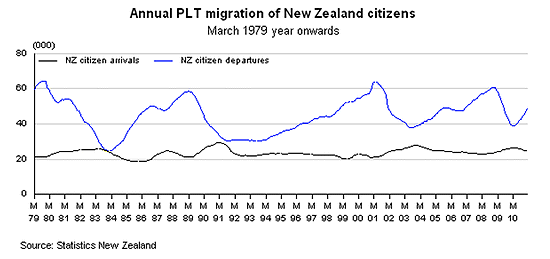 "They're looking at the issue and saying: `Okay, tell me where Australia is at exactly and then we have to take a decision as to whether we can compete with them or not,' but until they know where they stand, they're not making a call either way."
From a purely financial perspective, the outlook isn't so good, concedes Shippard.
According to Mercer's figures, executive salary increases are running around 3.5%, compared to average salary increases of 2.5%.
With consumer prices increases in the 3-4% range, Shippard said salaries are fast being outpaced by inflation, underscoring a pronounced difference between how Australia and New Zealand have weathered the global downturn and financial crisis.
"Australia has shown buoyancy on a global level and the price of the Australian dollar is a testament to that."
"NZ has had a different experience and has struggled a lot, and you can see that in the cost of living with the CPI numbers versus the wage increase. There's a big difference between how people's salaries are increasing versus the cost of living which is going up so dramatically, with dairy products leading the charge."
Costs of living?
Although, both Auckland and Wellington fared well in a recent international study measuring cost of living (click here to see highlights of Mercer's 2010 cost of living survey), placing 149th and 163rd respectively out of 214 cities in five continents in terms of expense.
Shippard said the benchmark U.S. dollar used to measure affordability yielded a somewhat misleading result.
(More more on NZ's ranking see Amanda Morrall's article here).
Auckland prices "extravagant"
"On a dollar for dollar basis, yes it did fare extremely well, but relative to average wage, prices in Auckland are quite extravagant."
If real wages and cost of living make a bad case for New Zealand, Shippard said the analysis would be incomplete without taking into account the more philosophical question of quality of life.
In his opinion, that's where New Zealand's best advantage lay and where business, in its appeal to both executives and rank and file employees, needed to beat its drum.
He admitted the effectiveness of the pitch would depend on personal circumstances and motivating factors.
"I suppose traditionally, the New Zealand market is more sensitive to losing its senior executives at the top end of the tree, and if those people are motivated purely by financial gain, then it's going to be very, very difficult to retain them because the New Zealand market just doesn't pay as much as Australia.
"But if those executives have other factors in mind, such as quality of life, raising a family, education, pollution, crime etc., New Zealand would appeal for the lifestyle."
Does flex time, camararderie make up for pay?
Shippard said businesses trying to tap that sentiment have increasingly been plying non-numeric work advantages as a reason to work and live in New Zealand.
Things like work place flexibility, holidays, professional development, and benefits outside of pay (like creche, parental leave, job-sharing) were among the options available to employers.
Compensation of this kind would naturally appeal more to families than singles, said Shippard.
"I would tend to suggest that if you have no ties then the financial lure of Australia would be stronger than if you had kids established at schools and things than if you were in Australia with kids."
Shippard said it was also important to bear in mind that, despite Australia's proximity, job titles alone did not guarantee a comparable experience in the workplace because of the scale of business in Australia, and the different dynamics that entailed.