Bridgecorp investors close to receiving first repayment almost 4 years after company's collapse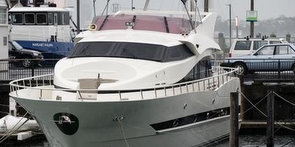 By Gareth Vaughan
Beleaguered Bridgecorp investors could soon get their first distribution from the failed property lender's receivers, nearly four years after the company collapsed.
PricewaterhouseCoopers partner and Bridgecorp receiver Colin McCloy told interest.co.nz the receivers hoped to shortly resolve the Inland Revenue Department's claims and would then be in a position to make a distribution to Bridgecorp's more than 14,000 secured debenture holders.
The IRD has lodged a NZ$3.9 million claim and McCloy says the receivers are working through a possible second claim from the taxman.
"Once we've resolved that position with IRD we'll write to investors and tell them what the position is," McCloy said. "I'd like to think we can resolve it shortly but I can't put a timeframe on it. It's beyond my control."
He wouldn't say how much investors might receive, saying this information would be disclosed in the letter to debenture holders. Bridgecorp had NZ$16.7 million of funds on hand at January 1 this year.
McCloy acknowledged that he was "sure" any distribution to investors would be very welcome and said he was confident there would be enough money left after any second IRD claim was cleared to make a payout.
The latest receiver's report from McCloy and his PricewaterhouseCoopers colleague Maurice Noone reiterates that Bridgecorp's 14,367 secured debenture holders are likely to get back less than 10 cents in the dollar of the NZ$459 million they were owed when the company was tipped into receivership by trustee Covenant Trustee Company on July 2, 2007.
Meanwhile, Bridgecorp investors have lost NZ$1.55 million on the luxury launch Medici, which was allegedly fraudulently acquired with NZ$1.8 million of Bridgecorp funds in a deal authorised by managing director Rod Petricevic.
The Medici has been sold by Bridgecorp's liquidators, Kevin Newson and John Scutter who were appointed in August 2008 by the High Court at the behest of the IRD, with the company receiving just NZ$250,000.
"It is anticipated Bridgecorp will receive approximately NZ$0.25 million after the payment of all associated costs," the receivers say.
The Serious Fraud Office (SFO) laid charges against Petricevic and Bridgecorp finance director Robert Roest last May including some stemming from the allegedly fraudulent acquisition of a luxury boat, the "Medici," purchased using Bridgecorp funds totalling NZ$1.8 million.
The SFO alleges Petricevic and Roest together ensured that Bridgecorp paid for the acquisition and operating costs of the Medici along with providing security for a loan to Poseidon Limited. It says ownership of Medici vested in Poseidon Limited, a company wholly owned and directed by Petricevic.
A total of seven SFO charges related to the Medici under the Crimes Act, and others alleging NZ$1.2 million of "dishonest payments" of Bridgecorp funds authorised by Petricevic to a business called ABb operated by Janita Wright, a personal acquaintance of Petricevic, are worth NZ$5.24 million and carry a maximum potential jail term of seven years. SFO cheif executive Adam Feeley says a court trial is set down beginning March 12 next year.
Petricevic, Roest, former Bridgecorp chairman Bruce Davidson, and two other ex-directors Gary Urwin and Peter Steigrad, separately face a High Court trial from July 4 involving charges brought against them by the Securities Commission, now Financial Markets Authority (FMA).
The watchdog alleges the directors made untrue statements in investment statements and registered prospectuses in December 2006. The statements concerned Bridgecorp's overall financial position, solvency, and liquidity which the FMA believes had been substantially deteriorating since June 30, 2006. These charges carry a maximum penalty of five years in jail or fines of up to NZ$300,000. Petricevic is seeking legal aid and his lawyer this week argued he could not pay his own fees because assets associated with him were held under trust.
Meanwhile, the receivers say they are continuing to actively pursue a number of potential actions against certain Bridgecorp directors and other parties in relation to their conduct prior to the receivership, and are working with legal counsel and government authorities to co-ordinate this. McCloy said he couldn't comment further on the potential legal action because anything he said could prejudice any legal action government authorities or the receivers might take.
See David Chaplin's piece at NZHerald for more on the Medici story from last year with a bigger picture
(Updates add detail about first payout nearing and SFO's court date).