Govt worried about record high NZ$ against US$, but good news accompanies the bad, PM Key says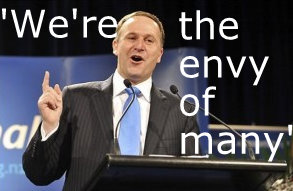 By Alex Tarrant
The Government has concerns about the high New Zealand dollar against its US counterpart, but the main reason for today's post-float high of 82.16 US cents is an inherent weakness in the US dollar, Prime Minister John Key says.
Speaking at his weekly post-cabinet press conference, Key expressed concern about the NZ dollar, but said there was a 'good news' story stemming from the high exchange rate as well.
"The reason in my view that the New Zealand dollar is trading at such high levels against the US [dollar] is because of inherent weakness in the US [dollar], it's because of the size of the [government] deficit in the United States of America and the enormous amounts of debt that economy is producing, and the fact that that debt is being funded through quantitative easing," Key told reporters.
"In the short-term that is proving to be very challenging," Key said.
Asked how much higher he thought the New Zealand dollar could rise, Key - a former currency trader - replied he did not know.
"Look you're in unchartered territory so that's of some concern," he said.
The good with the bad
There were good news/bad news parts to the story.
"For many of our exporters, there is an imported component of what they export, so that reduces that price. For New Zealand consumers, it takes the pressure off oil prices and imported goods, and for commodity-based exporters, life is a bit more bearable because obviously commodity prices have been high," Key said.
Those exporting to Australia were also benefiting through a low NZ$ against its Aussie cousin.
"But I think we all acknowledge that for the manufacturer that's in a non-commodity-linked area, selling into a US dollar-based market, these are levels that are not sustainable," Key said.
Key acknowledged that some of the perceived strength in the NZ dollar was also because of good news stories coming out of New Zealand, such as today's record monthly merchandise trade surplus of NZ$1.1 billion in April.
NZ 'the envy of many'
New Zealand was also the envy of many other economies, with its budget surplus track over the next three years.
"On one hand I think we delivered the budget that the international markets would say they would like to see in their own countries. At the end of the day we're returning to surplus, we're holding debt at under 30% of GDP, we're anticipating good wage growth and job growth," Key said.
"That's one of the reasons why I think New Zealanders by and large, notwithstanding the cuts they're having to make, are supportive of the budget," he said.
"But obviously we just have concerns about that very high New Zealand-US exchange rate."
Govt at fault as well?
Asked whether government was also partly responsible for demand for the New Zealand dollar by auctioning off large amounts of Treasury bonds, Key replied:
"Well, look, there's lots of ways of looking at this. The other argument you could say is we've been taking, I think, very prudent steps to get the books back in order and that's likely to see interest rates stay lower for longer.
"It doesn't mean there won't be a cycle, of course there'll be a cycle – as economic growth picks up, naturally you expect interest rates to rise," Key said.
"But we think relative to what is proposed by Labour, we can keep interest rates lower than them, and we're at lows that we haven't seen since 1964," he said.
"In the final analysis this is largely a US dollar story than a New Zealand dollar story. There are bits that are encouraging the international markets – that's a positive. As I say, New Zealanders will pay less at the pump than they otherwise would do, so that's the good news part of the story."
Key said it would not be appropriate to comment on whether the Reserve Bank of New Zealand should intervene in the currency markets to try and bring the New Zealand dollar back down, as the central bank was independent from the government.
(Updates with comments on govt influence, RBNZ intervention)