Hedge funds buying debt in private equity owned Metro GlassTech 'a very positive thing', says chairman Kim Ellis
By Gareth Vaughan
The bulk of Metro GlassTech's senior lenders selling out to hedge funds is a "very positive move"  providing some "fresh air" with new parties coming in to take the glass processor and distributor through a weaker than expected business cycle, chairman Kim Ellis says.
Bought by Australia's Catalyst Investment Managers in a leveraged buyout for NZ$366.2 million in 2006, Metro GlassTech's banking syndicate included underwriter BOS International, Sumitomo Mitsui Banking Corporation, ANZ, ASB's parent Commonwealth Bank of Australia, WestLB and Oversea-Chinese Banking Corporation.
The Australian Financial Review reported last month (see more here) that all bar WestLB had sold out at about 60 cents in the dollar with hedge funds, including Hong Kong-based SC Lowy, and Citibank the buyers. Catalyst bought Metro GlassTech, then Metropolitan Glass, from Aucklanders Andrew Smith, John Bedogni and Cameron Gregory who founded the firm in 1987 after outbidding Fletcher Building by about NZ$100 million.
'An uplift is coming'
Metro GlassTech chairman Kim Ellis, the former managing director of Waste Management, told interest.co.nz that he believed sweeping changes to who the company's senior debt holders were was a good thing.
"There has been quite a change in the syndicate, not total change," Ellis said. "These guys (hedge funds/the new debt holders) don't come in because a company is going down the tube. They buy in because they see a good future and whereas some of the banks retiring out of there (the syndicate) would have been there longer than they would have expected."
"So I think overall it's a very positive move that these guys have jumped in to take advantage of the uplift that's coming," Ellis added.
Aside from WestLB, Ellis said he believed one of the other senior lenders had retained its holding but wasn't immediately sure which one. Meanwhile, Crescent Capital Partners, another Australian private equity firm which bought about NZ$50 million worth of Metro GlassTech's subordinated debt at 80c in the dollar in 2008 which is now said to be technically worthless, also remains a holder.
Metro GlassTech's last annual report filed to the Companies Office shows bank borrowings of about NZ$275 million, annual finance costs of NZ$40.1 million and an annual loss of NZ$48 million compared with NZ$31.1 million the previous year. The company's reserves and retained earnings show NZ$104.78 million worth of preference shares reclassified from debt.
'Fresh air'
Ellis said some of the bank departures were due to overseas banks who, after the global financial crisis, didn't want to be in Australasia.
"So you get some fresh air, people coming in now new, who are coming in to take you through the (business) cycle," Ellis said.
He said Metro GlassTech's outlook for the rest of the 2011 calendar year wasn't great but things were looking better for 2012, with the rebuild of Christchurch after the earthquakes and a broader improving building outlook.
"I think the 2012 calendar year is looking really strong," Ellis said.
The latest Statistics New Zealand figures, for May, show annualised building consents for dwellings and apartments of just 13,917. That's the lowest May year figure since records began in 1966. It's also way down on the recent peak of 32,193 in the year to May 2004 and record high of 39,636 in the year to May 1974. See more here.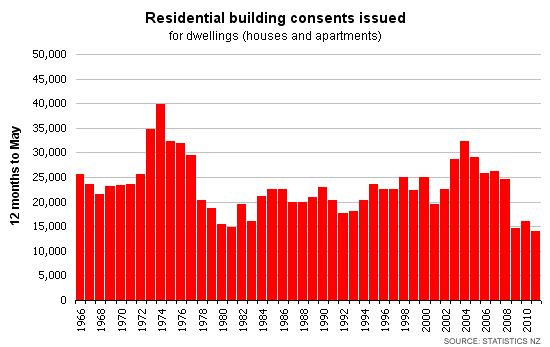 Over the next year Ellis said 4,000 to 5,000 consents could come out of Christchurch, which would make a big difference.
"20,000 plus (on an annualised basis) could be there very soon which is pretty useful," he said.
New residential building and commercial work was the bulk of Metro GlassTech's business but the firm was also getting a fillip from a rapidly growing, albeit small, amount of work fitting retro double glazing.
"We're putting a lot of effort into that while everything else is pretty quiet,' said Ellis. "You take the base load of houses in New Zealand and think what percentage of those are double glazed and there's a huge market out there and that's what happened in the UK. It's a matter of getting momentum so that the neighbours say 'aren't you double glazed, why not?' Ellis added.
Waste Management sold into a 'golden bubble'
Transpacific Industries, the Australian firm that bought Waste Management for NZ$870 million in 2006, recently wrote down the carrying value of the New Zealand firm by between NZ$180 million and A$200 million. Ellis, whose 13 year reign at Waste Management's helm ended with the deal, agreed the write-down reconfirmed it was a good one for Waste Management shareholders. He noted that when Waste Management's debt is added in, the company's enterprise value (EV) was more than NZ$1 billion.
"I like quoting the bigger one (number)," Ellis said. "It just crept over NZ$1 billion in EV. Less debt it was NZ$870 million which was the equity cheque paid for the shares. So I like to quote the billion dollar figure."
He added that everybody who sold at that time "sold into a pretty golden bubble and so valuations were inflated."
"That's what we're talking about now with Metro (GlassTech) and other companies," he added.
Ellis said, however, that Waste Management's board threw their support behind Transpacific's bid not because they thought it was necessarily being made at the top of the cycle, which as it turned out it was.
"We did feel that we'd run our course and the timing was pretty good."
This article was first published in our email for paid subscribers this morning. See here for more details and to subscribe.