'The government is not necessarily in a position to influence US FATCA', Revenue Minister Peter Dunne says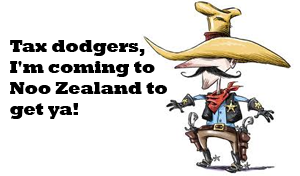 By Gareth Vaughan
Revenue Minister Peter Dunne says the government may not be able to exert any influence over the United States' Foreign Account Tax Compliance Act (FATCA), which has local banks spinning over what they say is the potential NZ$100 million cost of complying with it and its likely breach of New Zealand's Privacy Act.
Via a spokesman, Dunne told interest.co.nz that the government "would of course" be concerned about any regulation that would increase the cost of doing business in New Zealand.
"However, the government is not necessarily in a position to influence decisions made by a sovereign power about tax on funds flowing through its jurisdiction," Dunne said. "At this stage, the government is watching to see how the situation develops, and is communicating with taxpayers about the work it is doing on the issue."
As reported by interest.co.nz earlier this week, the New Zealand Bankers' Association, which represents all the country's banks, is working with its Australian, Canadian and British counterparts in an attempt to get the US government to alter proposals, due for introduction from January 1, 2013, it fears would cost the industry here NZ$100 million to comply with.
The Act targets tax dodgers by aiming to ensure there's no gap in the ability of the US government to determine the ownership of US assets held through foreign bank accounts. It will require financial institutions to collect information on US clients and relay it to the Internal Revenue Service  (IRS), the US taxman. They will have to withhold tax on customers who don't comply, and will be subject to a 30% withholding tax on their own income if they themselves don't comply.
This proposed new reporting and withholding regime is expected to impact current account opening processes, transaction processing systems and "know your customer" procedures utilised by non-US banks.
Tentacles with a long reach
Kirk Hope, executive director of the Financial Services Federation which represents finance companies and building societies, is worried about a "cascading effect" from FATCA down from the big banks to finance companies, fund managers, insurers and even into trusts, with the latter potentially considered captured for US tax purposes. Hope said there was potential for FATCA to force banks to breach both their duty of confidentiality to customers and the Privacy Act.
Deloitte tax partner Patrick McCalman said FATCA's tentacles could go a lot deeper than people probably realise.
"Clearly the big banks at the border realise they're affected by it and from there there's a knock on effect from the banks to finance companies and out to all New Zealanders," McCalman said. "Because what's going to happen to be compliant under this Act, you're going to have to search for people who might be US residents."
"So if you've got a US address, or a US birth place or standing instructions to remit stuff back to the US, you could be getting contacted by your bank and asked to prove that you're not a US citizen. There is a wealth of compliance in there."
How trusts get caught in the net
As for trusts, McCalman said the issue was the proposed FATCA definition of a foreign financial institution. When an American deals with a foreign financial institution they have obligations and that draws those financial institutions into the FATCA regime. They, in turn, have to disclose whenever they deal with another foreign financial institution.
"Then the question is well what's a foreign financial institution? The question that's in there is are there some trusts that could be caught because the definition of a financial institution is quite broad," McCalman said. "It includes: 'As a substantial portion of its business (it) holds financial assets for the account of others.' Clearly a trust by its nature is something which holds assets for the account of others."
So unless the regulations aren't clarified, potentially a number of local private and family trusts will have to enter into agreements with the IRS. Another issue is that although New Zealand's common law background, like Australia's and Britain's, sees trusts as a relationship with property rather than as an entity, US law sees them as an entity.
"So there's a slight conflict of law about how people see these things which needs to be clarified," McCalman said.
Banks and finance companies preparing for FATCA need to think about how they're going to deal with trusts, he added. Two issues were how you could get small financial institutions or trusts deemed complaint so they don't have to go through the US registration process, and whether the final FATCA regulations will clarify the position of trusts.
Other countries may follow US lead
 FATCA has already been passed into law with the US Treasury now tasked with making regulations to implement it. McCalman said at this stage the US Treasury has issued notices outlining its thinking with FATCA, meaning the proposals aren't yet set in stone. 
"But if we treat the notices as indicative of where the regulations are going to go, then there is a fair bit of work in there," said McCalman.
Meanwhile, McCalman said Deloitte was advising clients not to prepare just for a US FATCA regime. India was considering adopting a similar tax act and there's speculation other countries, potentially including Germany which is facing big bills due to the European sovereign debt crisis, could also follow suit.
"We're telling clients not to build a FATCA solution. Don't ask people if they're US residents, ask them where they're resident," said McCalman. "So if someone else comes into it then you've already collected that data."
Dunne said there were currently no plans for New Zealand to introduce rules similar to FATCA. He said New Zealand already has tools in place to track the movements of residents' funds overseas, and the recent increase in the number tax information exchange agreements with countries that previously had strict tax secrecy laws - have been viewed as tax havens - has increased that ability.
'We can't tell the US to get stuffed'
People suggesting New Zealand ought to tell the US to "get stuffed" on FATCA were naive, McCalman said.
"We couldn't tell them that on Sarbanes Oxley (an act that toughened auditing rules after the demise of Enron). We live in a global financial market and we've got to cooperate in that respect," said McCalman.
"You've got to remember these are the people that got the Swiss banks to hand over customer data."
That said, New Zealand authorities ought to try to synchronize the way local financial institutions report to the IRS with how they already report to the Inland Revenue Department. Banks here are also working to introduce anti-money laundering legislation and perhaps systems being put in place for this could also be synchronized with the US demands.
McCalman said no financial institution was going to get away with no FATCA related costs, rather it was a matter of trying to limit costs as much as possible.
"They (the government) need to say to the extent there are existing reporting structures how can we minimize the cost? Because to the extent banks or finance companies are spending money on this, then they're not spending it on something else."
This article was first published in our email for paid subscribers this morning. See here for more details and to subscribe.