BusinessDesk: SFO charges seven people with defrauding Motor Trade Finance of $4.9 mln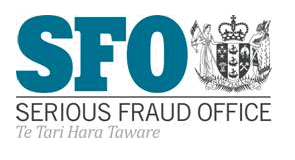 The Serious Fraud Office has charged seven people with defrauding car financier Motor Trade Finance of some $4.9 million.
The white-collar crime investigator has laid a total of 110 charges against a former MTF retail dealer and others for their role in illegally obtaining loans and using that cash for personal gain, it said in a statement.
Mark Whelan faces 25 individual and 41 joint charges for spear-heading the scheme, while Richard Barnett, [ suppressed by Court order ], Clark Lewis, Brett Donaldson, Steward Saunders and Karl Toussaint also face charges for their respective roles.
"These individuals have allegedly colluded together to defraud MTF, to the detriment of the business," SFO director Adam Feeley said. "Where we see instances such as this, in which any party is suspected of knowingly taking advantage of their role or association with a company, the SFO will take decisive action to ensure that those involved are held to account."
The SFO claims between July 2005 and February 2009 Whelan wrote a number of loans in the names of family, friends and associates using fake assets as security. In early 2009 the loans went into default and MTF was unable to find the assets for repossession. The SFO opened its probe in September last year.
Dunedin-based MTF reported a profit of $2.9 million in the six months ended March 31, up from $2.8 million a year earlier, and had a loan book worth $393.7 million as at March 31, down from $446.1 million a year earlier.
In July, the lender replaced long-serving chairman Roger Bonifant with Stephen Higgs, and appointed Stephen McKewen as an independent director.
MTF has $40 million of perpetual preference shares listed on the NZX's debt market, which last traded on Sept. 6 at 51 cents in the dollar.
BusinessDesk