PM Key says NZ govt will stay on track for 2014/15 surplus given Asian economies stay de-coupled from global turmoil; Lower NZ$ to help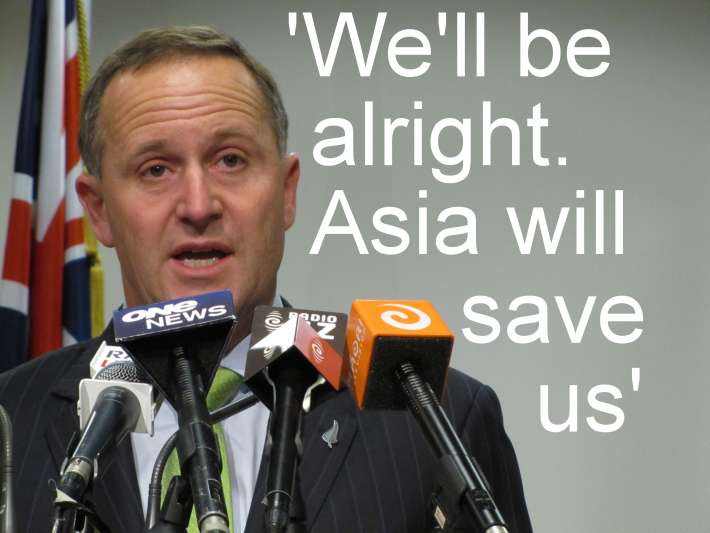 Prime Minister John Key thinks the government will be able to stick to its surplus and debt tracks if Asian economies stay de-coupled from the economic turmoil in Europe and the United States, following figures showing the New Zealand economy was stagnant in the second quarter this year.
He said a slightly lower currency would help. The New Zealand dollar has fallen from a record post-float high over 88 US cents at the start of August to just under 78 US cents this morning.
GDP figures released by Statistics New Zealand last week showed the economy expanded 0.1% in the June quarter from the March quarter, following 0.9% growth in the March quarter.
Speaking on TVNZ's Breakfast programme this morning, Key noted Stats NZ had upgraded first quarter growth from 0.8% to 0.9%, and said the Reserve Bank and Treasury were more optimistic about the second half of the year due to the effect of the Rugby World Cup.
The Christchurch rebuild was being pushed back as demolition took place, but it was shaping up to be a big boost to growth next year, Key said.
"Overall, if you look at our economy, we're starting to get back on that track to get back into surplus, our debt level's much lower than the Eurozone, we're growing," he said.
Key said he thought the government would be able to stick to its track to surplus in 2014/15.
"If you look at our economy overall, we're producing some great numbers. We have grown eight of the last nine quarters," he said.
"It's going to help with a slightly lower exchange rate that's taking place at the moment - if that can be there for a bit longer it will help our export sector. The big challenge for New Zealand – it's the same one that Australia faces – is will Asia stay de-coupled from Europe and the United States?" Key said.
There was a good chance that Asian growth would stay de-coupled from the turmoil hitting Western economies, he said.
"The general view, Bill English was saying to me, from the IMF and the World Bank is that China will continue to grow at 8-9%. If that's the case, then Australia stays strong. And if China stays strong and Australia stays strong, they're our two biggest markets, and that helps us," Key said.
'Markets honing in on those in trouble'
Meanwhile, speaking to Mike Hosking on Newstalk ZB, Key said there was certainly tightness again in international markets, and real concern about some countries and lending institutions, with the liklihood of a Greek default rising.
Markets were being more specific about who and what they focussed on, he said. In 2008 there was a blanket view that lending markets were closed, whereas now markets were honing in on those banks and countries that were more risky.
"The good news from New Zealand's point of view is we're in much better shape than a lot of other countries," Key said.
New Zealand's borrowing requirements were "very low," and, significantly lower than they were even last year, he said.
'We've got a plan'
On Breakfast, Key said the government's economic plan, which included infrastructure spending and changes to the tax mix, meant New Zealand would become more competitive and put it in a better position to handle the global troubles.
"You've got to accept that we're an export-facing economy, and if the rest of the world slows down, of course that will have some impact on us. That's what's happening in Europe and the United States," Key said..
"But if you look at the plan that we've had, that plan's been very, very strong, actually. Whether it's been rolling out infrastructure and making sure that we are competitive, the tax system that we've got," he said.
"We've got interest rates at a 45-year low – we've been taking pressure off the Reserve Bank there. A plan to get back into surplus. All of those strong macro-economic policies make New Zealand competitive. Most countries would trade their right arm, actually, for our position that we have at the moment, which is, one of the best performing economies out there. We're growing, others are not."
(Updates with comments on Newstalk ZB)