BusinessDesk: Papandreou calls off referendum, Draghi cuts ECB rate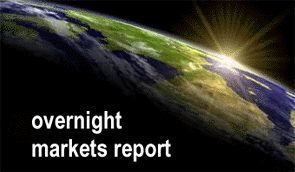 Stocks on Wall Street and in Europe rose after an unexpected interest rate cut by the European Central Bank. Meanwhile, Greek leader George Papandreou bowed to pressure by Germany and France to shelve plans for a referendum on the latest bailout package for the beleaguered country.
Papandreou called off his plan to hold a referendum on Greece's new loan deal with the European Union, the New York Times reported. The Greek prime minister made his comments in an address to his party's central committee on Thursday evening.
"The question was never about the referendum but about whether or not we are prepared to approve the decisions on October 26," Papandreou said, referring to the EU debt deal, the Times reported. "What is at stake is our position in the EU."
Investors welcomed the news on a day they already applauded a surprise reduction of borrowing costs in the euro zone.
In his first act as president of the European Central Bank Mario Draghi cut the benchmark interest rate to 1.25 percent from 1.5 percent showing that he prioritises reviving a faltering economy as the euro zone's fiscal crisis drags on. The cut was a unanimous decision by the central bank's 23-member Governing Council, Draghi said.
In Europe, the Stoxx 600 Index ended the day with a 2.1 percent gain, recovering from losses earlier in the session.
In afternoon trading in New York, the Dow Jones Industrial Average advanced 1.36 percent, the Standard & Poor's 500 Index climbed 1.31 percent and the Nasdaq Composite Index rose 1.51 percent.
"Right now the market just reacts to whatever rumour and whim is out there, going back and forth. What is Greece going to do? What is Germany going to do? What is Merkel saying, what is the meeting doing?" Cliff Draughn, chief investment officer at Excelsia Investment Advisors, told Reuters.
"Sooner or later Europe will solve the problem. There is going to be some pain in between, but they will solve the problem," Draughn said.
Gains on equity markets lowered the appeal of US Treasuries. Yields on 10-year notes climbed seven basis points to 2.06 percent while those on 30-year bonds rose eight basis points to 3.10 percent in early afternoon trading in New York, according to Bloomberg.
"We're seeing pressure on the long end because of positive developments out of Greece and the ECB cut provided a boost of the equity markets," Dan Mulholland, a Treasury trader in New York at RBC Capital Markets, told Bloomberg News.
"With the market already trading at lower yields than it should be based on fear that the European situation could escalate even worse, we're seeing pressure on the long end. We also have supply next week," Mulholland said.
For now, the euro benefitted from the cautious optimism, strengthening 0.8 percent to US$1.3850 in New York afternoon trading. It had dropped as much as 0.7 percent earlier in the day.
Even so, gains will likely be limited as there are plenty of economic and fiscal hurdles ahead, analysts said.
The ECB's Draghi today also signalled expectations that the region's economy will get worse before it gets better.
"What we are observing now is ... slow growth heading toward a mild recession by year-end," Draghi told a news conference, according to Reuters. "A significant downward revision to forecasts and projections for average real GDP growth in 2012 [is] very likely."
(BusinessDesk)