Trade Me releases 257 page prospectus for float to raise NZ$363.5 mln at NZ$2.70/shr. Your thoughts on the detail?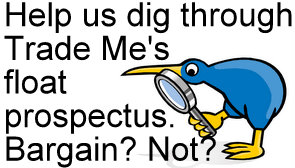 By Bernard Hickey
Fairfax Media has released the 257 page prospectus for its float of Trade Me on the New Zealand stock market to the Companies Office this afternoon.
It shows New Zealand's biggest online retailer forecasting 12% revenue growth next year, 10% profit growth and a 5.1% cash dividend.
Fairfax Media is selling 134.6 million shares at NZ$2.70 a share to raise NZ$363.5 million, including the sale of up to 7.6% of the company to Trade Me and Fairfax staff, Fairfax shareholders and very active Trade Me members.
Of the 30% of Trade Me up for sale in the float, more than half the shares will go to retail investors through New Zealand brokers.
The prospectus also details issue expenses of NZ$11.8 million to be paid to brokers, including fees of 2.5% to the underwriter UBS, and up to 1.5% to brokers, co-lead managers and co managers (Craigs Investment Partners, Goldman Sachs, First NZ Capital, Forsyth Barr, Direct Broking and ASB Securities)
Fairfax Media will retain 66% of the shares after the initial public offering (IPO) or float of the shares on the NZX.
There are 118.8 million shares issued to institutions (fund managers) directly and to retail investors indirectly through brokers, including co lead managers  Craigs Investment Partners, Goldman Sachs, First NZ Capital and Forsyth Barr and Co managers Direct Broking and ASB Securities.
There was no breakdown immediately available showing how much would go to institutions and how much to retail investors. There are 15.5 million shares allocated to Trade Me and Fairfax employees, and to 28,000 eligible Trade Me members, who will be notified by email within the next day.
The prospectus shows Fairfax Media opens the offer on November 17 and closes it on December 6, before starting trading on December 13.
The prospectus includes forecasts for pro-forma earnings per share of 17.3 cents per share in calender 2012, up from 16.4 cents per share in the year to June 30, 2012.
It also forecasts dividends of 13.8 cents per share in calendar 2012, up from 6.8 cents in the year to June 30.
This implies a cash dividend yield to the offer price of 5.1% and a gross dividend yield (after imputation credits at a company tax rate of 28%) of 7.1%.
Trade Me said it planned to pay out 80% of its profits at 6 monthly intervals, "subject to its  outlook and liquidity requirements."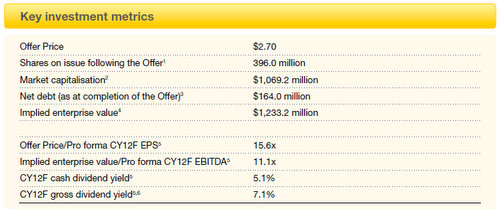 The forecast points to an implied market capitalisation at the offer price of NZ$1.069 billion and total revenues of NZ$154.1 million in calendar 2012, up from NZ$144.8 million in the year to June 30, 3012 and an historical NZ$128.8 million in the year to June 30, 2011.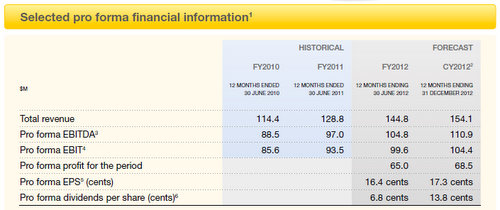 The directors will be Trade Me founder and Fairfax Media director Sam Morgan, former Fairfax Media CEO David Kirk, Fairfax Media General Counsel Gail Hambly, Fairfax Media CEO Greg Hywood and independent director and former KPMG partner Joanna Perry.
Trade Me elegible members would be included in the 'Priority' offer of 15.5 million shares to Trade Me and Fairfax NZ employees, as well as Fairfax shareholders.
These members include:
The Trade Me Member Offer is made to Eligible Trade Me Members, being either:

• enabled members of Trade Me's online business website with a feedback rating of at least 500 as at 28 October 2011; or

• enabled members of the Top Seller Programme as at 28 October 2011; or

• enabled members who have qualified twice for the Top Seller Programme in the period between 28 June 2011 and 28 October 2011.  
Trade Me will have NZ$166 million of debt once restructured and floated. The loan is from Commonwealth Bank of Australia from a total unsecured facility of NZ$200 million.
The covenants on the loan include that the debt must not be more than 2.5 times EBITDA and that EBITDA must be at least 3.25 times Trade Me's net interest payments. The prospectus lists goodwill at a value of NZ$721.6 million.
The float is being underwritten by UBS NZ and Trade Me's ticker will be "TME"
Trade Me's non executive Chairman David Kirk said the float was a great "next step" for Trade Me.
"The website Sam Morgan started back in 1999 has evolved to become the leading online marketplace and classified advertising business in New Zealand, but more important than that it's firmly established as a liked and trusted Kiwi brand. This IPO is going to give Trade Me's community of 2.8 million members an opportunity to own a slice of a website they know and use," Kirk said.
'Financial flexibility'
Kirk said Trade Me would have increased access to capital and more financial flexibility once listed.
Trade Me CEO Jon Macdonald said he was looking forward to leading the new publicly listed Trade Me.
"The one thing about this business is that it is constantly changing, and this is another exciting step in Trade Me's evolution. However, it's important to point out that the way Trade Me works, and our focus on providing a safe and trusted marketplace for Kiwis to buy and sell will remain the same," he said.
Trade Me expects to achieve earnings before interest, tax, depreciation and amortisation (EBITDA) of NZ$110.9 million in calendar 2012, which would be up 10% from the current year.
Fairfax Media said in a statement to the Australian Stock Exchange about 30% of the 118.8 million available after the priority offer have already been allocated to institutional investors and brokers after a 'bookbuild' process whereby UBS guaged interest from fund managers.
It said about 75% of the shares allocated in the bookbuild had been allocated to New Zealand institutions and brokers.
There is no general offer so any 'Mum and Dad' retail investors will have to buy through of of the co-managers or co-lead managers.
'Defamation action'
Page 111 of the prospectus (pending proceedings) detailed a legal action by Joe Karam, the former lawyer for David Bain, alleging defamatory were published on Trade Me forums by Trade Me members.
"It is alleged that that Trade Me is the publisher of those statements and may be held liable accordingly," the prospectus said.
Court hearings are expected in 2012 unless the matter is settled before then. Trade Me said "any damages would be at the discretion of the court."
There is more information at at ipo.trademe.co.nz
(Updated with more detail from prospectus, news release, including fees, more than half banker for loan and Karam defamation action)
Disclosure: Interest.co.nz has a business relationship with Trade Me. Advertising on Interest.co.nz is sold through Trade Me's advertising sales team, which receives a commission. Also, Bernard Hickey was a member of Trade Me's advisory board in 2007 when employed as Fairfax Media's Head of Digital for NZ.
Here is the full prospectus below hosted on Scribd:
We welcome your comments/analysis in the comments below.