BusinessDesk: 'It isn't a surprise to see GDP slow, given some of the economic issues out there, but still this is not a good number'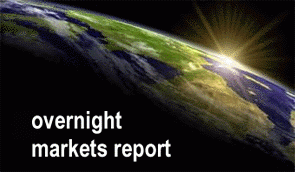 Equities declined after a downward revision to the pace of US economic expansion in the third quarter and as borrowing costs in the euro zone rose yet again.
In afternoon trading in New York, the Dow Jones Industrial Average fell 0.74 percent, the Standard & Poor's 500 Index lost 0.78 percent and the Nasdaq Composite Index declined 0.66 percent.
Among the biggest losers today was Hewlett-Packard, shedding 4 percent, after its outlook for 2012 fell short of expectations.
The US economy expanded at a more sluggish pace in the most recent quarter than previously estimated. GDP increased at 2.0 percent annual rate in the July-September quarter, down from the previously reported 2.5 percent.
"It isn't much of a surprise to see GDP slow down, given some of the economic issues out there, but still this is not a good number," Peter Tuz, president of Chase Investment Counsel in Charlottesville, Virginia, told Reuters.
"That said, given how far we've fallen, and how little volume there is out there, a rebound isn't unexpected."
And there were positives in the data, too. While the revision fell short of economists' expectations for a 2.5 percent pace, the makeup of the GDP report was reason for optimism about the outlook.
"The mix or composition of growth improved. Inventory investment was lower so firms are more likely to produce more goods going forward. And exports rose," Cary Leahey, a senior economist at Decision Economics in New York, told Reuters.
On another bright note, S&P and Moody's maintained their US credit ratings even as Congress's special debt-reduction committee failed to reach an agreement.
In Europe, the Stoxx 600 Index ended with a 0.5 percent drop.
Borrowing costs in the euro zone rose yet again as investors demanded a higher risk premium.
Spain sold three-month bills at an average yield of 5.11 percent, more than twice the rate at the previous auction a month ago. The Spanish Treasury today also sold six-month bills at 5.227 percent, up from 3.302 percent last month.
Belgium also saw its bond yields rise, bolstering concern the credit crunch is spreading further throughout the euro zone.
The premium investors demand to hold Belgian 10-year bonds instead of benchmark German bunds jumped 26 basis points to 317 points after Belgium's coalition talks were suspended as Elio Di Rupo offered to resign from leading the negotiations, according to Bloomberg.
And in Greece, the yield on the two-year note yield soared 129 basis points to 113.36 percent.
"We don't have any new bazooka to pull out of the bag," Michael Meister, finance spokesman for German Chancellor Angela Merkel's Christian Democratic bloc, said in Berlin today.
Meanwhile, Bundesbank President Jens Weidmann rejected European Central Bank intervention to buy government bonds or joint issuance of euro zone debt, according to Reuters. He made the comments in a speech to employers in Berlin.
"[The ECB] would overstretch its mandate and call into question the legitimacy of its independence by accepting a role of lender of last resort for highly indebted member states," Weidmann said.
"Whoever believes that the current crisis can be overcome by giving up crucial principles of stability orientation, pushing current legislation aside, is wrong," he said, adding he did not believe either Spain or Italy would need financial rescues.
(BusinessDesk)