NZ lends NZ$87 million via IMF to bail out Portugal and St Kitts and Nevis; May have to help bail out Columbia and Serbia too; Total IMF bill could hit NZ$3.2 bln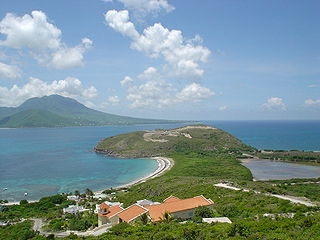 By Alex Tarrant
New Zealand has lent NZ$87 million to the International Monetary Fund (IMF) since May for financial assistance packages the Fund has in place for troubled European Union nation Portugal and tiny Caribbean nation St Kitts and Nevis.
That figure is set to rise as both those countries have not yet fully drawn the funds available to them. On top of this, New Zealand may also be required to lend money to Columbia and Serbia under loan arrangements those two nations have with the IMF, but which they have not yet drawn down on.
Total lending through the IMF by New Zealand could top NZ$3.2 billion by late next year if the IMF is forced to draw on all its funds and calls on New Zealand. However, New Zealand is not committing as much as it could and its ownership share of the IMF is falling as developing nations led by China seek a bigger role in the IMF.
Meanwhile, New Zealand's quota with the IMF will increase by an estimated 40% from October 2012 to an estimated NZ$2.54 billion as part of a 2010 review and commitment by the IMF to double the total funding available to it from member quotas to 478.8 billion Special Drawing Rights, (currently equivalent to US$733 billion).
At the same time, a line of credit arrangement New Zealand has with the IMF, called the 'new arrangements to borrow' (NAB) facility, is set to be reduced from NZ$1.3 billion currently to an estimated NZ$690 million. The changes to the quota and NAB arrangements will mean New Zealand's shareholding in the IMF will fall from 0.38% currently to 0.26% from October 2012, meaning the government will have less say in the activities of the Fund.
New Arrangements to Borrow
New Zealand's lending to Portugal and St Kitts & Nevis is disclosed on the IMF's website as loans made through the Fund's 'new arrangements to borrow' (NAB) facility, a 370 billion Special Drawing Right (SDR - effectively the IMF's currency), or US$579 billion, line of credit arrangement the IMF has with 40 countries from the developed and developing world.
New Zealand's government agreed in April 2010 to lend the IMF up to 624.34 million SDR, currently worth about NZ$1.3 billion through the NAB facility. This followed an expansion of the NAB by tenfold from US$50 billion, which was agreed upon by the Group of 20 (G20) nations in 2009 and approved in early 2010.
The line of credit arrangements with those 40 nations and the IMF was in case the Fund needed to access resources above its regular quota funding. New Zealand's IMF quota is currently equivalent to NZ$1.8 billion.
See earlier article: Risk of IMF calling on NZ$1.3 bln loan from NZ govt to help with Euro crisis rising, as rumours swirl of Italian bailout too big for the IMF's coffers.
The NAB is activated for periods of a maximum of six months, with the most recent activations in April 2011, and again in October 2011. The IMF can draw on the NAB credit lines to fund any 'General Resources Account' (GRA) financing needs for arrangements or outright purchases approved during a NAB activation period.
Following the activation in October, 322.9 billion SDR worth of funding was available to the IMF from the NAB facility. 
Not bailing out Greece through NAB loans
NAB financing can be used in conjunction with IMF quota funding for an arrangement approved during an activation period.
This means New Zealand would not be contributing through the NAB facility to IMF bailouts for nations like Greece and Ireland, as these two nations' arrangements were approved before a NAB activation period.
See table 2a here showing IMF arrangements with nations through its General Resources Account. Effective dates in bold represent arrangements approved during a NAB activation period (Portugal, St Kitts & Nevis, Columbia, Serbia). These commitments total a possible 28.6 billion SDR.
New Zealand's quota funding to the IMF may be in use for other arrangements, although the IMF does not disclose this information.
See an explanation on the NAB facility here.
Bailing out Portugal, St Kitts & Nevis
Disclosure on the IMF website shows GRA financial assistance financed by NAB borrowings was 4.2 billion SDR in the second quarter of 2011, and 2.6 billion SDR in the third quarter of the year, totalling 6.8 billion SDR.
Since the April 2011 NAB window was opened, the IMF has approved GRA arrangements for Columbia (effective May 6, 2011), Portugal (effective May 20, 2011), St Kitts & Nevis (effective July 27, 2011), and Serbia (effective September 29, 2011).
Serbia and Columbia have not yet drawn upon their IMF arrangements for loans up to 935 million SDR and 3.87 billion SDR, respectively.
St Kitts & Nevis was approved an arrangement of 53 million SDR, from which it has accessed 23 million SDR worth of funding.
Portugal was approved access to up to 23.742 billion SDR of IMF assistance as part of a joint IMF/EU financing package for the troubled European Union member in May. See the IMF's overview of the Portuguese package here.
IMF figures show that to December 15, the Portuguese government had drawn down 9.078 billion SDR from the package. The IMF had made 5.6 billion SDR available from the package in May, and made a further disbursement of 3.476 billion SDR to the Portuguese government in September.
Then on Tuesday morning New Zealand time, the IMF approved the release of a third tranche of funding from the Portuguese arrangement of 2.425 billion SDR, raising the total amount borrowed by Portugal from 9.078 billion SDR to 11.503 billion.
NZ lending
The IMF's website shows that New Zealand lent 21.6 million SDR, currently equivalent to NZ$43.5 million, to the Fund under the new arrangements to borrow facility in May - the month the Portuguese package became effective and Portugal received 5.6 billion SDR of loans.
During September, when Portugal received its second disbursement, New Zealand's lending to the IMF rose from 21.6 million SDR to 35.6 million SDR, the equivalent of NZ$71.7 million.
Tables on the IMF's website do not yet show the latest disbursement during December. However, figures provided by the Finance Minister's office to interest.co.nz show the government has lent NZ$87 million under the NAB facility to date, which would currently be equivalent to 43.2 million SDR.
The small St Kitts & Nevis arrangement also became effective in September. It is not possible to see what proportion of New Zealand's lending went to Portugal and St Kitts & Nevis. See chart below from the IMF website: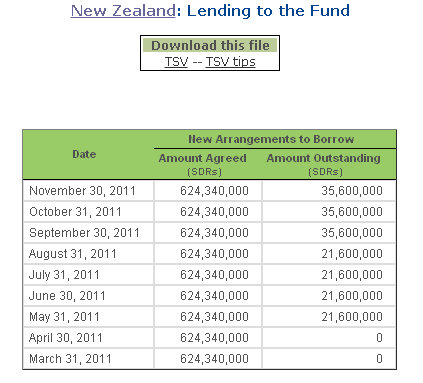 Punching (lending) above our weight?
The IMF had sourced 6.8 billion SDR from NAB funding through the second and third quarters of 2011, while New Zealand had lent 35.6 million SDR through the facility at the end of September (the end of the third quarter. That meant New Zealand had contributed about 0.5% of funds lent through the NAB facility, when its share of total NAB commitments was only 0.17%. If New Zealand had lent through the NAB proportionately, it would have contributed 11.56 million SDR at September 30.
New Zealand's quota - our commitments before the NAB facility
New Zealand currently has a NZ$1.81 billion member quota with the IMF, consisting of what are effectively promissory New Zealand dollar notes to the Fund, called 'Fund Holdings of Currency', and a 'Reserve Tranche Position', effectively the amount of foreign currency New Zealand has actually invested with the IMF.
The Reserve Tranche Position makes up for 30% of New Zealand's quota, and represents the difference between the total quota and the fund holdings of currency. A definition from the Reserve Bank of New Zealand says:
The portion of a member's quota paid in reserve assets (effectively the amount of foreign currency that a member has invested in the IMF). Reflects the reserve assets that a member has transferred to the IMF and is measured by the extent that the member's quota exceeds the IMF's holdings of its currency.

A member may draw up to the full amount of its reserve tranche position at any time (subject only to its representation to the IMF that it has a balance of payments need) by transferring to the IMF an equivalent amount of its own currency. Such a drawing does not constitute a use of IMF credit, as a member's reserve position is considered part of the member's foreign reserves, and is not subject to an obligation to repay.
New Zealand's reserve tranche position with the IMF is 266 million SDR, representing a cumulative NZ$540 million of capital actually paid by the government to the Fund to date. The IMF does not disclose which member quotas are directed to financing arrangements.
Meanwhile, the remaining NZ$1.27 billion of the quota is promissory notes the government has with the IMF. The Reserve Bank explains:
The IMF is a quota-based institution. Each member of the IMF is assigned a quota, which is expressed in SDRs (Special Drawing Rights) and is equal to its subscription of capital to the IMF. The sum of members quotas thus represents the pool of assets (gold, SDRs and currencies) held by the IMF.

When a country becomes a member of the IMF, an amount not exceeding 25 percent of its quota has to be paid in SDRs or usable currencies ("reserve assets") specified by the IMF and the balance in the member's own currency, normally in the form of non-negotiable, non-interest-bearing notes (essentially promissory notes).

When quotas are increased, 25 percent of each member's increase is normally payable in SDRs, although the IMF may accept payment in other members' currencies, or the member's own currency. The balance of the quota increase is payable in the member's currency.
A bigger quota
New Zealand's commitments to the IMF - through its quota and the NAB facility - are set to change in October 2012. Despite New Zealand's total commitments rising slightly from where they are now, its shareholding in the Fund will be diluted, meaning the government will have less of a say on its activities.
New Zealand's quota is set to rise 40% from NZ$1.81 billion now to an estimated NZ$2.54 billion at October 2012. At the same time, the government's NAB commitment is set to fall from NZ$1.27 billion now to NZ$690 million.
All up, that would mean total commitments of NZ$3.08 billion now are estimated by Treasury to rise to NZ$3.23 billion at October 2012.
New Zealand's overall shareholding in the Fund will fall from 0.38% now to an estimated 0.26% once the changes are made. However, its share of NAB commitments is estimated to rise from 0.17% now to 0.19%.
(Upadates with section on Greece)
This article was first published in our email for paid subscribers this morning. See here for more details and to subscribe.