This is the second part of our series looking at the fundamentals of the demand and supply forces for gold. Our earlier piece reviewed the global demand for gold.
In this review we look at the supply of physical gold into the market.
Gold is a naturally occuring mineral and becomes a valuable commodity only after it is mined and smelted.
It has been prized and mined by almost all cultures since recorded history because of its unique properties.
But in that period only 167,000 tonnes have been extracted worldwide, 90% of it since the great Californian gold rush. That is not a lot - because gold is very dense it would fit in a building of 20m3, one 'small' highrise.
Gold is one of the most well-prospected minerals. The Canadian Natural Resources government department published its 'Open File Report 4893' in 2005 surveying the total world inventory of gold mines, and that report noted official reserves of a bit more than 36,500 tonnes* and potential resources of another 47,500 tonnes* - that is, another 84,000 tonnes to be mined. There have been new discoveries since then of course.
Today, while prices are high, mines are bringing to market about 2,750 tonnes per year.
In fact, in just the past ten years to the end of 2011, more than 22,000 tonnes have been mined - equivalent to almost 14% of all gold mined in recorded history.
And the pace of recovery is rising.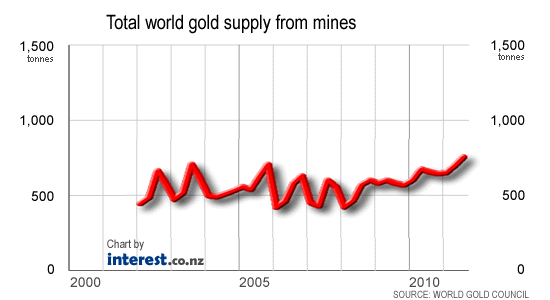 Of course, it is not known what the level of remaining reserves really are, but 'total reserves' are thought by some to be as high as 180,000 tonnes - about 65 years of extraction at the current rate and about double the amount listed in the Canadian survey.
The other main source of market supply is from from recycled gold scrap - previously mined gold in jewellery and industrial components that are re-smelted and returned to the market.
Rising prices have clearly had a positive impact on encouraging this trade.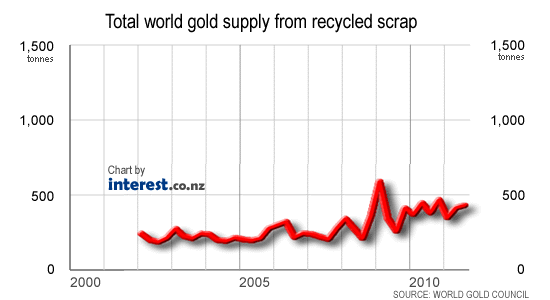 The sum of these two sources represents the total primary market supply, and over the past two years, much more than 1,000 tonnes per quarter enters the pool of available world gold supply.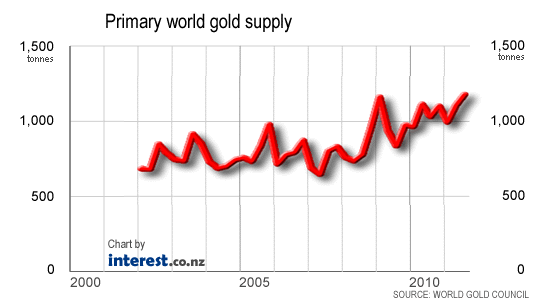 But there is another important influence of overall supply, and that is the sales of official govermental holdings. Governments can be either sellers or buyers from their holdings. Governments hold large quantities, and the release or building of these stocks influences global supply significantly. Until 2008, governments were net sellers; but from 2009 onward they have been net buyers. What is interesting however, is that until now the volumes released of bought have been relatively low. Overall, official holding are about 30,000 tonnes and even a heavy trading period would only represent less than 0.5% of their holdings - and usually much less.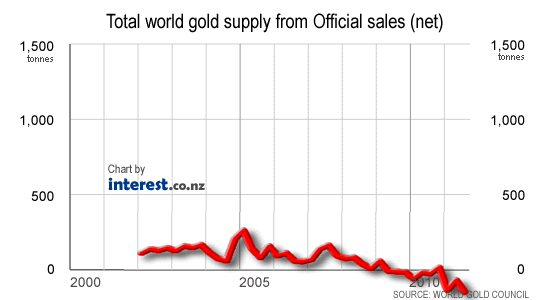 Total gold supply from all sources, even with this official activity factored in exceeded 4,000 tonnes in 2011, and this was up 15% per year from a decade earlier.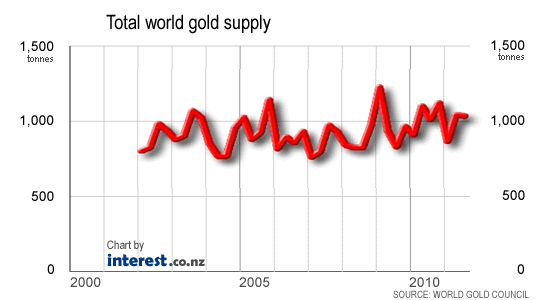 The supply of gold has been growing, and is expected to keep growing over the next five years of so. It takes about five years to bring a new mine into production, and the sharp rise in price for gold started in 2007. New mining ventures committed then were on the basis of a gold price that was less than US$500 per oz - today it more than three times that price and this has opened up a much wider range of reserves that would be economic. There is an industrial mining 'gold rush' underway which will bring significant new supply to market.
In our next and final review, we will assess the overall impact of supply and demand, and review how the price is reflected in these trends.
More data and resources are available at the World Gold Council's website.
* = the extractable gold, not the gold ore.