How BNZ gets tips for its banking 'stores' from retailers such as Gap and Michael Hill in order to try and stay ahead of the competition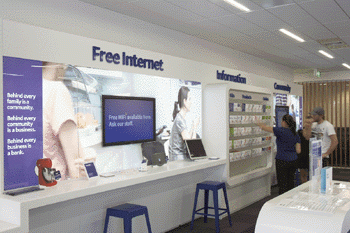 By Gareth Vaughan
BNZ is looking to retailers such as US clothing group Gap and Michael Hill Jeweller for tips on how to improve its branches, or stores as they're called within the bank, as studying what other banks do would only see it gain parity, says Andy Symons, BNZ's director of retail banking, rather than be an innovator.
During a visit to BNZ's Newmarket, Auckland branch and partner centre, Symons told interest.co.nz that when you have a bank "store" on the High Street you need to create a customer experience that's as energetic and compelling as any other store on the street. To this end, Symons said during a recent trip to the United States he caught up with some Gap executives as part of an ongoing drive to adapt and evolve BNZ's network of 178 stores, or branches, to an ever changing world.
"We got to a point two or three years ago where we felt if we kept studying other banks, we would only ever achieve parity," said Symons.
This has led to talks with a lot of retailers.
"We've looked across all sorts of different categories. We've looked at supermarkets and how they operate, we've looked at pharmacists how they operate, we have in the past spoken to people like Michael Hill Jeweller, we've talked to the telcos about the retail outlets they set up."
"(And) further afield, three or four weeks ago I was in the States and took the opportunity to meet with some of the leadership team from Gap. Talking to Gap was not just talking about retailing in store, but talking about how they are managing the evolution of people being able to buy Gap clothing and Gap goods online as well as in store and how you manage to build consistent experiences across both of those different ways of buying Gap stuff," said Symons.
That said, one group of bank executives Symons and his team have taken time to talk to are those from Wells Fargo, the US bank renowned for its ability to cross sell, or sell additional products to existing customers.
'The staff wouldn't be sitting out the back with the door closed in a great retail shop'
Meanwhile, Symons said BNZ's branches have been "deliberately rebadged." 
"We call them stores and our managers are store managers."
Tellers are no longer behind counters and screens or bars.
"They're in an open planned format so they can come out, walk over to the door, greet the customer, approach a customer who may be looking like they need some help, actually stand shoulder to shoulder with an older customer who might be hard of hearing, all of those kinds of things that you'd expect from any good retailer," Symons said.
Bankers walking around the "store" is an important aspect to the new world of retail banking, he argues.
"You wouldn't expect to walk into a great retailer and see everybody sitting out the back with the door closed. You'd expect them to be on the floor tidying up shelves, refolding sweaters, whatever, ready to talk and engage with customers who might need some help."
'Banking is becoming a digital world'
Only about 7% of BNZ's retail banking transactions are now done in its branches, which Symons said are evolving into a place where customers come to get help or advice, and talk through more complex issues.
"Right now, and in the foreseeable future, we still see customers doing an awful lot of research online, an awful lot of transactional and simple product stuff both online and using their mobile device, but still coming into the store to talk to us person to person when they're getting to the end of a home loan decision, or wanting to talk about life insurance needs, general insurance needs, or consumer investment needs."
"(But) we agree that banking is increasingly becoming a digital world," Symons added. (See: Will bank branches go the way of the dinosaur or are they becoming a driver of buying decisions, financial playgrounds and spas?)
"We see the role of the store and the people in our network in those stores evolving to be much more around help, advice and guidance than around transactional stuff."
BNZ also has 33 partners centres around the country designed for use by small and medium sized business owners, which feature full boardroom facilities. Symons maintains BNZ, in New Zealand, has pioneered several concepts its rivals have since copied in their retail networks including its open bank format and use of video to connect customers anywhere in New Zealand with bank specialists through video conferencing. It has also "co-located" within branches with the likes of Air New Zealand Holidays.
Given the rapid changes going on in retail banking, Symons suggests no one knows exactly what it will look like in 10 years time. Therefore BNZ is striving for adaptability and agility.
"That includes managing the relationship between mobile phone and online apps, the contact centres and stores, and rebalancing investment and resources between those different channels as needed," he said.
This article was first published in our email for paid subscribers this morning. See here for more details and to subscribe.