US citizen who ran Ponzi scheme through NZ registered company from Panama gets 14 years jail and must repay US$17 mln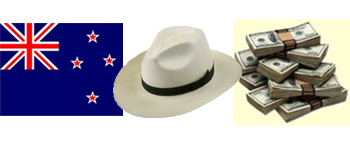 By Gareth Vaughan
A United States citizen based in Panama who operated a New Zealand registered company and pilfered about US$31 million (about NZ$38.3 million) from 452 investors, has been sentenced to more than 14 years in prison and ordered to repay more than US$17 million.
Arrested in Peru in February 2011 and extradited to Chicago, Jeffery Lowrance was sentenced overnight New Zealand time. As previously reported by interest.co.nz, Lowrance pleaded guilty to one count each of wire fraud and money laundering in July.
"Lowrance, fraudulently obtained approximately $31 million from 452 investors. After deducting Ponzi-type payments that he made to some investors, the scheme resulted in losses totaling approximately US$17.6 million to 343 investors nationwide, including Chicago, when it collapsed in 2009," according to Gary S. Shapiro, Acting United States Attorney for the Northern District of Illinois.
Lowrance, 51, moved to Panama in about 2006 and operated his fraudulent scheme from Panama City until about 2009, before fleeing to Peru. He has been sentenced to 170 months in prison and ordered to pay restitution totaling US$17.64 million by US District Judge Charles Norgle.
"Lowrance caused enormous pain and suffering to many of the victims. [He] took life savings, retirement funds, college tuition, and other money that victims had earned, inherited, or received through the sale of a business or an insurance settlement," according to US government prosecutors.
Lowrance owned Mentor Investing Group, Inc, which was initially located in San Diego and subsequently Panama City. He then owned and was chairman and chief executive officer of First Capital Savings & Loan, Ltd., which he incorporated in New Zealand via the Companies Office in 2007. First Capital Savings & Loan took over Mentor's purported business and investor accounts.
Both businesses claimed to buy and sell foreign currencies, undertake forex trading, and offered and sold investments through a network of salesmen and investor referrals.
According to the court documents, between August 2004 and June 2009, Lowrance and others at his direction fraudulently solicited investments by making material misrepresentations, about, among other things, the profitability of First Capital's forex trading, the expected return on and risk involved with the investments, and the use of funds raised from investors.
'Ponzi-type payments'
To conceal the fraud, he made Ponzi-type payments to investors and provided investors with fraudulent account statements. Among the specific misrepresentations was that investors would be paid as much as four to seven percent interest per month on their investments, prosecutors said.
"Lowrance used only a small portion of investors' funds to do forex trading. In addition to making Ponzi-type payments to investors, he misused investors' funds to pay First Capital's expenses, expenses of unrelated business ventures including a newspaper, and to make payments for his own benefit as the benefit of his family and associates."
As interest.co.nz reported in July civil claims filed against Lowrance by the US Commodities Futures Trading Commission and Securities and Exchange Commission say from June 18, 2008 First Capital Savings & Loan returned about US$330,000 to investors, and Lowrance withdrew at least US$177,621, paid his family members at least US$13,176, spent at least US$158,386 on USA Tomorrow, and spent an additional US$649,718 on expenses unrelated to customer trading.
His "start-up alternative newspaper," USA Tomorrow, carried articles and advertisements promoting a limited government ideology. It claimed to promote "truth in journalism".  Lowrance included - in at least one edition of USA Tomorrow - a flyer advertising his purported forex trading scheme, which he distributed at a September 2008 Ron Paul rally in Minneapolis. USA Tomorrow was placed on every seat at the rally. Paul, a Republican congressman, unsuccessfully sought the party's presidential candidate nomination this year.
First Capital Savings & Loan is one of numerous companies to exploit New Zealand's simple company registration regime for illegal or dubious purposes. The World Bank and International Finance Corporation have ranked New Zealand the easiest of 183 countries in which to start a business. The Government is attempting to tackle exploiters of our company registration system through a "programme of work" aimed at cracking down on the misuse of New Zealand's Companies Register.
This programme includes the development of a risk assessment framework to identify risks on the Companies Register, enhanced monitoring of company registrations, improvements to information sharing between the Companies Office and Inland Revenue Department to identify and risk assess inactive companies, plus the Companies and Limited Partnerships Amendment Bill. See more on this and on New Zealand offshore finance companies like Lowrance's one here.