Energy company's annual profit to be savaged by receivership of the construction firm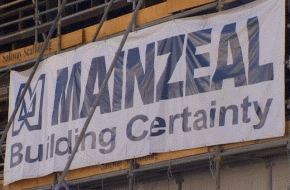 Publicly listed Horizon Energy Distribution has axed NZ$2.9 million off its expected profit for the 2013 year as a result of anticipated losses from the receivership of Mainzeal Property & Construction.
The February 6 collapse of Mainzeal saw half of that company's 400 staff made redundant while the future of money advanced to the company by many of its sub-contractors is in doubt. The receivers have yet to make a detailed statement on the likely outcome for unsecured creditors.
Horizon chairman Rob Tait said today his company's wholly owned subsidiary Aquaheat New Zealand was likely to suffer a maximum pre-tax loss of $4 million of the receivership. This loss would reduce the forecast after tax profitability of the Horizon Group to around $500,000 for the 2013 financial year, down from the recently announced $3.4 million.
At the time of the receivership, Aquaheat had a total of 37 projects with Mainzeal that were in various stages of completion across the country. Of this number 20 projects (totalling approximately $1 million and included in the total outstanding) were completed and subject to retention payments based on completion of the defects warranty period Tait said.
The NZ$4 million owing to Aquaheat as a sub-contractor to Mainzeal arises from retentions retained by Mainzeal on both past and current contracts and outstanding accounts for both December and January for work actioned by Aquaheat on current projects.
"Aquaheat is working with all of the contract principals in an attempt to minimise this expected loss. We understand that in addition to retentions which are held by the principal clients of Mainzeal, payments to Mainzeal for January and possibly some December work may not have been paid by the client to Mainzeal," Tait said.
"It is both fair and morally right for sub-contractors to have a right to recover their share of unpaid work directly from the client in such cases where the client has not paid Mainzeal. We will be discussing avenues to recover direct from the clients as much of our outstanding Mainzeal debt as possible."
Tait said the quantum of the loss suffered by Aquaheat was extremely disappointing.
"The Government and relevant legislative bodies need to revisit the Construction Contracts Act to afford more protection to sub-contractors, particularly around both retention payments and work done by sub-contractors but not paid by the project clients to the head contractor at the time of a receivership or liquidation."
"Retentions represent a significant cash exposure well after the job is completed and signed off but remains at risk of being lost where the retention holder goes into receivership or liquidation. There needs to be a mechanism to protect retentions, and unpaid work, particularly where the project client also retains retentions from the head contractor (Mainzeal) and also has not paid the head contractor for recent work actioned by sub-contractors."
Tait said  in addition to discussing recovery options with contract principals, Aquaheat would discuss options to resume work on stalled projects. "With a team of over 180 staff and with offices in Auckland, Wellington and Christchurch Aquaheat is able and willing to resume work provided a mutually acceptable solution can be agreed."