Gold tumbles almost 5% overnight, now below US$1,500/oz, hurt by Cyprus plan, weak US data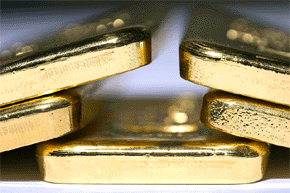 Gold closed in New York on Friday at US$1,477/oz after earlier closing in London at US$1,535.50/oz.
Silver closed at US$25.85/oz in New York after the London fix was set at US$27.40/oz
Both metals and energy sank overnight, and led a gauge of commodities to an eight-month low and extending a slump that one analyst said may mark the "death bell" for the four-year rally in raw materials, Bloomberg reported.
"The scale of the decline has been absolutely breathtaking," a Societe Generale analyst said. "We tried to rally and that just didn't get anywhere. There hasn't been any downside support, it's like a knife through butter."
US retail sales fell in March by the most in nine months, US Commerce Department figures showed, and the Thomson Reuters/University of Michigan index of consumer sentiment sank to its lowest level since July 2011. Other US Commerce Department figures showed that wholesale prices also fell sharply in March.
European stocks and the euro fell earlier as the currency bloc's finance ministers prepared to meet, firming speculation that Cyprus will have to sell gold reserves to raise cash.
Citigroup analysts said there will be "many more losers than winners" for commodities this quarter and most industrial and precious metals will decline.
"It's partly driven by a number of investors who have come to the conclusion that it's not attractive to be in commodities, especially with what's going on in the stock market," another Societe Generale analyst said .
"When people see gold going down, that might have reinforced selling in other commodities. We think it's overdone in base metals, in oil, because the global economy is recovering. In gold, this is the beginning of the bear market."
Brent crude fell $2.01 to US$102.26 a barrel, while U.S. crude oil futures declined $2.53 to US$90.98.