Key pre-announces 50% increase in tourism promotion spending in Budget 2013; signals 2014 election all about stopping Green dominated govt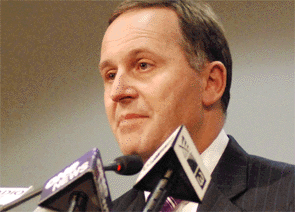 By Bernard Hickey
Prime Minister and Tourism Minister John Key has foreshadowed an extra NZ$158 million in spending in Budget 2013 on May 16 on promoting international tourism over the next four years, adding an extra 46% to existing spending on tourism.
"One of the areas we're going to focus that spending on is an international growth package, and part of that package is on tourism. We're going to be investing over the next four years an extra NZ$158 million. At the moment they get roughly NZ$340 million over that four year period, so NZ$158 million is a lot more," Key told a pre-Budget luncheon hosted by Business NZ in Wellington. 
Key said he would detail how that NZ$146 million would be spent at the TRENZ conference starting in Auckland on Sunday, although he signalled it would be mostly on promotional activity to higher value foreign tourists, particularly in China.
"The package of funding will accelerate the work already underway in attracting high value tourists, and supporting and growing emerging and existing markets," Key said. "It will also be utilised to encourage innovation, bring international events to New Zealand and simplify visa processes. This new funding will provide a boost in marketing New Zealand to the world," he said.
Key said the tourism sector generated NZ$9.6 billion of revenue in the year to March 2012 and made up 15.4% of export earnings. It also generated 3.3% of GDP and employed 6.2% of the workforce.
What he didn't say is the same Statistics NZ figures on Tourism show tourism's share of export earnings has dropped from 20.2% of export earnings in 2006 to 15.4% last year, while its share of GDP has dropped from 4.3% to 3.3%. The number of people employed in tourism has dropped from a high of 193,800 in 2009 to 186,900 by 2012. 
Key confirmed Finance Minister Bill English's comments last week that the government was on track to hit its target for a surplus for the 2014/15 years, "although we're talking about a pretty small surplus."
Elsewhere, Key set the scene for the November 2014 election by saying it would be a choice between a centre-right government in National and a Green-dominated Labour governmnent, rather than a traditional centre-left Labour government.
He told the Wellington audience the Transmission Gully roading project improving connections to the Kapiti Coast would be gone under a Labour-Green government, as would a TransPacific Partnership Free Trade Agreement with America and Japan.
"A Labour Party dominated by the Greens will not be allowed to carry out the agendas they've previously carried out. That is going to be the really big debate that's going to be held next year," Key said.
"Do you want more of what you've got, which is delivering a country that's performing pretty much better than most other developed countries, or do you want to put yourselves in the hands of Russel Norman and Metiria Turei?"
(Updated with more tourism detail, comments on Greens)