Grant Robertson and Shane Jones throw hats in ring for Labour leadership job; Cunliffe joins too; Key not bothered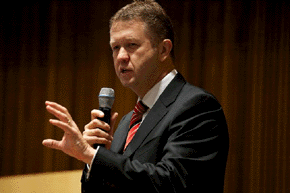 By Bernard Hickey
Labour Party Deputy Leader Grant Robertson and Maori Affairs Spokesman Shane Jones have both confirmed they will stand for the leadership of the Labour Party.
Fisheries and Revenue Spokesman David Cunliffe declared his on Monday afternoon.
Robertson was the first to move and timed his announcement to coincide with the 6pm television news programmes on Sunday. 
"I offer a new generation of leadership that can unify our Party, and lead us to victory in 2014," Robertson said.
He said there was a huge amount at stake. "Every week New Zealanders can see new examples of how badly John Key and his government have lost touch with their hopes and concerns. From the Sky City deal, to rising unemployment and a lack of respect for our fundamental democratic rights and freedoms, this government is not listening to New Zealanders," he said.
Robertson said he wanted to encourage the 800,000 New Zealanders who were eligible to vote but currently didn't.
Jones told the NZHerald his candidacy may not resonate in the common room, "but rest assured it will be relevant in the smoko room".
"The Labour brand is a proud and true brand. Unfortunately, we have allowed that brand to become irrelevant in how a whole bunch of New Zealanders see their personal circumstances," Jone said.
"The 800,000 who didn't vote last time need to see Labour as relevant to what they need to help bring their kids up. It's simple stuff: jobs, income, security, sport, life," he said.
A snap OneNews poll conducted over the weekend showed Cunliffe was the current favourite over both Robertson and Jones in the eyes of general voters and Labour supporters.
Cunliffe had the support of 29% of eligible voters and 32% of Labour supporters, while Robertson had 10% and 14% support respectively. Jones had the support 15% of Labour supporters and 11% of the general electorate.
Cunliffe in too
Cunliffe announced his candidacy with a statement on his own website, saying he had consulted with colleagues and family.
"Their view is that I can bring together a party and a government that provides a strong, clear voice for fairness, inclusion and prosperity to be shared by all. I believe that now is the right time to answer that call," Cunliffe said. 
"Our shared vision is to rebuild our society so that everybody – not just a lucky few - gets the chance to succeed and make the best of their potential," he said.
"I am deeply saddened this Government is so intent on cutting deals for its big business mates and kowtowing to powerful foreign interests, that it is willing to sacrifice so much of what we hold dear."
Prime Minister John Key said he was not bothered about any of the candidates, but thought the main contest would be between Robertson and Cunliffe.
He said whoever won would pull Labour further to the left.
(Updated with Cunliffe joining the contest)