2013 new vehicle registrations are the highest since 1984, exceeding 113,000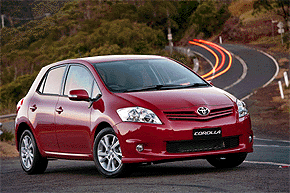 Out of every 20 new cars sold in New Zealand in 2013, seven were Toyotas.
Toyota dominates the local car market.
In fact, it has dominated new car sales here for 26 straight years, according to NZTA registration data out today from the Motor Industry Assocation.
New car dealers have had a good year, their best since 1984 (when a certain Prime Minister was trying - unsuccessfully it turned out - to buy another election).
That it has taken almost 30 years since to get back close to those sales levels says a lot about how we have pushed car sales back into a relively minor place in the our wish list. Cars are now funtionary devices, rather than status symbols they once were.
How else can you explain why Toyota tops the sales charts?
In fact, their dominance is accentuated by realising that Ford is in second place selling 7,134 new vehicles to Toyota's 16,172.
In the luxury car segment BMW took first place with 1,907 sales ahead of Audi (1,820) and Mercedes-Benz (1,482).
December used car sales numbers are not out yet, but when they are they will likely show that we bought many more of them than new cars. Even without the December volumes, imported used cars outsold twelve months of new ones.
Despite the good year for cars, it was a great year for new commercials. Sales of these were up a remarkable 29% reflecting growing business confidence.
Over all categories of new vehicles, SUVs shone, and a boy-racer made #4 on the list.
| | | |
| --- | --- | --- |
| 1st | Toyota Corolla | 5,993 |
| 2nd | Toyota Hilux - SUV | 5,041 |
| 3rd | Ford Ranger - SUV | 4,924 |
| 4th | Suzuki Swift | 2,968 |
| 5th | Holden Commodore | 2,761 |
| 6th | Toyota Rav4 - SUV | 2,739 |