Some 1,300 BNZ staff progressively moving back into Wellington Harbour Quays HQ following quake damage repairs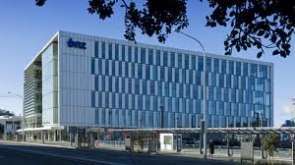 BNZ says its Harbour Quays Wellington area headquarters suffered no damage in this week's lower North Island earthquake and the 1,300 staff who worked there before last July's earthquake have started moving back in.
A BNZ spokeswoman told interest.co.nz Harbour Quays, which is owned by CentrePort and was completed as recently as 2009, suffered no further damage in the 6.2 magnitude quake centred near Eketahuna in the Wairarapa on Monday afternoon.
"We were able to move 111 staff in on Tuesday with 29 more going in tonight (Wednesday) and tomorrow and another 106 this weekend," the spokeswoman said. "We'll be progressively moving more of our people in as each floor gets final sign off and the majority will be in by the end of March."
She said BNZ expects the total cost of remediation plus a significant amount of upgrade work to cost about $10 million, although costs are still being worked through and the bank is insured.
After the July 21 earthquake BNZ said the building was structurally sound but, due to internal damage caused by burst pipes, would be closed for at least six to eight weeks. Then after the August 16 quake BNZ said no significant new damage had occurred, but staff would make a "graduated return" to the building. Staff have been housed in three or four other rented buildings around Wellington.
Last September BNZ CEO Andrew Thorburn told interest.co.nz the big issue at Harbour Quays was with ceiling tiles and it was "not a negotiable point" that the building be altered to bring it in line with the post-Christchurch earthquake building code. Thorburn also said staff wouldn't move back in "until we're absolutely certain that it's safe."