PM John Key names new cabinet; Smith gets Environment; Bridges gets Transport; Adams gets Justice; Tolley gets Social Development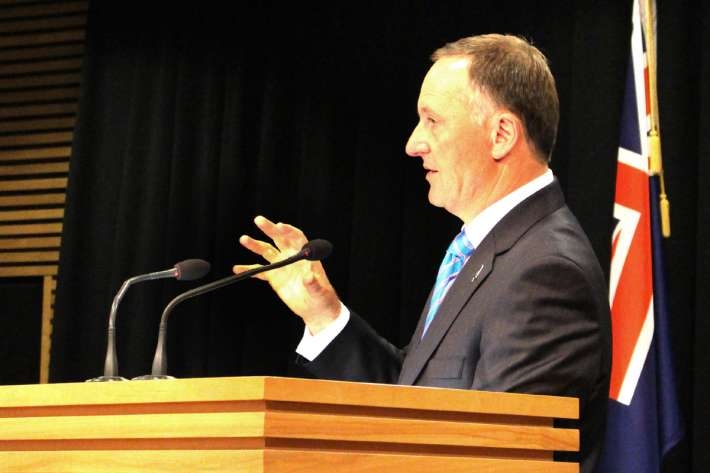 By Bernard Hickey
Prime Minister John Key has named his new cabinet, with changes including Nick Smith moving to Environment and Bill English taking on Housing New Zealand as well as Treasury.
Among the key changes, former Defence Minister Jonathan Coleman becomes Health Minister. Former Environment Minister Amy Adams becomes Justice Minister and moves to the front bench, while Simon Bridges also moves to the front bench and becomes Transport Minister.
"There is a lot of work ahead to continue implementing our plans to build a stronger economy, reduce debt and create more jobs," Key said.

"The new Ministry builds on the experience of the past two terms in office, and combines experience with some fresh talent," he said.

"A number of Ministers have had significant portfolio changes, reflecting the need to give Ministers new challenges as well as providing a fresh set of eyes in some portfolio areas."

Former Social Development Minister Paula Bennett was promoted to number five in the rankings and picks up State Services, Social Housing and Associate Finance, in addition to retaining her Local Government portfolio.

Christopher Finlayson remains Treaty Negotiations Minister and Attorney-General, and becomes Minister in Charge of the NZ Security Intelligence Service and Minister Responsible for the GCSB. Finlayson will work with Key, who has created for himself a new role as Minister for National Security and Intelligence.

"In this role I will continue to be responsible for leading the national security system, including policy settings and the legislative framework. Mr Finlayson will operate within the framework I set and exercise ministerial oversight of the NZSIS and GCSB, including approval of warrants," Key said.

"Officials have examined models used overseas and what we are adopting is very similar to what is seen with our closest partners."
Powerful group focuses on Housing
Key said Housing continued to be a key area of focus for the Government. He said a ministerial team of Bill English, Paula Bennett and Nick Smith had been assembled to lead that work.
"Mr English will have direct responsibility for Housing New Zealand; Ms Bennett will focus on social housing, while Dr Smith will work on housing affordability and construction issues. The Social Housing portfolio will have responsibility for the government's social housing functions, and for its relationship with the social housing sector," Key said.
Former Transport Minister Gerry Brownlee becomes Minister of Defence, while retaining the role of Leader of the House and his Canterbury Earthquake Recovery and EQC portfolios.

Anne Tolley becomes Minister for Social Development and Nikki Kaye becomes Minister for ACC.

Michael Woodhouse becomes Minister of Police. He also becomes Minister for Workplace Relations and Safety, "a new portfolio title to reflect the modern focus of what had previously been the Labour portfolio."
Jo Goodhew becomes Minister for Food Safety.
Three new ministers
Key said three new Ministers would be appointed.
Maggie Barry goes straight into Cabinet as Minister for Arts, Culture and Heritage, Minister of Conservation and Minister for Senior Citizens.
Louise Upston and Paul Goldsmith will be Ministers outside Cabinet holding a variety of portfolios.

"Two ministers previously outside Cabinet have been promoted to Cabinet. Todd McClay will be Minister of Revenue and Minister for State Owned Enterprises, while Peseta Sam Lotu-Iiga will be Minister of Corrections, Minister for Ethnic Communities and Minister for Pacific Peoples," Key said.

"Craig Foss remains a Minister, but will now serve outside Cabinet as Minister for Small Business, Minister of Statistics and Minister of Veteran's Affairs," Key said.

"Chester Borrows will not be appointed to the new Ministry. He will, however, be National's nominee for Deputy Speaker, and I want to thank Chester for his service as a Minister."
Some stay in roles
A number of Ministers would keep their portfolios, including Steven Joyce in Economic Development, Hekia Parata in Education, Murray McCully in Foreign Affairs, Nathan Guy in Primary Industries, Tim Groser in Trade and Climate Change, and Nicky Wagner in Customs.
Key said the National Caucus would meet tomorrow to elect its three whips for the coming parliamentary term.

The new Ministry will be sworn in at Government House in Wellington at 11am on Wednesday morning.
(Updated with wider National Security role for Key, updated with background, quotes)