Commodity prices fall for the tenth straight month in December according to the ANZ commodity price index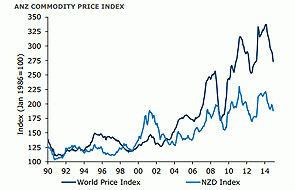 Content sourced from ANZ
The ANZ Commodity Price Index fell a further 4.4% in December – the tenth consecutive monthly decrease in the index.
The index weakened 17% over calendar 2014 – the greatest annual decline in 2½-years.
Nine commodity prices recorded a decrease in December, prices for two commodities increased, while prices for the remaining six commodities were unchanged in the month.
Whole milk powder prices recorded the largest fall in December, falling 11% in the month – to be 52% lower than a year earlier.
Beef prices fell 10% over the month but remain 28% up on a year ago. Skim milk powder prices dropped 9%, aluminium prices decreased 7%, cheese prices slipped 5%, wool prices declined 4%, and sheepmeat and pelt prices weakened 3%.
Intriguingly, the international price of butter defied the drop across other dairy products and rose 8% in the month, but remains 25% below the level that prevailed a year earlier.
Kiwifruit was the other commodity to register a price increase in December, lifting 1% as the Northern Hemisphere export season tailed off.
Prices were unchanged for seafood, apples, casein, venison, wood pulp and sawn timber.
The NZD ANZ Commodity Price Index eased 3.8% in December (-14% y/y), with the kiwi dollar down against the United States dollar, but firmer against the yen, euro, pound and Australian dollar.
In NZD terms, prices are 16% below their March 2011 peaks.