Auckland Transport eyes light rail as a move to tackle traffic congestion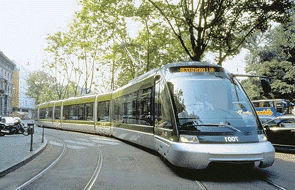 An inner-city light rail network is back on Auckland Transport's (AT) radar.
The board of the Auckland Council controlled entity is calling for an investigation into what it describes as a high-speed tram network, in its draft Regional Land Transport Plan, put out for public consultation today.
It says key arterials, such as Dominion Road and Symonds Street, are major bus routes, which will become more congested as more people work and live in the city.
It expects the population of adjacent suburbs, like Ponsonby and Parnell, to almost double between 2011 and 2041.
AT hasn't dug into the detail of the idea, but says it had to include it in the Plan, if it wanted the concept to be considered within the next three years.
It hopes the case will be concluded and considered by Auckland Council by the middle of the year.
"These are timeframes these entities aren't used to", says Lester Levy, chairman of Auckland Transport.
"I am trying to push that we don't do things so bureaucratically and slowly."
AT is considering light rail routes along Queen Street, Symonds Street, Sandringham Road, Manukau Road and Mt Eden Road.
It points out light rail can move more than three times the number of people per hour, at high speeds, than buses.
But there's still a question mark over the cost, which hasn't been included in the Regional Land Transport Programme or the Auckland Council's Long Term Plan.
Unconfirmed figures being thrown around in the media are between $1 billion and $2 billion.
AT is focusing on incorporating private sector investment into the project, as Auckland Council's draft Long Term Plan includes significantly reduced funding for improvements to Auckland's roads and public transport.
It therefore maintains there wouldn't be a cost to ratepayers for the first five years.
Levy says AT is also avoiding applying for funding from central government, as this simply slows the process.
He's confident the proposal can secure private sector financial backers through a public-private partnership.
AT maintains that while expensive to implement, the ongoing operating cost of light rail is lower than the equivalent bus fleet, and the benefits of the initial investment extend over a long period of time.
'No major acquisition of properties'
Levy isn't concerned about the logistics of squeezing train tracks into areas that are already cramped.
He says new technology means there's no need for overhead cables and the lines don't require that much space.
"We wouldn't be looking to do major acquisition of properties."
Levy says Sydney, Canberra and the Gold Coast face the same issues and constraints as Auckland, and have come out with the same conclusion.
He says the light rail would complement the existing rail network and the planned $2.4 billion City Rail Link.
"They would service a large part of urban Auckland which currently has limited access to and from the city centre, while the City Rail Link will significantly increase the capacity on the existing rail/commuter network across the region."