Did you know? We track the impact of financial stress at the global level, to the national level, to the personal level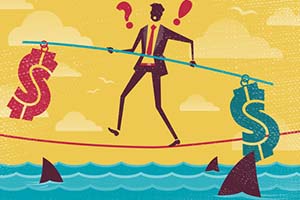 Financial stress is rising in the world's main economies.
We have a number of ways to track that, and track the impacts in our local economy.
Fear
Equity markets are places where investor concerns turn to fear early.
The CBOE Volatility Index or VIX as it is commonly referred to, is often seen as the best gauge of 'fear' and uncertainty in the market.
The Chicago Board Options Exchange (CBOE) developed the index which measures the near term (next 30 days) expected volatility of S&P 500 Index options trading.
During periods of financial stress, which are often accompanied by steep market declines, option prices and the VIX tend to rise. The greater the fear, the higher the VIX level.
As investor fear subsides, option prices tend to decline, which in turn causes VIX to decline.
Over the past week or so, this index has risen almost +60%. We monitor the index daily.
The cost of fear
Rapid equity price changes reflect the cost of fear. In bond markets, interest rate premiums for risk are measured by 'spreads'.
Markets track the chance of bond default by 'credit default swap' spreads.
We track those via three indexes for investment grade corporate debt - in the US, Europe, and Australasia.
We also keep an eye on sovereign CDS spreads. New Zealand sovereign spreads are currently about 30 bps. Overnight those for France widened sharply to 40 bps. For Spain they are at 130 bps, for Portugal they are now at 236 bps. (For Venezuela they are at almost 5000!)
Getting personal
Locally, a real-time measure of personal credit stress is the number of bankruptcy filings.
This is data supplied by the Insolvency & Trustee Service at MBIE.
Thay have declined back to pre-GFC levels, although there have been faint suggestions recently that bankruptcies and 'no asset procedure' filings may be moving up.
You can see these trends here.
This is a story in our Did you know? series. You can find them all here.