It is getting tougher to justify holding precious metals as a store of value. Gold hits a five year low; silver and platinum prices also very weak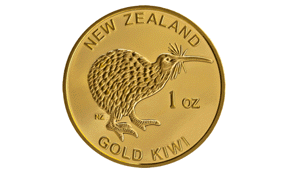 The gold price hit a five year low in final trading in New York and London today.
This caps off four consecutive weeks of declines.
Gold is not doing its job as a store of value and the risk is that it will continue to decline, especially in US dollar terms.
It closed in London at US$1,132.80/oz and in New York at $1,133.30/oz.
One reason is that the US currency is strengthening, representing a better way to store value. (But that is not saying much.)
The last time gold was this low was on April 6, 2010. At that time it was US$1,132.75, and in local currency NZ$1,603.55.
It reached a peak in US dollar terms of US$1,895 on September 5, 2011.
In New Zealand dollar terms, it reached a peak of NZ$2,314 on November 15, 2011.
Since then, it has been four years of declines.
Today, when the US dollar price has hit a five year low, the New Zealand dollar price is $1,729/oz and +19% above its intervening low point of NZ$1,456/oz in June 2014.
But is that a good return?
If you had bought US dollars on April 6, 2010 instead of gold, you would have paid NZ$1,604 for US$1,133. That US$1,133 would today be worth NZ$1,740.
That means you would be NZ$31 worse off over the period, with an equivalent compounding annual gain of just +1.55%.
With Fed Chair Janet Yellen maintaining an upbeat outlook for the US economy, the Fed is on track to remove the zero-interest rate policy (ZIRP) later this year. The bullish sentiment surrounding the greenback may continue to dampen the appeal of bullion and raises the risk for fresh 2015 lows.
Analysts at DailyFX say that from a technical standpoint, gold has broken below key support and the technical damage done leaves prices vulnerable while it is below US$1,150. Look for interim support at US$1,130 early next week and if that is breached, further lows may be in store.
New Zealand holders are getting a little insulation because of the weakening Kiwi dollar, but by any measure gold remains a very poor store of value.
Other precious metals are faring equally poorly. Silver is at only US$15/oz after peaking at US$48.70 in May 2011.
And platinum is now below US$1,000 for the first time since early 2009.