A rebound in US jobs growth cools talk of a US economic slowdown, raises talk of more Fed hikes in 2016. Wage growth slipped however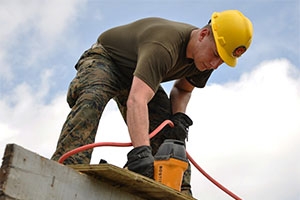 The US economy added +242,000 jobs in February, far better than the 195,000 expected by markets.
The data underlined the strength of the American economy and adds weight to the US Fed's plans to gradually raise interest rates this year.
Another 30,000 jobs were also added to the previous estimates for December and January.
The unemployment rate was unchanged from January at 4.9% - an eight-year low.
The participation rate also rose to 62.9%, also above analysts expectations.
There was a disappointment however. Wage growth slipped. It was up +2.2% year-on-year when markets were expecting a +2.5% rise.
It is the giant services sector that is generating the jobs growth. Output may be up in the factory sector but employment in it shrank slightly in February.
These strong job gains have some analysts saying Fed hikes are 'in play' for April and June this year.
The news triggered a strongish rise on Wall Street, up +0.3% in most markets.
Bond yields rose more strongly with the UST 10yr yield up to 1.90%.
The USD fell as a 'risk-on' mode grew.
Credit default swap spreads fell fairly sharply, and the Markit investment grade index for US bond issuers fell below the 100 point mark for the first time since mid January. It is now down to 93.84 today, a sharp fall from 110.2 this time last week. Similar falls are occurring in the Euro equivalent. The Australasian index is down to 144.1 (this index includes miners as well as banks and other corporates with investment grade debt on issue). That is a -10% drop in a week.
Another big CDS spread mover is for Australian Government debt. It is at 44.7, an 11% improvement in a week, bolstered by their surprise GDP gains.
The NZD is benefiting from the 'risk-on' mood. It is up to over 68 USc for the first time in two months.