Auckland Council commissioned study considers moving Auckland's port to Muriwai, the Manukau Harbour or the Firth of Thames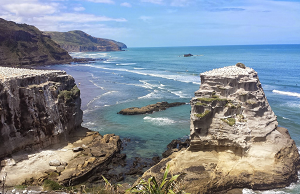 The group of business and community leaders Auckland Mayor Len Brown has commissioned to do a study on the Ports of Auckland is mulling the possibility of the port being moved to Muriwai.
The Port Future Study's consultants are suggesting the exposed beach, 40km northwest of Auckland, be considered as a potential site for the port to be relocated to.
The consortium of consultants, led by EY, is also weighing up the viability of relocating the port to the Manukau Harbour or the Firth of Thames, as well as keeping it where it is, and either constraining its current footprint or enabling it to grow.
Muriwai is isolated from any major infrastructure. It borders the Waitakere Ranges and is part of a regional park home to a large colony of gannets. The Manukau Harbour is New Zealand's second largest natural harbour, located to the southwest of the Auckland isthmus. The Firth of Thames is a large bay at the southern end of the Hauraki Gulf, southeast of Auckland. It occupies a rift valley between the Coromandel Peninsula and Hunua Ranges. 
Mayor Brown established the Port Future Study in April last year to provide recommendations to Auckland Council on a strategy to accommodate Auckland's long term future trade and cruise activities across the next 50+ years.
Once the consultants have finished their technical cost-benefit analysis of the different options on the table, and members of the study's larger Reference Group have provided their feedback, the study's Consensus Working Group (CWG) will formulate recommendations to make to the Council.
The CWG consists of 16 members including iwi leaders and representatives from stakeholder organisations such as the Chamber of Commerce, Port of Auckland, the Employers and Manufacturers Association and the International Container Lines Committee.
The chair of the study's Working and Reference groups Rick Boven says, "Once we complete further analysis on the shortlist of options we will have a clearer picture of how each option stacks up on costs and wider economic effects. Some options are likely to be cost prohibitive.
"Auckland is on a steep growth trajectory. With an expected population of at least 2.6 million and potentially quadrupling of freight trade in the next 50 years, Auckland will need a strategy to ensure freight can flow for continued trade and prosperity."
The study will be completed by the end of June 2016.