Investigative journalist David Cay Johnston on Donald Trump: 'He talks like a 13 year-old boy struggling with puberty & will tell you whatever he needs to tell you to get what he wants'
By Gareth Vaughan
David Cay Johnston, a Pulitzer Prize winning investigative journalist who has probed and written about the affairs of Donald Trump for 28 years, says his biggest fear of a Trump presidency is if he starts firing generals.
Johnston published a book in August entitled The Making of Donald Trump. Speaking to interest.co.nz via Skype from Berlin, where he has been promoting the book and giving media interviews about President-elect Trump, Johnston said Trump talks about the President as if he's a dictator.
"He does not understand the duties, powers and limits of the presidency. He talks like a dictator, as if the US President is an agent like he [Trump] is running his own enterprise, who does whatever he damn pleases," said Johnston.
Asked what his biggest fear is from a Trump presidency, Johnston said it was the possibility of Trump following through on his suggestion during the election campaign that he might fire generals.
"The classic sign someone is going to take over and end a republic, go back and read your Roman history on this, comes when you fire generals whose allegiance [is] to country and replace them with craven junior officers who in return for promotion will carry out the orders of the leader who their allegiance is to," Johnston said.
"[If] Donald Trump starts firing general officers everyone on the planet had better be very scared. Maybe it won't happen and if it doesn't that's great, I hope it doesn't. But if it does, that would be very troublesome."
Johnston, who first met Trump in Atlantic City in 1988, describes him as a man with a history of erratic behaviour, noting Trump was "shipped off" to a military academy by his father when he was 13 years old because he was a trouble maker.
"He [Trump] has said the junior classmen were brutalised at that school and other people have said that. Something happened to him at that school at that time because emotionally he is essentially a 13 year-old boy. The way he talks about women, the way he talks about himself, he talks like a 13 year-old boy struggling with puberty," said Johnston.
"He is not by any stretch of the imagination as wealthy as he claims. There is not now and never has been, never has been, any verifiable evidence that he's worth even $1 billion. He's a wealthy man, that's beyond dispute. And that's important because Donald Trump exaggerates all the time. He says Trump Tower is 68 stories high, it's 58 stories. He has put out false stories about all sorts of things over the years because he has this desperate need to exaggerate as well as to win."
'Donald is a master salesman'
Johnston describes Trump as a con man who has conned the American public.
"He [Trump] will tell you whatever he needs to tell you to get what he wants," said Johnston.
"Donald is a master salesman. He is the best manipulator of the conventions of journalism I have ever seen. He's brilliant at finding journalists like at The New York Post who don't care about the facts. They care about getting a big story."
Asked about Trump's conciliatory election night speech and whether a nicer, more inclusive Trump may emerge as President, Johnston said this won't happen.
"No. The speech you saw on the night that he won was a magnanimous speech. It was a speech that even con artists like Donald Trump will do when he has gotten what he's seeking. And he was surprised that night. There's no question looking at him and the family. They were surprised by this [election victory]." 
"He's going to appoint a divisive cabinet, he's going to appoint people who are going to pursue Donald's policies. Donald's a racist, he's a misogynist...He's going to appoint people he's comfortable with. And his over riding demand will be absolute fealty to him, and loyalty," said Johnston.
A registered Republican, Johnston says his work on Trump is as an investigative reporter and describes himself as a policy, not a political, person. He also teaches business regulation, property and tax law at Syracuse University's law and graduate business schools.
'One of the biggest welfare kings in America'
Johnston has written that "abundant evidence" shows the Internal Revenue Service (IRS) and the New York State attorney general should initiate criminal investigations of Trump, his charitable foundation and his personal tax returns. (Johnston has also written another article that lists 21 questions for Trump).
Asked whether he thinks these investigations may actually happen, Johnston said he hopes so.
"There's abundant grounds to do this. There's nine illegal acts committed by the Donald J Trump Foundation, which doesn't have any money from Donald Trump in it. It's clear that he has lied in the past when he has said that he'd donate royalties from his book The Art of the Deal and from Trump the Game [a board game]... there are badges of fraud on Donald's 1984 tax return."
Asked whether Trump will be a saviour to people who voted for him because they are disgruntled with the system and the political establishment, Johnston said no.
"I've spent the last 22 years documenting inequality and writing a trilogy of books and other things showing how government policies nobody knew about, but I dug out of public records with a lot of hard work, quite literally take money out of the pockets of the vast majority of Americans and redistribute them to people like Donald Trump. Donald Trump's one of the biggest welfare kings in America."
'He also said wages are too high'
Johnston said his books are written so people with no more than a high school education can read them. However, he acknowledges most people don't read policy books, and don't think about policy.
"Trump knows this and Trump came along and did what demagogues do. He knew that people were hurting. The bottom 90% of Americans' income has been essentially flat for 50 years, as a statistical measure not individuals in that group. Donald comes along and instead of saying 'this government policy takes money out of your pocket and funnels it to Warren Buffet', he says 'well, it's the Mexicans, it's the Chinese, it's the Muslims, it's the black criminals, it's that idiot in the White House.' And to many people that's the level to which they understand things."
"He also, however, said wages are too high. People were not paying attention to him. He has a long history of cheating workers including executives."
"What we are seeing here is people are so desperate, and if you're in the bottom 90% of Americans things are not good," said Johnston. "People at the bottom they're in fear. Their jobs are disappearing."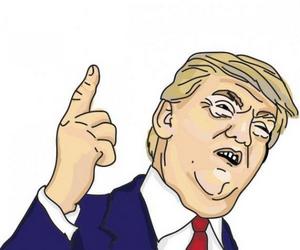 "The people who voted for Trump really were voting to blow up the system. Some of them understand he can't do what he says," said Johnston, adding some others are true believers thinking Trump will save them and does care about them.
"He doesn't care about anybody but Donald Trump, the genetically superior Donald Trump we should all adore and worship and glory in. And if we don't he has a word for us, loser."
Johnston points out Trump has cheated illegal immigrants he hired out of the $4 an hour they were to be paid. Trump has also been sued repeatedly by people who invested in Trump projects. In one case, where investors lost about $20 million, Trump suggested they should be happy because if the project had gone on they could have lost $60 million. 
"By the way Trump got paid up front. He always does that, that's his standard business deal. Other people take the risk. He then sucks cash out of the enterprise as fast as he can. Eventually the enterprise weakens because in essence it has a parasite on the host. And then he abandons it and moves on."
"So long as he can do another deal then he's going to have plenty of revenue coming in. He does not grow wealth, he does not manage businesses. And he has actually written that himself. 'I'm not an operator' he has written," said Johnston.
'In the embrace of criminals his whole life'
In the Skype interview Johnston was keen to emphasise Trump's links to known criminals, which are detailed in The Making of Donald Trump.
"Donald Trump has been in the embrace of criminals his whole life. His grandfather was a draft dodger from Germany who came to America and made a fortune by running whorehouses and was a pimp. And when he tried to go back to Germany they threw him out."
"Donald's father had a business partner who was an associate of the Genovese and Gambino organised crime families. Donald has been involved with all sorts of criminals, - Russian mobsters, Mafioso, con artists, but the most important one of all was a guy named Joe Weichselbaum. A twice convicted felon and mob associate when Donald decided to have him provide helicopters for his casinos."
"About a year after he was hired it turned out Joe Weichselbaum had another business. He was a very major cocaine and marijuana trafficker involved with the Colombian cartels and he moved drugs from Miami to Cincinnati, Ohio. When he's caught he agrees to plead guilty and he asks for his case to be transferred to Miami or New York City, the two places where he lives. Instead, and no one has ever been able to explain this, the case is moved to New Jersey and it comes before Federal Judge Marianne Trump Barry, Donald's older sister," said Johnston.
"Now three weeks later she removes herself from the case. But in so doing she had to tell the chief judge 'you know my husband is the lawyer from Donald's casinos, flies in this guy's helicopters all the time, and I fly in them all the time.' A sitting federal judge routinely flying in a confessed drug trafficker's helicopters." 
"Donald meanwhile wrote a letter pleading for mercy for Joe Weichselbaum. 'Diligent citizen, a credit to the community, shouldn't get much jail time'. And when asked about this letter by law enforcement, he denied writing it," Johnston added. 
"Here's the question that should be asked, and I don't know the answer to it. Why would you write that letter? The obvious question is you risked your casino licence, your unbelievably lucrative casino licence to write that letter. You lied and covered up about it... Were you investing in the drug deals? Were you financing Joe Weichselbaum's drug deals? Nobody asked that question. If it's true that that happened, holy mackerel is that important." 
'Donald's all about winning'
Johnston said although Trump would personally profit from his presidency, this was not his goal in running for president. Rather, his goal was to "win the biggest prize of all because Donald's all about winning."
"But the arrangement that he has proposed is absurd. And yes, the family will make money and it's a perfect scam for a criminal operation or for being pressured. If you're a foreign government and you're one of the best friends of the king or the sheik or the dictator who runs a country, you will be able to steer deals to him," said Johnston. 
In terms of the Trans Pacific Partnership Agreement, which Trump says he'll pull the US out of, Johnston said Trump won't have his head around China seizing the opportunity to step in and take the lead. That's "way too sophisticated" for Trump to get his head around, Johnston said, based on his meetings with Trump and what other people have said about him.
'The American public don't know these things'
Whilst Johnston has a high profile and is in demand internationally to talk about Trump, he's disappointed more of his fellow Americans don't know the details about Trump outlined in his book, and that his fellow journalists don't ask enough tough questions of Trump.
"Everything I've talked about with you is public record. At the back of my book there are 44 pages of references to documents that you can check out. There's no unnamed sources, and it's not my opinion. By and large it's mostly fact, fact, fact, fact, fact with a little analysis at the beginning and a little at the end." 
"The American public don't know these things. Even though my book was on the bestseller list we sold what, 50,000 copies in four weeks maybe in a country of 320 million people. And if there's no coverage by TV, by my former newspapers The New York Times, LA Times, by the Associated Press, then nobody knows this stuff. And this is a real failure of journalism and the duty to watchdog and to ask the tough questions," said Johnston.