Govt launches first social bond after raising $1.5m from four investors, focused on getting South Aucklanders with medium-level mental health conditions back into work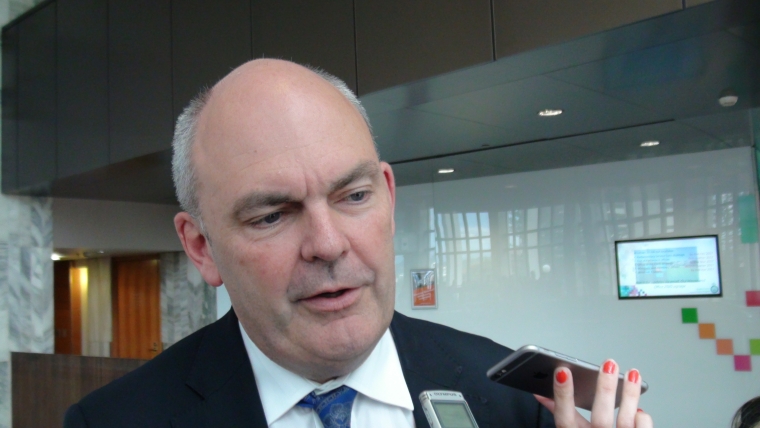 The government has announced its first social bond is operational after raising the $1.5 million in financing required from four investors.
Finance Minister Steven Joyce used his second set-piece speech of the year to announce the pilot scheme will focus on trying to help about 1,700 people with mental illness into work. The speech was to the Institute of Public Administration New Zealand, which focussed heavily on public sector productivity.
The six-year social bond will see services provided by APM Workcare. APM is part-funding the project with three other investors: philanthropic fund Wilberforce Foundation, healthcare company Janssen (of the Johnson & Johnson Family of Companies in New Zealand), and investment fund Prospect Investment Management. APM already contracts to Ministry of Social Development (MSD).
Speaking to media in Parliament Tuesday, Joyce said the bond was focussed on an area where there had not been a huge amount of success: getting people with mental health issues who were outside the labour market "the right services at the right time" for getting back into the job market.
MSD and successive governments had struggled with the target group of people with "medium-level" mental health issues who could not get back in to work, for various reasons, Joyce said.
Return for the investors is based on a government bond rate plus a risk margin, and is capped, Joyce said. The investors' target is to get about 43% of the people they work with into and retained in work over a five year period.
There is a minimum success level as well as the maximum cap, Joyce said.
"If they don't achieve even the minimum success level…both sides have the right to terminate the agreement, but also the government has the right to retain some or all of the funding, depending on where they've got to."
Private investors bring a different perspective and discipline to the challenge, Joyce said.
"They have a financial incentive as well as a reputational incentive to do that. In government we tend to have more of a reputational incentive."
See the statement from Joyce and Social Investment Minister Amy Adams below:
New Zealand's first social bond will help around 1700 people with mental illness into work, Finance Minister Steven Joyce and Social Investment Minister Amy Adams say.

"The social bond approved by Cabinet in December 2016 has successfully raised the required finance so is now operational as New Zealand's first social bond," Mr Joyce says.

"Social Bonds are an innovative method of providing social services for people with complex needs – where a financial incentive is offered to a consortium of providers and investors if they can achieve a result with a service which is demonstrably better than what has been previously achieved with the old way of doing things.

Social Investment Minister Amy Adams says this social bond is another example of the social investment approach designed to get more effective delivery of services to those who most need them.

"One of the difficult challenges in getting people off benefits and back into work is how best to help people with mild to moderate mental health challenges and achieve sustainable long-term results. Government agencies have struggled with this issue for a long time," Ms Adams says.

"Through this social bond, we can utilise private sector skills and innovations to help participants into paid employment, so they get off welfare and improve their mental health. This leads to more independent lives, and a better outcome for them and the taxpayer.

"Job seekers with a qualifying benefit and a diagnosed mental health condition may be eligible to be referred for the services."

"It is an innovative approach to a long-term problem", Mr Joyce says. "I look forward to seeing how this pilot performs. I'm sure we all stand together across the public service and across the parliament in seeking a better outcome for people challenged by mental health conditions."

The bond will be delivered by APM Workcare. APM Workcare is an experienced and successful provider of vocational rehabilitation and disability services, with around 150 employees. They have assisted more than 24,000 people across the country to return to work after injury or unemployment, using a model of individualised support and wrap-around care.

The service will be voluntary, and will be available to those who are living in the Auckland suburbs of Manukau, Manurewa, Clendon, Papakura, Pukekohe and Waiuku. APM Workcare will deliver services to up-to 1700 people over the 60 month duration of the bond.

A second bond, aimed at reducing youth reoffending rates in South Auckland, is on track for final decisions later this year.

About social bonds

Social bonds allow Government to contract out services and funding to non-government or private organisations, with agreed targets and timeframes.

If the targets are met, Government pays back the investors, and also pays a return on their investment. The return depended on the level of results, up to an agreed maximum.

There are around 60 bonds operating around the world, including in Australia, USA, and Canada.

More information can be found at: www.health.govt.nz/our-work/preventative-health-wellness/social-bonds-new-zealand-pilot