NZ current account deficit narrows as rise in income received from abroad and tourism inflows trumps money spent on car imports and falling oil and log exports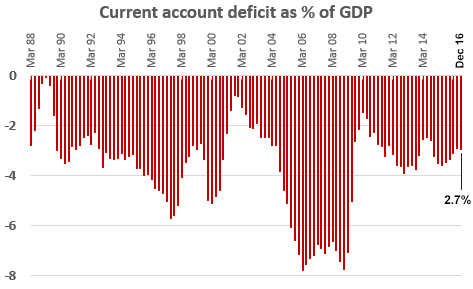 New Zealand's current account deficit narrowed in the December 2016 quarter to its smallest gap since March 2014, figures released by Statistics New Zealand show.
The difference between imports and exports of goods, services and capital was a seasonally adjusted deficit of $1.6 billion. This was $420 million smaller than in the September 2016 quarter, figures showed.
Annually, the current account deficit in the 2016 calendar year was $7.1bn, down from $8.3bn in 2015. The deficit represented 2.7% of GDP (from 3.4% in 2015).
The result indicates the narrowing of the deficit is tracking ahead of the Reserve Bank of New Zealand's expectations – in its February Monetary Policy Statement, the RBNZ forecast the deficit would fall to 2.7% of GDP in the year to March 2017, although it expects this to blow back out to 3.4% in 2018.
New Zealand's net liabilities with the rest of the world fell during the quarter. Its net international liabilities stood at $156.5bn at 31 December, down from $166.1bn in September. Importantly, the ratio of net liabilities to GDP was 59.9% (from 64.8%). This was the lowest ratio recorded by Stats NZ since it began tracking the position in June 2000.
And the country's net external debt position also decreased, although due to more local lending abroad. At $143.5bn, or 55% of GDP, this was smaller than the $149.1bn (58.2% of GDP) in September, Stats NZ said. "External debt narrowed because our external lending increased by $6.3bn while our external debt increased by only $649m."
The smaller current account deficit in the latest quarter was due to a smaller income deficit, and a larger services surplus. This was slightly offset by an increase in the goods deficit, Stats NZ said.
Some key takeaways were:
There was an increase in income received from NZ investment abroad and a decrease in income paid to foreign investors in New Zealand
Increased tax inflow (including non-resident withholding tax received) and increases in non-life insurance premiums and claim receipts
An increase in services exports was influenced mainly by increased spending by more international visitors to New Zealand. A decrease in services imports was driven by a fall in transport services imports, which was partly offset by New Zealand residents spending more overseas while travelling
Increases in imports of cars drove the rise in goods imports in the December 2016 quarter. The small fall in goods exports was mainly influenced by falls in exports of crude oil and logs.
New Zealand saw a net outflow of investment of $3.3bn during the quarter, as a $4.7bn increase in assets (outflow) was partly offset by a $1.5bn increase in liabilities (inflow), Stats NZ said.
The key movements driving the outflows were:
other investment assets ($4.5 billion) – caused by banks increasing their investment assets held overseas (such as currency and deposits)
the Reserve Bank of New Zealand increasing its currency and deposit holdings this quarter (other reserve assets).
Banks borrowing money locally
Meanwhile, Stats NZ noted the actual (non-seasonally adjusted) current account balance was a $2.3bn deficit during the December quarter.
"Conceptually, a current account deficit would be funded from an inflow of overseas investment. However, in the latest quarter, the financial account showed a net outflow, resulting in net errors and omissions of $4.9bn," it said.
One cause of this large net errors and omissions figure was that the banking sector sourced additional funding from within New Zealand in the latest quarter, rather than borrowing money overseas.
"These locally generated funds were used to increase investment in overseas assets (part of the $4.5bn invested in other investment). Since this domestic funding is outside the scope of balance of payment statistics, it does not show as a financial account inflow."