Latest Roy Morgan poll says National Party well down in March as Prime Minister Bill English talks of lifting retirement age to 67 - lowest party vote since September 2016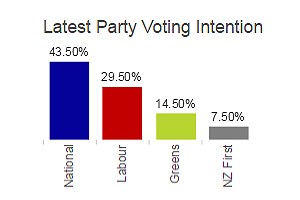 Content supplied by RoyMorgan
During March support for National fell by 4.5% to 43.5%, now just behind a potential Labour/ Greens alliance 44% (up 5%).
If a New Zealand Election was held now the latest New Zealand Roy Morgan Poll shows it would be too close to call with New Zealand first likely to play a decisive role in determining which parties would form the next Government.
Support for the National partners was virtually unchanged with the Maori Party unchanged at 2%, Act NZ was 0.5% (down 0.5%) and United Future was 0.5% (up 0.5%).
Of the three Parliamentary Opposition parties - Labour's support was at 29.5% (up 3.5%), Greens 14.5% (up 1.5%) and New Zealand First 7.5% (down 0.5%).
Of the parties outside Parliament the Internet Party was 0.5% (up 0.5%), Conservative Party of NZ was 0.5% (up 0.5%) and support for Independent/ Others was 1% (down 1%).
In addition the New Zealand Roy Morgan Government Confidence Rating is down 4 pts to 136 pts in March with 61.5% (down 2%) of NZ electors saying NZ is 'heading in the right direction' cf. to 25.5% (up 2%) that say New Zealand is 'heading in the wrong direction'.
Gary Morgan, Executive Chairman, Roy Morgan Research, says:
"Today's New Zealand Roy Morgan Poll shows a sharp decline in support for National – down 4.5% to 43.5% - the lowest they've been since English became Prime Minister in early December.

"A potential Labour/ Greens alliance is now just in front of National on 44% (up 5%) with both parties enjoying increases in support – Labour up 3.5% to 29.5% and the Greens up 1.5% to 14.5%. The neck-and-neck contest between the two sides of New Zealand politics means the centrist New Zealand First Party (7.5%, down 0.5%) led by 'Maverick' MP Winston Peters could once again decide which parties form Government in September.

"The fall in support for National comes after Prime Minister Bill English announced a raft of potential reforms to New Zealand's superannuation laws early in March including increasing the retirement age to 67 (from 65) by 2040. The proposed reform will impact anyone born after July 1, 1972 – ie under 45 today. In addition immigrants will have to live for twice as long in New Zealand to gain access to NZ Super.

"The proposed changes to the superannuation laws were criticised by potential Government partner New Zealand First Leader Winston Peters who questioned whether the proposed changes would achieve anything at all; and Act Party Leader David Seymour who said the changes were too far in the future and the retirement age needed to be raised now due to escalating costs.

"The clear opposition to the changes suggests Prime Minister English risks losing the National majority if these reforms become an election issue."
Electors were asked: "If a New Zealand Election were held today which party would receive your party vote?" This latest New Zealand Roy Morgan Poll on voting intention was conducted by telephone – both landline and mobile telephone – with a NZ wide cross-section of 847 electors between February 27 – March 12, 2017. Of all electors surveyed 7.5% (up 2%) didn't name a party.
The original report is here.