It's regional development day: What do you think about Peters' call for Ports of Auckland to switch to Northport? Road & Transport's Ken Shirley says it's "Stalinist"; Meanwhile, Simon Bridges takes two hats to Taranaki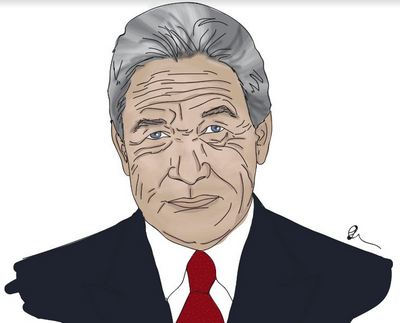 It's economic development day out on the campaign trail. Winston Peters is calling for Ports of Auckland to be shifted to Northport - in the Whangarei electorate seat New Zealand First's Shane Jones happens to be standing in. He's proposing tax-free zones around Northport and down in Invercargill as well.
Meanwhile, Economic Development Minister Simon Bridges has announced an economic strategy for Taranaki. Parliament may have been dissolved and the election campaign begun, but that hasn't stopped National Party Ministers continuing to announce policies in their official capacities, something that is annoying the Labour Party. Bill English says it's all ok though.
First out of the blocks was Peters. In a move described as "Stalinist" by the Road Transport Forum's Ken Shirley, Peters said Northport should be the entry point for goods currently coming in through Auckland. Labour's Phil Twyford didn't seem to have a view on the proposal either way on Radio NZ this morning, while English said the proposal was a bit of a "red herring." That left a gap open for Shirley to offer his different sort of criticism. He argued that the majority of goods that came in through the Ports of Auckland were consumed in Auckland; shifting entry to Northport would push up delivery costs. Auckland Mayor Phil Goff would rather something in the Firth of Thames.
Here's a taste of the proposal from Peters, who addressed an economic development conference on Thursday:
Only parochialism is keeping the port in the Auckland region instead of logically looking to Northport – a natural deep water port.

Aucklanders and Northlanders will end up paying a huge financial price if the Port of Auckland is not moved to Northport.

Auckland Mayor Phil Goff has confirmed the Firth of Thames is his preferred option - in a move that could take between 10 and 20-years.

Given a new mega-port in the Firth of Thames could cost upwards of $5.5 billion, this is money badly spent, when Northport could be developed within a decade and for so much less.

Going with Northport means 77-hectares of iconic Auckland waterfront could be returned to Aucklanders by the late 2020's, as opposed to the late 2030's or perhaps even, the early 2040's.

The Port of Auckland is moving so the question becomes whether it will despoil fish spawning areas in the Firth of Thames, or light the spark of Northland's economic renaissance.

New Zealand First's Nine Point Port Plan

We will order government and council officials to stop spending tax and ratepayers' money on a new port in the Firth of Thames, estimated at up to $5.5bn and highly problematic environmentally.

New Zealand First will legislate to require:

the Port of Auckland transfer vehicle deliveries from Auckland to Northport by the end of 2019 - returning Captain Cook Wharf to Aucklanders ahead of the America's Cup;
that the Port of Auckland cease container operations at the Port of Auckland by no later than 31 December 2027; and the full development of Northport as a mega-port.
Immediately fund the upgrade of the Auckland to Northland rail line, including a new rail spur to Northport.
Commission the design of a world-class cruise passenger terminal for Auckland.
By the end of 2018, designate land near to Northport in Whangarei District as New Zealand's first Special Economic Area.
As port functions are transferred to Northport, progressively return 77-hectares of Auckland's iconic harbourside back to Aucklanders.
Work with Aucklanders, Auckland Council and stakeholders on a masterplan for the 77-hectares of waterfront land that will become available over the next decade.
By the end of 2019, subject to discussions with the people of Invercargill and Southland, designate land within Invercargill City near to South Port as New Zealand's second Special Economic Area.
Create a comprehensive ports and coastal shipping strategy.

Thinking outside the box with Special Economic Areas (SEA's)

National and Labour have failed the regions. Northland has some of the worst social statistics in New Zealand with decades of neglected infrastructure. Southland similarly lives on a knife edge given Tiwai Point's uncertain future.

It is time for visionary thinking and thus New Zealand First will create New Zealand's First Special Economic Areas

Based on successful models overseas, Special Economic Areas are like economic islands within the Port environment. Aside from biosecurity and key legislative requirements, they will be subject to less compliance and will have tax and duty free status.

These will be highly attractive to value-add manufacturing, logistics and allow New Zealand to access entrepot trade. The potential future value is measurable in the billions of dollars that will radiate into the regions that surround them.
Taranaki & roads
Economic Development Minister Simon Bridges was also canvassing the regions on Thursday. In a Ministerial capacity he announced a plan for the Taranaki region. He then quickly swapped hats and announced a $200 million spend on the preferred option for the region's Mount Messenger bypass, which he made as Minister of Transport. The decision had actually been made last Friday, so it seems Bridges was keen for a two-for-one deal in the region.
Contrast this to announcement from Bridges on Tuesday that National would fund Nelson's Southern Link road, which was a party election campaign announcement made in his capacity as National's transport spokesman.
Read Bridges' announcements below:
Economic Development Minister Simon Bridges has joined Taranaki councils and the business community to launch an economic development strategy for the region.

The Minister is in New Plymouth today to join the local community at the launch of Tapuae Roa - Make Way for Taranaki, which provides direction for the region's economy.

"Taranaki's economy is mostly based on the oil, gas, dairy, manufacturing and other sectors. This strategy will build on this through boosting skills and enterprise to grow Taranaki into a modern, high-value economy," Mr Bridges says.

"While the region has a noteworthy technology profile, the strategy also highlights the lifestyle and culture of the region. The region can be proud of its achievements with the award-winning Len Lye Centre, the coastal walkway, WOMAD and many others."

The strategy was commissioned by Taranaki's four councils and was developed by business and iwi leaders, the region's councils and central government.

It identifies a number of action areas including boosting tourism and visitor services, growing the Maori economy and focusing on improving skills and innovation.

"The opportunities highlighted in the strategy will go a long way to Taranaki continuing its reign as the second best region in the world as voted by Lonely Planet, building on its visitor sector and taking the economy to the next level," Mr Bridges says.

An action plan currently being developed will be released later this year and will identify priority actions to deliver the regional strategy.

Through the Regional Growth Programme, central government agencies will work in partnership with Taranaki stakeholders to develop and implement the Action Plan.

For more information on the strategy, go to www.makeway.co.nz.
And on the bypass:
Transport Minister Simon Bridges today announced the selected option for the Mount Messenger Bypass in Taranaki following a decision by the NZ Transport Agency Board last Friday.

An eastern alignment has been selected, which will bypass the existing Mount Messenger and provide a more direct and efficient route. This alignment was known as Option C during public consultation.

"In 2016 the Government announced that funding would be available to accelerate this project as part of the Accelerated Regional Roading Programme," Mr Bridges says.

"State Highway 3 is the key link between Taranaki and the Waikato. Improving the safety and reliability of this route is a real priority for the Government. The new route will contribute to the ongoing economic growth of Taranaki.

"After over a year of extensive assessment and consultation, it's exciting to now be able to announce the selected option for the Mount Messenger bypass," Mr Bridges says.

The eastern alignment option delivers safety, resilience and travel time benefits whilst avoiding geologically unstable areas. It is also the preferred option of both the road transport sector and the Department of Conservation.

"This project will provide a host of wider economic benefits, including additional local employment opportunities, the development of region's tourism sector and a much-needed reliable freight and lifeline route connecting Taranaki and the Waikato," Mr Bridges says.

"Taranaki has the highest Gross Domestic Product per capita in New Zealand. This new and improved route will help increase productivity in the region and provide a safer, more resilient connection to the Waikato.

"The new route will ensure Taranaki's goods have greater and more reliable access to domestic and world markets as well as providing better access to tourist visiting the region," Mr Bridges says.

The project is estimated to cost $200 million and will be funded through the Government's Accelerated Regional Roading Programme and National Land Transport Fund.

The project is expected to be complete by 2021.