Australia's Home Affairs Minister Peter Dutton, who challenged PM Malcolm Turnbull, has resigned from Cabinet and will sit on the backbench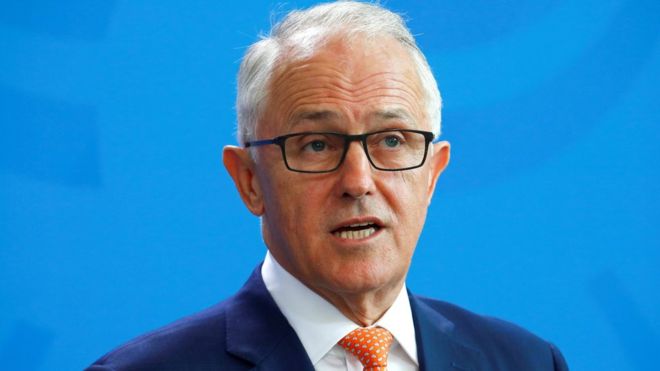 Australian Prime Minister Malcolm Turnbull will remain in the top job after winning a Liberal Party leadership ballot following a turbulent few political days across the Tasman.
Turnbull won 48 votes in Cabinet, beating out Home Affairs Minister Peter Dutton's 35.
Dutton has resigned from Cabinet and will sit on the backbench. This is despite Turnbull saying he was able to stay on as a Cabinet Minister.
The Liberal Party's Deputy Leader, Julie Bishop, will remain in her job after winning the ballot uncontested.
Speaking to reporters in Canberra, Turnbull referenced "unity" a number of times.
He says Dutton has done an "outstanding" job as Home Affairs Minister and Turnbull thanked him for his work.
"I have invited him to continue in that office, however, he has said to me, and we have had a good discussion about it, he doesn't feel he can remain in the Cabinet, having challenged me for the Leadership of the party."
Scott Morrison will take Dutton's place as Home Affairs Minister.
Turnbull says he does not bear a grudge against Dutton for his leadership challenge.
He says there are always differences within political parties, but it's important those are left in the past.
Not long after Turnbull addressed media, it was Dutton's turn. He told reporters his decision to challenge Turnbull was not because he had any animosity towards him, but because he wanted to make sure [Labor Leader] Bill Shorten is never Prime Minister.
"I believe I had the best prospect of leading the Liberal Party to success at the next election."
He says he "fully support the Prime Minister and the Cabinet" but would not rule out another leadership challenge before the election.
'Overwhelming vote of support'
Tuesday's vote, he says, is a "reminder to political parties to be united and determined to keep delivering for the people for whom they work."
He says disunity undermines the ability of any Government to get its job done.
As the leadership ballot was secret, Turnbull was not able to say who voted against him.
Bishop says the vote was an "overwhelming vote of support for the Prime Minister."
"I have seen leadership challenges before and it's a resounding vote of support in the leadership team – we don't take it for granted.
"What I say to all those who didn't vote for the Prime Minister, we now have the opportunity to focus on what the electorate want to hear from us."
Earlier on Tuesday, the leadership of the Governing Liberal Party was declared vacant as MPs gathered in the Aussie Parliament to vote.
The leadership spill came after Turnbull backtracked on two of the party's major energy policies within 24 hours.