Embattled Aussie PM Malcolm Turnbull says if there's another 'spill motion' he won't put his hand up to challenge for the leadership of the Liberal Party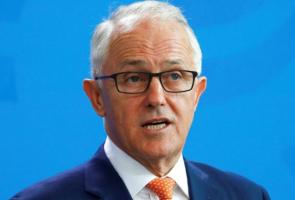 Australian Prime Minister Malcolm Turnbull says he will step down as Liberal Party Leader if a "spill motion" is brought before a party in a meeting on Friday.
Turnbull says he's now waiting to receive a letter of no-confidence with the signatures of the majority of the party room.
"If I receive that, I will convene a new party room meeting."
That meeting will occur midday tomorrow, he says.
During that meeting, he says he will invite a "spill motion," and if it is carried, Turnbull will treat that as a vote of no confidence and will not stand as a candidate in that ballot.
If he is defeated, he says he will leave Parliament.
"I have made it very clear that I believe that former Prime Ministers are best out of the Parliament and I don't think there is much evidence to suggest that conclusion is not correct."
But before that, Turnbull says it's important the party has access to the advice of the solicitor general on the eligibility of Peter Dutton to sit in Parliament.
Questions have been raised so to whether Dutton is eligible to be in Parliament.
Fairfax Media has revealed the childcare company operated by Dutton's family trust has received more than $A5.6 million in Government funding since 2014.  
Labor has written to the Attorney General with advice by prominent barrister Bret Walker, SC, that the "preferable argument" is that Dutton is ineligible because he may have an "indirect pecuniary interest"
"A minister let alone a Prime Minister, who is not eligible to sit in the House is not capable of validly being a Minister, or exercising any of the powers of a Minister," Turbull told media on Thursday. 
Turnbull says Australians will be "rightly appalled" by what they are witnessing in their nations' Parliament this week.
"The reality is that a minority in the party room, supported by others outside Parliament, have sought to bully and intimidate others into making this change of leadership they are seeking."
He says it is "remarkable" polls had the Liberal Party neck-and-neck with Labor.
Earlier 
On Thursday morning, Peter Dutton, former Australian Home Affairs Minister and defeated Liberal Party leadership hopeful, announced he would have another crack at toppling Turnbull.
In the hours after, 13 Liberal Party MPs took to Twitter to say Turnbull has lost the support of the party.
This all unfolded just two days after Dutton mounted his first leadership challenge, winning 35 votes from the Liberal Party's caucus, seven short of Turnbull's 48.
Dutton, who resigned from Cabinet to the backbench, revealed on Twitter on Thursday he would be challenging the leadership again.
"A few minutes ago I spoke with Malcolm Turnbull to advise him I believed the majority of the party room no longer supported his leadership.
"Accordingly, I asked him to convene a party room meeting at which I would challenge for the leadership of the Parliamentary Liberal Party."
Not long after his statement, he addressed media in Canberra and repeated the comments but did not take any questions.
Hours later, senior Liberal MPs Mathias Cormann, Mitch Fifield and Michaelia Cash told a press conference that they have told Turnbull he has lost the support of the party room.
"It's with great sadness and a heavy heart that we went to see the Prime Minister yesterday afternoon to advise him that in our judgement he no longer enjoyed the support of the majority of members in the Liberal Party," Cormann said.
He says Dutton should lead the Liberal Party and another leadership vote should occur soon.  
"There is majority support in the party room for change."
Dutton's new challenge comes after a string of front bench resignations.
In a press conference on Tuesday, Turnbull said he had invited Dutton to remain on the front bench, but he declined.
Turnbull said he does not bear a grudge against Dutton for his leadership challenge.
Soon after, in his own press conference, Dutton refused to rule out another run at the leadership.
"I believe I had the best prospect of leading the Liberal Party to success at the next election."