The updated RLB survey of construction cranes shows rising growth in Auckland, and resurgent growth in Christchurch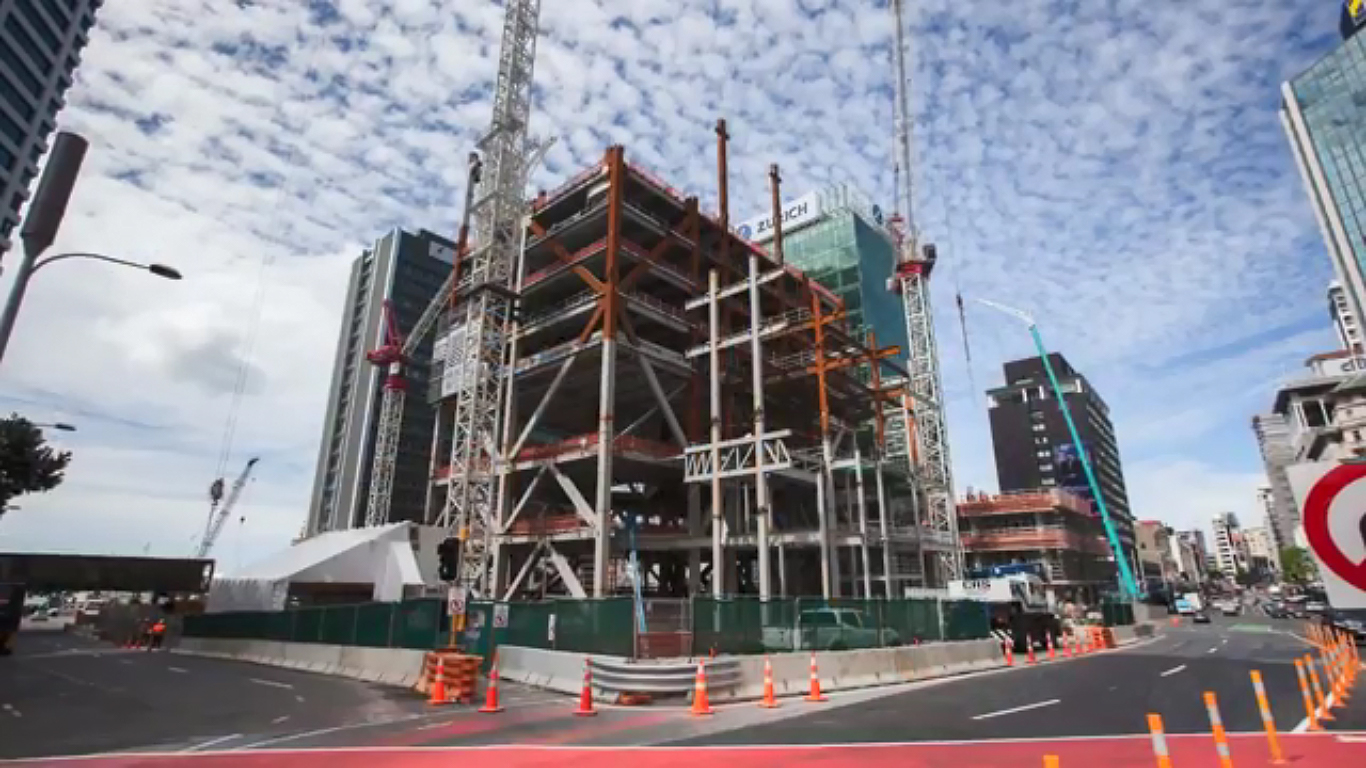 There are more construction cranes active in New Zealand today than ever before.
In September there are 140 cranes at work, an increase from 125 in March, the last time this survey was taken. That has involved 64 new cranes at work, replacing 49 that ended their projects.
The latest edition of the Rider Levett Bucknall's Crane Index¨highlights the strong growth within New Zealand's construction industry.
"The level of construction activity remains high across the country due to strong underlying demand across nearly all sectors," said Chris Haines, RLB's spokeperson. "Not only will the population and migration surge of recent years continue to support demand for construction for some time to come across the residential sector, but significant demands remain on commercial, retail, health, education and horizontal infrastructure sectors."
The counts in this survey do not include mobile cranes which are increasingly used for mid-rise construction.
Auckland continues to be the main driver of the fixed crane count, contributing about two thirds of the total New Zealand count. Of the 140 cranes sighted across New Zealand, 90 were in Auckland (increase of 8.4% in 6 months), 22 were in Christchurch (+69%), 10 were in Queenstown, 8 were in Wellington, 6 were in Tauranga, 2 were in Dunedin and 2 were in Hamilton.
Despite the recent announcement of the Ebert receivership, coupled with Fletcher Construction's withdrawal from the vertical construction market, Auckland's crane count remains on the rise. Currently, Fletcher Construction accounts for ten tower cranes, while Ebert Construction's Union Green site accounts for two. There still remains uncertainty about the impact these failures will have on future crane counts, and future large projects in Auckland and across New Zealand.
Auckland's residential crane count remained high, accounting for most of the large residential project activity nationally. This includes cranes on projects for multi-residential apartments, private residential, student residential accommodation and the aged care sector.
The Auckland retail sector recorded good growth with six new cranes added. New retail cranes were sighted at 277 Broadway Westfield Development (four cranes) and the Galleria expansion (one crane).
In the commercial sector, three cranes remained on site for the Commercial Bay office project. These are expected to stay in place until late 2019. Notably, there were no cranes recorded on health projects in Auckland currently despite significant forward workload planned in the health sector. Despite the perception in the market that the construction sector is at capacity and resources are stretched, the crane numbers have again increased. Two tower cranes remain idle at the Ebert's Union Green Project and two former idle cranes at Alexandra Park have commenced again following CMP Construction taking over from Canam Construction.
A list of most large Auckland projects, ones involving a budget of $100 mln or more, is here. It is a list that now totals more than $70 bln of work either in process or planned.
Christchurch saw a surprising jump in crane numbers in this survey with 22, up from 13. Previously in Christchurch, the crane count has dropped, emphasising the decline in workload. In contrast to this decline in workload, cranes have risen especially in the commercial sector, with a net increase of seven cranes together with two new cranes on the new Convention Centre.