Auckland Transport CEO's letter outlines plans for reducing air pollution in Queen Street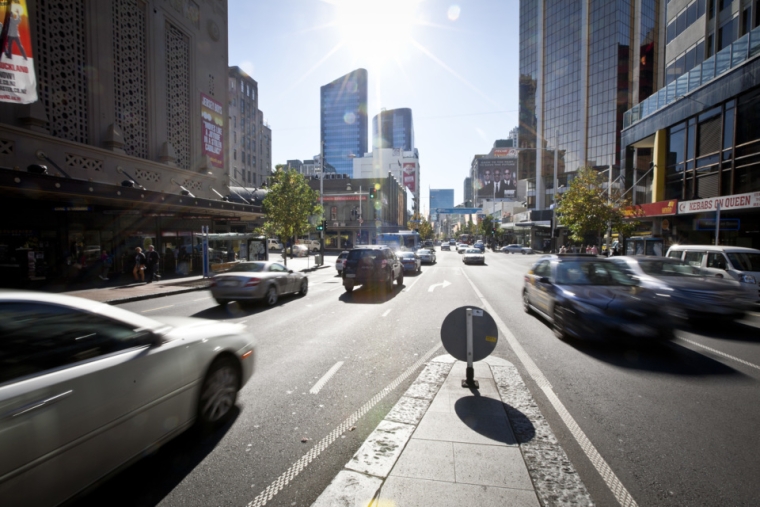 Auckland Transport (AT) is looking at introducing electric buses next year on some of its central city routes in a bid to battle black carbon pollution in Queens Street.
And it's also looking at a longer term option of removing private motor vehicles from Queens Street. The proposals are outlined in a letter from AT CEO Shane Ellison to the Auckland Council's Planning Committee.
"AT is concerned at the high concentration of Elevated Black Carbon on Queen Street and is considering a number of initiatives to reduce these," Ellison says.
He says there is currently a higher number of buses using Queen Street due to construction of the City Rail Link, which is limiting traffic access to Albert Street.
But Ellison says AT is also looking to ensure bus operators shift to low emission diesel buses this year and they are looking at using electric buses on some routes in 2020.
"AT is planning to prescribe battery electric buses for City Link service to commence in November 2020 at the commencement of new contract. Further acceleration of transition to e-buses will be assessed and updated in the next iteration of the Roadmap."
The letter from Ellison also spells out a number of other options to reduce the pollution levels in the city.
"Private vehicles are expected to be removed from Queen Street following the introduction of light rail from the mid-2020s and the major pedestrian transformation of Queen Street. All general traffic would be expected to be removed with restricted access for servicing and loading of businesses being permitted.
While the letter also refers to a trial proposed by councillor Chris Darby which would see all 15 minute car parking spaces on Queen St reallocated for use by e-scooter, or bike-hire companies which it is also considering.
"The increased amenity for pedestrians will contribute to the fulfillment of the Mayor's declaration ensuring a major area of the city centre is zero emission by 2030. We are currently working with the Auckland Design Office to design trials for early implementation of elements of this future pedestrianisation of Queen Street. In addition, our Travel Demand team are working with businesses, commuters and students to reduce single occupant vehicles coming into the city. This includes behavioural change programmes and campaigns highlighting alternatives to the car."
Ellison says the completion of a number of transport and building projects in the city will also reduce truck movements and machinery that contribute to lower air quality standards in Downtown Auckland.
"Again, AT is committed to working together to make tangible progress in the long term and implement some of the quick wins in the short-term to reduce the risk of respiratory related illnesses, and to create a more sustainable environment."
According to a 2018 report by the GNS Science titled Black Carbon in New Zealand for the Ministry for the Environment black carbon is produced by various sources, including diesel cars and trucks, residential stoves, forest fires, agricultural open burning and some industrial facilities. As part of the study GNS Science tested a number of sites around the country, including Queen Street.  
"Black carbon concentrations at New Zealand urban locations were generally higher than those found in Western European and United States cities. This is most likely due to the time lag for motor vehicle engine emissions technology improvements to enter the New Zealand vehicle fleet and the prevalence biomass combustion for residential heating during winter."
But the report found black carbon levels in the Auckland sites monitored were decreasing year on year and this was primarily due to a reduction in black carbon emissions from diesel fuelled vehicles because of improvements in engine technology and fuel formulation.
A report by the council's Research and Evaluation Unit released in December last year titled The Impacts of Transport Emissions on Air Quality in Auckland's City Centre found transport was responsible for 79% of the pollution in the inner city. And Queen Street topped the list for pollution levels.
"Concentrations of key pollutants measured at Queen Street are significantly higher than those measured at all other permanent monitoring sites in Auckland."