Chris Trotter says the left can detail the many privations of too-many of our citizens. But they can't figure out why poverty, inequality, homelessness and environmental despoliation are happening, so their political message doesn't connect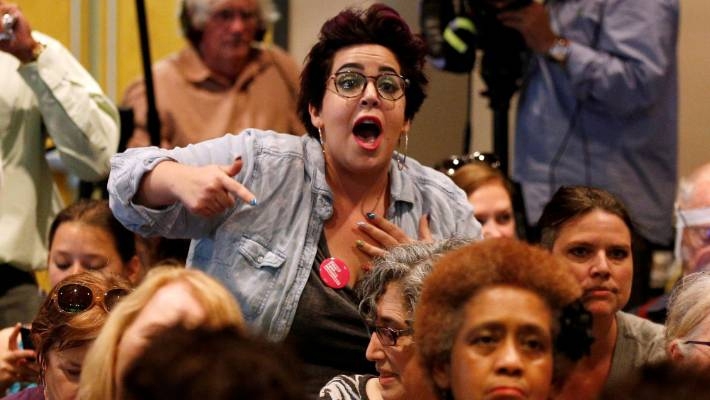 By Chris Trotter*
Bryan Bruce, rather cheekily, calls his operation New Zealand Public Television (NZPTV). That is, of course, a not-so-subtle dig at what he (and a great many others) regard as the serious derelictions of this country's actual public broadcaster, Television New Zealand. Bruce is of an age which encompasses the golden era of New Zealand television, which began in the mid-1970s and came to an abrupt halt with the corporatisation of public television in the late 1980s.
Bruce, whose NZ on Air-funded documentaries on child poverty, education, rising inequality and the triumph of neoliberalism in New Zealand (among more than 30 other productions) have earned him mixed reviews at home, and multiple medals at the New York Festival, takes an unashamedly left-wing view of the world. Or, perhaps, it is fairer to say that he is one of those who sees reality as having a left-wing bias.
It's a view that boasts far fewer subscribers nowadays than it used to – way back in that golden era, when conservative New Zealanders gnashed their teeth at what they regarded as "state television's" left-wing prejudices. (Those same conservatives continue to rail against the alleged biases of state-owned "Red Radio".)
Undaunted, Bruce gathered together his own production-team and, on a rain-swept Friday night at the start of Queen's Birthday Weekend, assembled a panel of critical thinkers, activists, politicians and journalists in the Otahuhu Town Hall in South Auckland. Their mission was to contrast and compare Grant Robertson's "Wellbeing Budget" with the "People's Budget" a genuinely transformational left-wing government would, presumably, have presented to the electorate the day before.
It was an impressive line-up. Representing the "right" of the panel was the business commentator, Rod Oram, while anchoring its "left" were veteran activists Professor Jane Kelsey and Dr Sue Bradford. In between sat Greenpeace's Russel Norman, Auckland City Councillor, Efeso Collins, and Julia Whaipooti, spokesperson and board member of the justice reform organisation, Just Speak.
Unsurprisingly, there were very few among this group who rated Robertson's Budget at anything higher than 2 or 3 out of 10. Commentators from the floor, most of them representing trade union and community support organisations, were even less enthusiastic. With Bruce in the chair, and in charge of the questioning, it was more-or-less a given that the Coalition Government's refusal to abandon "neoliberal" economics and, particularly, Robertson's unwavering adherence to its self-imposed "Budget Responsibility Rules", could not possibly have produced anything even vaguely resembling a transformational "People's Budget".
The brave souls who had ventured out to hear the speakers (a surprising number given the weather!) were pretty clearly in sympathy with the speakers and commentators. The event had been heavily promoted on Martyn "Bomber" Bradbury's proudly left-wing site, The Daily Blog, and Martyn, himself, strode the floor, microphone in hand, ready to elicit commentary and responses to the opinions being voiced onstage.
As a regular contributor to The Daily Blog, I had been asked to have a political commentator's response ready for Bradbury's microphone and Bruce's cameras. Accordingly, I sat and watched and listened to the NZPTV "Town Hall Debate", and waited for my turn to speak.
What struck me most forcefully, throughout the evening, was the raw power of the speakers' reportage from the front lines of the social struggle. Community support groups like the E Tu Union's "Living Wage" initiative, and the even more up-close-and-personal battlers from Auckland Action Against Poverty, made absolute nonsense of all the Coalition's Pollyanna-style "glad-games" about taking bold steps towards enhancing the wellbeing of those living at the sharp end of inequality, poverty and homelessness.
I found myself wishing that Jacinda Ardern, Winston Peters and James Shaw were also seated up there on the stage, so that they could hear the searing criticisms of those for whom poverty and homelessness are something more than a mere rhetorical opportunity. That forlorn wish spawned others: most particularly the wish that our publicly-owned television network contained, within its administrative and creative ranks, broadcasters who burn with the same fiery passion to let the voters know what is really happening in their country that consumes Bryan Bruce.
Passion, however, is not enough – not when the game you are playing is politics. It is a perennial failing of the Left that they allow themselves to become consumed with outrage at WHAT is happening on the meanest streets of their nation; paying far too little (if any) heed to WHY it is happening.
Challenged on this, they will glibly attach the 'why' of poverty, inequality, homelessness and environmental despoliation to "Neoliberalism". In much the same way did the religious scholars of the Middle Ages explain the ills of the world by pointing triumphantly in the direction of the Devil. But, of course, that does not answer the question: it merely pushes it back one step. WHY are people tempted by the Devil? WHY do politicians continue to put their faith in neoliberalism – and not socialism?
The great American "muckraking" journalist, Upton Sinclair, famously observed that: "It is difficult to make a man understand something, when his salary depends upon him not understanding it." In exactly the same way, it is very difficult to make those sectors of society which are benefitting handsomely from the consequences of neoliberalism, come out in support of economic and social policies that run directly counter to their interests.
The truth which emerged most clearly from the testimony put before the Otahuhu Town Hall meeting is that the unavailability and inordinate cost of decent housing lies at the very heart of the economic and social crises afflicting New Zealand's poorest communities. An all-out effort on the housing front is, therefore, urgently required if even a tiny fraction of the Coalition's "wellbeing" promises are to be fulfilled. And yet, Robertson's Wellbeing Budget is almost silent on the issue of housing. Almost, but not quite. As Bernard Hickey pointed out on Newshub Nation on Saturday morning, an easily-overlooked line in the 2019 Budget predicts a 21 percent rise in house prices over the next four years.
Older New Zealanders; the Baby Boom Generation; the people who not only own their own homes, but have also paid them off; the citizens who vote: will be absolutely delighted when they hear this news. It means they are about to be made even more affluent and secure than they are already. What interest do they have in supporting policies which will increase the supply – and hence lower the price – of houses? What interest do their children and grandchildren have in supporting the reintroduction of an Inheritance Tax?
It is in the vexed terrain of conflicting social and economic interests that the Left's analytical weakness is most starkly on display. The evidence from polling and focus-group interviews will be telling Labour that a clear majority of the New Zealand electorate, while sympathetic to the plight of the poor, will not countenance a policy framework that involves dramatically raising their taxes, or, significantly lowering the value of their assets. If this government is to be re-elected, then it simply cannot afford to alienate the roughly two-thirds of New Zealanders who are on the credit side of Neoliberalism's ledger.
This was the WHY that I attempted to explain to the meeting when Bomber Bradbury thrust his microphone in front of me in search of a comment. Needless to say, it was not well received.
---
*Chris Trotter has been writing and commenting professionally about New Zealand politics for more than 30 years. His work may be found at http://bowalleyroad.blogspot.com. He writes a fortnightly column for interest.co.nz.