Gareth Vaughan on the colourful media coverage of Brexit, the Amazon fires, Japanese companies' huge cash pile, a chilling message from Xi Jinping, and the Panama Papers movie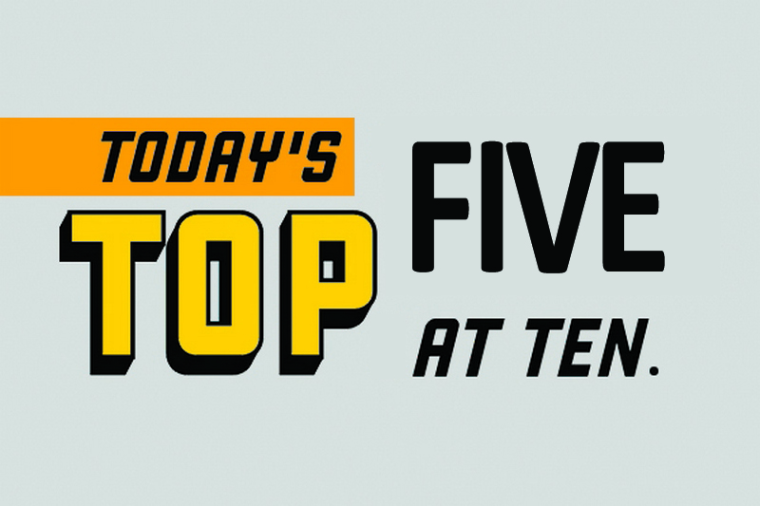 This Top 5 comes from interest.co.nz's own Gareth Vaughan. 
As always, we welcome your additions in the comments below or via email to david.chaston@interest.co.nz.
We are always keen to find new Top 5 contributors so if you're interested in contributing, contact gareth.vaughan@interest.co.nz.
1) The UK's Brexit debacle is a slow moving train wreck that just gives and gives. The drama this week has been right up there, with newly minted prime minister Boris Johnson apparently becoming the first British PM to lose his first three votes in the House of Commons.
Back in the pre-Brexit era when I was a journalism student at City University of London, I enjoyed popping into our reading room in the mornings before class. There was a long table there with all the morning's newspapers spread out for us to peruse. I used to marvel at the vastly different treatment the same story would get in different papers. Sometimes you were left wondering whether journalists from rival papers covering the same story had been at the same event.
Certainly you typically wouldn't die wondering what their respective paper's editorial stance was on a given issue. And this week's Brexit coverage from the British papers shows this is very much still alive and well. Below is a brief selection of some of the more colourful ones.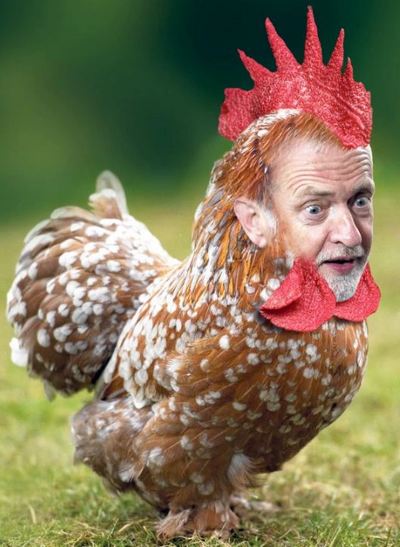 Typically The Sun didn't hold back, featuring Labour leader Jeremy Corbyn as a chicken.
THE SUN SAYS Corbyn was always an unpleasant dimwit and a liar – turns out he's chicken too

FOR two years Labour has goaded the Tories into calling an election. Now, incredibly, the wretched, snivelling coward Corbyn runs away from one. Every day he and his arrogant Marxist mob sneered "Bring it on!" Until the moment they were finally offered the chance to stand before the electorate.
The Daily Express was pretty grumpy too.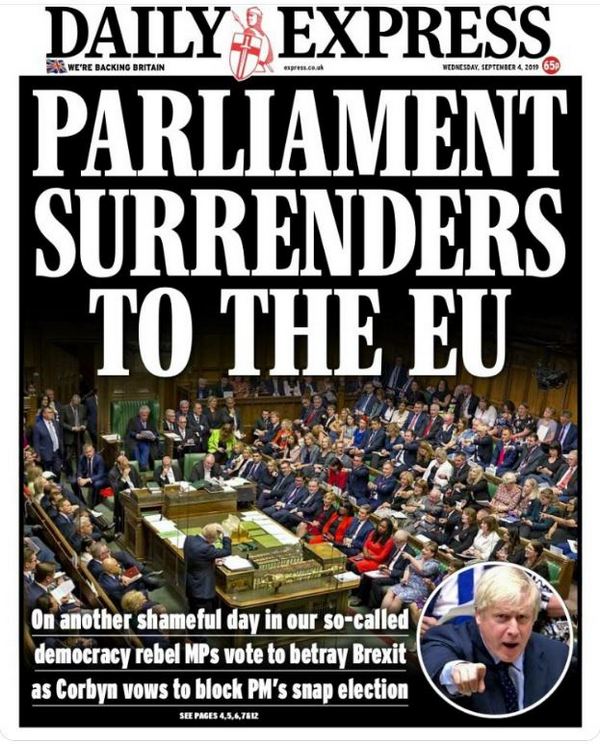 In the interest of balance, here's The Mirror.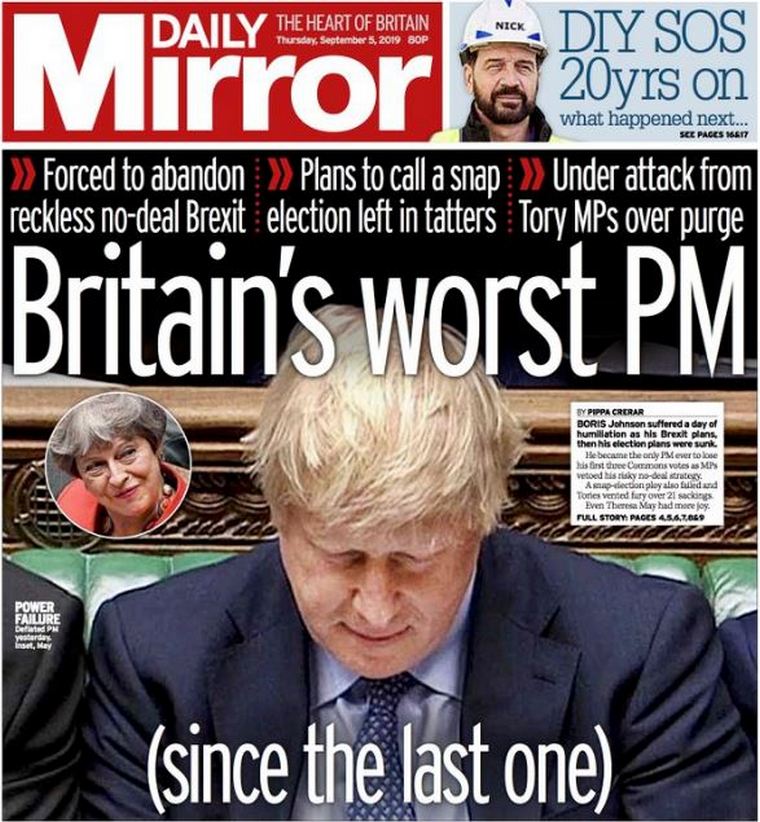 And a Steve Bell cartoon in The Guardian.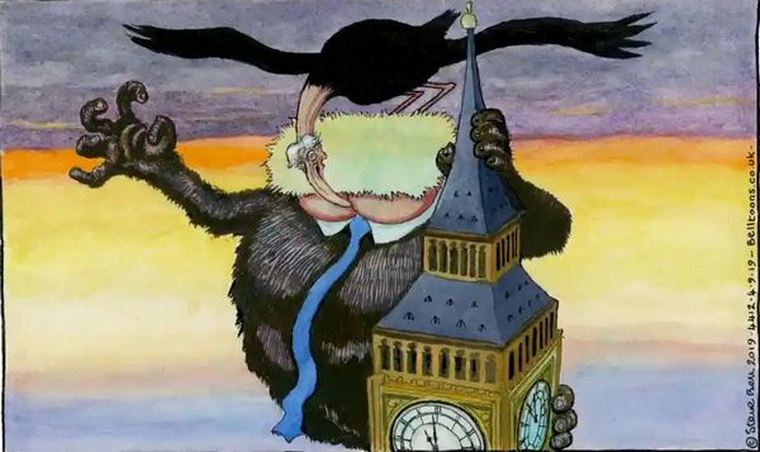 2) Fires in the Amazon rainforest have featured prominently in the news recently. Here The Conversation points out this is but the latest chapter in a 500 year exploitation of the forest since Europeans reached it. This includes the Portuguese seeking timber, British rubber plantations, Henry Ford developing "that wonderful and fertile land" to produce rubber for car tyres, valves and gaskets, and beef for McDonalds hamburgers.
These fires have brought global attention to the forests of South America, but the crisis surrounding them has deep roots. To understand what is happening in the Amazon today, it's necessary to understand how deeply exploitation of the forest, and the Indigenous peoples who live within it, are ingrained in the global economy.
And;
Once cleared of trees, land was turned into plantations to grow labour-hungry cash crops such as sugar, encouraging the enslavement of yet more Indigenous people. When they proved too few in number, vast numbers of people were taken from Africa and forced into slavery alongside them. 
The Atlantic has published a similar article, albeit just from a contemporary perspective. It's by Anna Lappé, author of a book called Diet for a Hot Planet. Lappé poses the question; Who is profiting from the development that led to these fires?
Earlier this year, the U.S-based nonprofit Amazon Watch, which has worked closely with indigenous groups in South America for 20 years, published an analysis showing that "foreign investors have enormous influence over what happens in the Brazilian Amazon … Big banks and large investment companies play a critical role, providing billions of dollars in lending, underwriting, and equity investment."

These investors have helped stoke the growth of the beef and soy industry in Brazil, irresponsibly and inexorably, regardless of their intention, putting the Amazon in the crosshairs of agribusiness. In recent years, Brazil has emerged as the world's largest exporter of beef and soy. Brazil accounts for roughly 20 percent of the global beef-export market. Together, Brazil and its nearest rival, the United States, account for 83 percent of the global soy export; its biggest markets are found in the EU and China.
3)  Companies in Japan, another country I've lived in, are sitting on a huge pile of cash. Bloomberg details this.
In banks across Japan sits a pile of money that's bigger than most countries' gross domestic product -- the cash reserves of the nation's companies. For some it's a testament to their strength, but to many it's a wasted opportunity.

Firms listed in Japan held 506.4 trillion yen ($4.8 trillion) in cash as of their latest filings, the highest level on record, according to data compiled by Bloomberg. It's more than tripled since March 2013, months after Prime Minister Shinzo Abe returned to power vowing to stamp out cash-hoarding.
Bloomberg suggests Japanese executives' "penny-pinching ways" date from the adoption of a conservative attitude after asset price collapses in the early 1990s, which led to economic stagnation and failing financial institutions who were no longer able to lend to businesses.
Three decades later, company executives still want to be independent of debt financing. 

"The strategy is to have a lot of cash because that gives you strategic flexibility for acquisitions or a cushion for a rainy day because who knows when the economy might go bad," [Zuhair] Khan of Jefferies [Japan Ltd] said.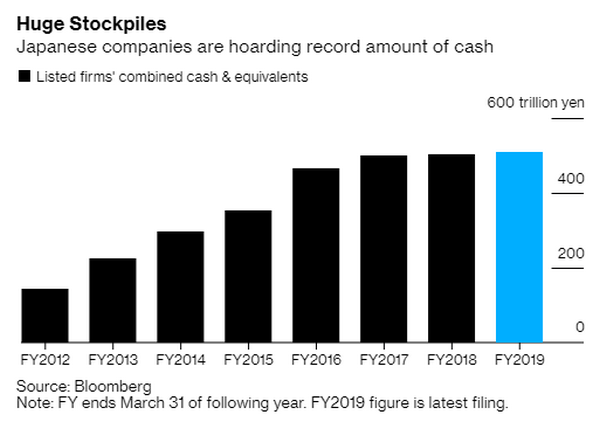 4) Just as Hong Kong leader Carrie Lam announces she will formally withdraw the extradition bill that sparked months of protesting, The South China Morning Post carries a chilling warning for Hong Kong, Macau and Taiwan.
Chinese President Xi Jinping has singled out Hong Kong, Macau and Taiwan as major risks and challenges that Communist Party members must "struggle against."
In a speech to officials on Tuesday, Xi listed a number of challenges facing the country, even putting this specific category ahead of "foreign affairs" despite the global economic and strategic challenges China faces, including the trade war with the United States.
And;
Zhang Lifan, a Beijing-based political commentator, said the emphasis on Hong Kong, Macau and Taiwan in the president's latest speech highlighted the delicate situation in the three territories from Beijing's perspective.

"The representation is not new but it reflects that Beijing sees the strategic importance and the far-reaching influence of the three regions," Zhang said.

"Beijing sees a greater threat of subversion [to its power] from these three regions if [the problems] are not handled well."
At the time of writing it appeared the Hong Kong protests would continue with pro-democracy protestors saying withdrawal of the Bill meets only one of their five demands.
5) Remember the Panama Papers? Now there's a movie about them. The Laundromat starring Meryl Streep, Antonio Banderas, Gary Oldman and David Schwimmer, premiered on Sunday at the Venice International Film Festival.
According to the International Consortium of Investigative Journalists (ICIJ), which led the 2016 investigation, the film explores the world of tax havens and complex offshore financial structures through the eyes of Panamanian lawyers Jürgen Mossack and Ramón Fonseca, played by Oldman and Banderas.
The Laundromat, directed by Soderbergh and written by Scott Z. Burns for Netflix films, draws on a book by reporter Jake Bernstein, Secrecy World: Inside the Panama Papers Investigation of Illicit Money Networks and the Global Elite.

Speaking at a press conference at the film's premiere, Streep, who plays justice-seeking protagonist Ellen Martin, paid tribute to the journalists who worked on the Panama Papers and praised the bravery of reporters like Daphne Caruana Galizia, who was murdered in Malta during an investigation based on the leak.

"The reason this, the Panama Papers, was exported to the world was because of the work of over 300 investigative journalists who got the word of John Doe, the whistleblower … out into the world," Streep said. "Some people died for it … And people die still to get the word out. This movie is fun, it's funny, but it's really, really, really important."
To jog your memories and fill in any blanks, here's Will Fitzgibbon of the ICIJ with a Panama Papers explainer. Fitzgibbon appeared in this interest.co.nz Double Shot interview earlier this year.