Geoff Simmons acknowledges Universal Basic Income isn't a panacea, but argues it does provide a basic platform of dignity upon which people can stand and reach for their goals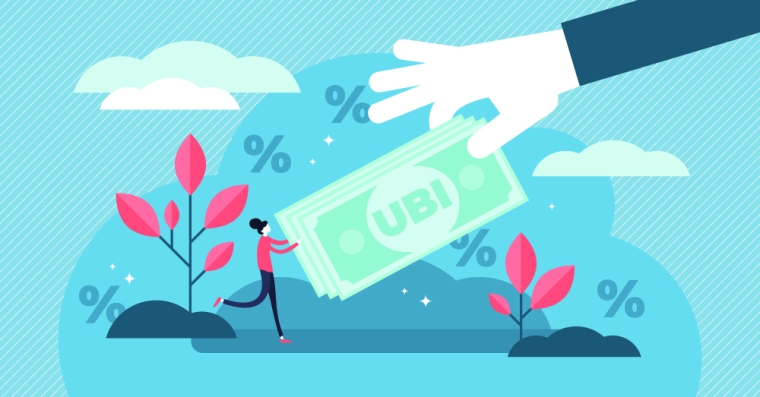 By Geoff Simmons*
Recently both academic economist Susan St John and researcher Max Rashbrooke have offered reasonable critiques of the Universal Basic Income (UBI). However, they glossed over the big problem of targeted welfare and all the issues they raised can be overcome.
First, a quick refresh on the benefits of a UBI. Everyone receives it, eliminating stigma, reducing bureaucracy and making sure nobody falls through the cracks. It honours unpaid work, for example parents and carers. It is also future proofed for an increasingly dynamic "gig" economy. With the impending problems of automation and artificial intelligence, people will need to move in and out of work, retrain, and start businesses. Our existing welfare system won't be able to cope, which is why I believe that a UBI is inevitable. 

The key critique St John and Rashbrooke offer is that a UBI will either be unaffordable or insufficient to live on. The critique is fair, but ignores the bigger picture. Any welfare system faces tradeoffs between sufficient income, affordability, and incentives to work. There is no perfect system. By focusing on sufficiency and affordability, St John and Rashbrooke are brushing aside incentives to work.
Incentives to work are probably the biggest problem with our current welfare system - including benefits and Working for Families (WFF). As people increase earnings, their payments abate (get reduced). This acts like a tax, providing a dis-incentive to work. Some people call this a poverty trap.

Abatements may not attract the same political heat as a tax rate, but they hit people's pocket all the same. Including abatements, people on benefits or WFF face the highest effective tax rates in the country - usually at least 60% and sometimes over 100%. Ask any employer how hard it is to get people on benefits or WFF to pick up more hours when it is busy. 
A UBI is clearly better for incentives to work, as everyone gets it, and keeps it if they earn income. There is no abatement, no poverty trap. With that advantage in mind let's move on to the critique of affordability and sufficiency of the UBI.
Affordability isn't a consideration for an emergency UBI. We are funding the entire country off debt at the moment, so surely it would be fair to offer assistance to everyone. Casual workers and students have missed out from the Government's stimulus packages so far, and that isn't fair. Australia offered a universal stimulus of $1000 during the Global Financial Crisis, and Hong Kong has done something similar recently.

Longer term, the viability of a UBI comes down to your definition of "sufficient". 
A UBI at the same level as the current Jobseeker Allowance - $250 per week - is affordable. A modest Child UBI is also possible. The Opportunities Party (TOP) will release a plan in coming weeks to show how those can be paid for. This will require some wealthy people to pay more tax, but with no abatement, the effective tax rates people pay will be much lower than with our current targeted benefit system. The tax and benefit system as a whole will be simpler, and the overall incentive to work will improve. 
Is $250 per week sufficient? Society deems it is sufficient for Jobseekers at the moment. And if you think benefit rates should be higher, under the current system that will make the poverty trap worse.
Most people wouldn't want to live off $250 a week. With a UBI they are welcome to seek work and they are not penalised for it. The real winners from a UBI are the working class. For example those on the minimum wage would be instantly boosted above the living wage. 
Anyone that is content to live on $250 a week - I have no problem with that. 
There may be a few cases where we want to offer more support to people that can't work. We pay sole parents more than $250 per week at the moment. A child UBI would supplement this, but some might continue to require a top-up. Some sole parents may choose to just rely on the UBI and reduce their costs by cohabitating. 
This means that a UBI won't completely eliminate all welfare bureaucracy, but it will remove the need for most of it. The remaining welfare system would be for those that truly cannot work.
No welfare system is perfect. Being able to effectively target welfare is a nice story, but that is all it is. The current system is so complex to navigate that many people don't get the support they need (and are entitled to). That is why so many beneficiaries turn to welfare advocacy groups to help them. 
Some of the worst problems with the benefit system can be fixed with relatively simple, though expensive, reforms. Benefits can be individualised, so people aren't punished for cohabitating or being in a couple. Abatement rates can be reduced. All these are steps towards a UBI that Rashbrooke and St John suggest, and should be welcomed. But why not go the whole way if we can?
A UBI isn't a panacea. But it does provide a basic platform of dignity upon which people can stand and reach for their goals. Fundamentally I believe in the resourcefulness of people to forge their own path more than I trust in the ability of politicians and bureaucrats to decide who deserves support and who doesn't.
Note: Susan St John is my former lecturer and I completely respect her views. In fact, she was the one that taught me about the poverty trap!
---
*Geoff Simmons is leader of The Opportunities Party.