Brendon Harre sees the Ministry of Works as a template for how we should develop our national infrastructure, updated to the SOE model, and led by professionals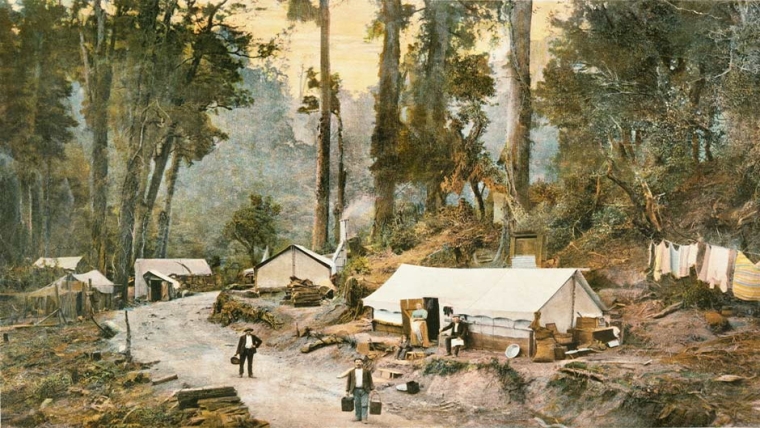 The Ministry of Works and Development, formerly the Department of Public Works, was founded in 1876 to push through Julius Vogel's central government reforms. From this instrument of colonisation the MoW developed into a genuine nation building tool that benefited all New Zealanders. Yet in 1988, at the height of the neo-liberal free market reforming era it was dis-established and privatised.
For New Zealand to recover from the Great Covid-19 Recession (GCR) will require a stronger expert-led public service to successfully guide the redeployment of the nation's resources. Whole industries, like tourism have sustained a body blow that will permanently change their nature. In particular, new purpose will need to be found for the rapidly expanding numbers of unemployed.
The Ministry of Works may need to be re-established. The MoW was extremely multifaceted, in the past it led the governments capital investment approach to developing New Zealand. The MoW had an ethos of nation building.
In the future, the MoW being a unified public service specialising in capital works, could take responsibility for forming and following through with the democratically determined strategic direction for re-making New Zealand.
A useful way of describing a public building approach to governance is the difference between positive and negative planning as articulated by Professor Alan Evans in his book Economics and Land Use Planning, (2004, P.176–180). He describes two types of plans for the built environment:
Positive planning where the government buys the land (outright or in partnership with the landowners) and builds what it understands should be there, benefiting from the capital value uplift the developed properties creates, to fund, in part or in whole, the infrastructure provided (note local or central government may also gain rising tax revenue as a result of the economic activity induced by the public works that could also fund the infrastructure provided).
Negative planning is the use of district plans and planning rules to prescribe or proscribe what types of land-use development can occur in an area. Yet how much and what type of built environment that is actually constructed is determined by the private sector, as long as they act within the boundaries of the planning rules.
Positive planning for towns and cities is a government-led method of constructing much of the most critical parts of the built environment in a way that the urban area can achieve low land prices that is affordable for housing, business and workers. Positive planning can be as competitive as the alternative affordable urbanisation method -an absence of planning -that allows the private sector to develop land with no rural urban growth boundaries or other land-use restrictions.
The positive planning approach has the advantage of maintaining a compact city configuration.
This contrasts with the negative planning approach (which is New Zealand's current default with RMA District Plans) which can only achieve compactness by imposing urban growth boundaries or other land-use rules that increase land prices.
The positive planning approach and variations on it have been successfully implemented in several countries in Europe and Asia.
Examples of positive planning specific to city-building, was the planned integration of urban development with rapid transit (rail) used in New Zealand's state housing boom of 1937 to 1955. Especially in Wellington. The planned extension of this model to Auckland and Christchurch did not occur due to a change in central government direction (Slow Train Coming: The State Changes its Mind about Auckland Transit 1949–1956, by Christopher E Harris, PhD -Planning, 2005).
A kind of positive planning was also a feature of many early European settlements in New Zealand, such as the pre-planned communities of Christchurch, Wellington, Nelson and Dunedin, where the gains from provincial government land sales at the so-called 'sufficient price' was used to fund infrastructures and cultural amenity (C E Harris, 2005, P.8). Or to characterised it another way, infrastructure and cultural amenity was funded by the resulting uplift in the value of government land holdings which could be sold once the 'sufficient price' was achieved.
Auckland's land-use development (both the city and the rural hinterland down into the Waikato) had a different history that evolved into a model that was more about the private sector, legal and financial entities, and land speculation. It also involved some pretty unsavoury war-profiteering.
In the past the MoW took the positive planning approach to making New Zealand. In partnership with elected representatives they identified projects that would advance the development of the country. The MoW had their own economists who could evaluate and determine how nation-building projects might fit into wider considerations, such as, the economic cycle. The Ministry was at odds with a neo-liberal Treasury, as it could hold its own in economic debates. Given this fight for political-economic attention it is not surprising the MoW was dis-established.
Whether the old MoW is resurrected or if a new modern structure with a similar purpose is created, I am sure the construction community would prefer to be led by their own people much like the health community does. Leadership instilled with knowledge, science and expertise from years of professional practice, so they are at the top of their game.
Also, I am sure there were problems with the public sector approach. Gold plating? The civil service acting as if they were the permanent government (Yes Minister)? And communism has never worked anywhere? A balanced approach is probably best.
Thesis — > Antithesis — > Synthesis.

State as only developer — > Neoliberal Wild West — > Balanced public and private sector model; coordination plus competitive tension.

1870s - 1940s — > 1950 - 2020 — > 2020+? (H/T Patrick Reynolds)
The positive versus negative planning concept can be expanded from describing the building of public civil works to describing the wider New Zealand public service. Being the current ethos is that many government departments 'negatively' plan/contract what separate providers then do.
Meaning many government departments lack the expertise to take a 'hands on', 'in-house', 'do it themselves' approach. The departments are silos mostly led by generic managers without a background of expertise in the core competency of the department. There is little evidence these managers see their role as taking responsibility for remaking a better version of New Zealand.
This is no accident. This is the worldview of Treasury who prevailed to embed neoliberal free market reforms in the 1980s and 90s. Two of the key pillars of these state sector reforms were the 'funder-provider split' and the adoption of a 'new public management' model for running the civil service.
The neo-liberal reforms replaced the old model of a career public service, headed by senior figures drawn from within the public service ranks, and directed by ministers who through the democratic process were publicly accountable for the delivery of public services.
The public service was reconfigured to operate under a managerial model, with outside appointees on short-term contracts. Many services were delivered by third parties under the Treasury's model of a contractual funder-provider split. Government departments were often stripped of professional expertise in favour of generic managers.
The Director-General of Health, Dr Ashley Bloomfield, is a conspicuous and fortunate exception to the general rule of having departments headed by non-specialist managers who do not understand the core business of their organisations and don't have time in their short contract terms to learn that core business.
Dr Bloomfield's success in leading the public health response to Covid-19 raises the question of 'what else could the team of 5 million that is New Zealand achieve given expert leadership'?
New Zealand's successful fight against Covid-19, as an example of an expert-led government department responding brilliantly to challenging circumstances, may lead to a desire from the public for change in the management ethos of the wider public service.
For example, some engineers have informed me the current Building System Legislative Reform Programme is not the full revolution required for the construction sector. That it is about shuffling other people's liability, whether it be reducing council liability, having insurance pay for when things go wrong, reducing what activities an engineer can undertake and increasing fines and jail sentences.
These building reforms fit into the category of the 'negative' approach, expecting the private sector to be the 'doer', while the public sector limits itself to a regulatory guidance role only. The negative planning approach risks the public sector losing the connection that allows those who gain on-the-ground expertise in implementing successful new public works and services being able to rise to positions of ministry leadership.
The proposed New Zealand Infrastructure Commission -Te Waihanga, appears like it is going to be an independent body. Independent means siloed with a very narrow remit, not leading what would be useful to do, but rather keeping to narrow advisory objectives. Independent can mean disconnected and dissonant.
As to the future of construction, given New Zealand's size the best way to keep up with technology advances would be to have a strengthened MoW.
The private construction sector struggles enough not to go bust, let alone to keep New Zealand's construction technology progressing in a systematic manner. In Japan they have eight large construction companies that develop technologies, but our construction industry is not of the scale of Japan's. Other Asian countries like Taiwan have an equivalent of a MoW, at least in terms of progressing earthquake engineering.
Engineering colleagues have informed me that in many cases the MoW led technology transfer. For example the Ngauranga flyover in Wellington which used the incrementally launched method (also known as a push bridge where it is built at one end and pushed out over onto the piers), the MoW bought the launching nose and let the contractor use it. This was then built by a private contractor.
Another example of technology transfer is for gas pipelines for Taranaki gas, an American company was brought over to do the pipe welding, as part of their contract they were to teach locals how to do it well.
In both of these examples a deliberate approach by the MoW allowed overseas technology to be transferred to New Zealand successfully, both technologies having become well established in New Zealand.
In New Zealand there is a desperate need for the quality of building work, especially in residential housing, to be raised to international standards. Technology transfer is a very important issue. It needs to be done well.
A bad example of technology transfer was the use of monolithic cladding, which is part of our leaky homes saga, that occurred after the neoliberal reforms that favoured generic over expertise management structures in government departments.
More recently the KiwiBuild housing scheme failed on several different levels. In particular there was insufficient demand, as house prices were too high for most renters to afford and the houses were too often poorly located. A considerable part of the failure though was the split between an inexperienced non-expert funder and providers who did not 'buy into' the vision. The private development sector did not want to change their established practices. Developers wanted to continue designing and selling housing estates that target the high end of the housing continuum with expensive bespoke housing. They did not want to reallocate resources to the mass building of more modest housing targeting the middle or lower end of the housing continuum.
It is unfortunate that KiwiBuild's 'buying off the plans' funder/provider initiative has tarnished the whole concept. That this failure is inhibiting government departments ability to demonstrate prowess in areas where a government-led building process should have a natural advantage. Such as, spatially planning the integration of housing with transport infrastructures and master planning new built environments in locations that involve complex relationship building between multiple stakeholders -such as, local councils, multiple government departments, iwi, landowners etc.
More generally than the discussed housing, transport and construction examples, for the public and its elected representatives there is a danger that if an expert-led public service is not re-established then the public's desire for effective responses to the challenges of the day will be thwarted. As the levers of power are disconnected.
It is vitally important for the future success of New Zealand that all its levers are fully functional because the challenges the country faces appear to be rising at an exponential rate. Addressing rising inequality, a housing crisis, a mental health crisis, the climate emergency and the Great Covid-19 Recession is a massive challenge. I suspect collectively it amounts to a rupturing crisis in our nation's story. To get ahead of the curve New Zealand needs to use all its resources wisely.
---
This is a repost of an article here. It is here with permission.