Henry Thomson says it is clear that restrictions to US mobility point to how hard the economic impacts will be, and real time tracking signals where and when the impending pain will start. It will have global consequences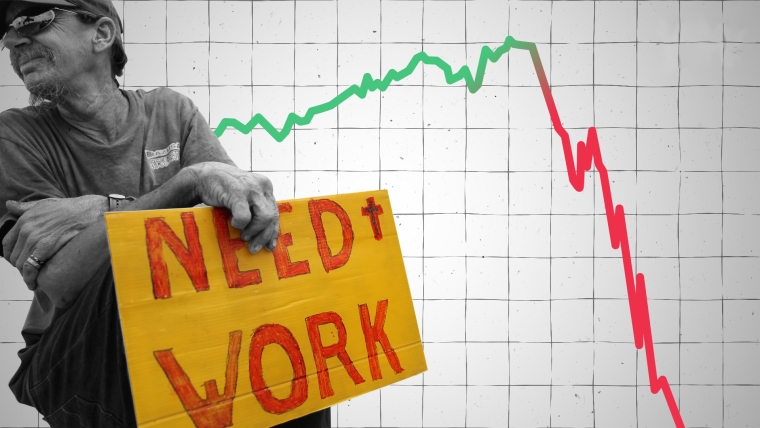 How should we assess the economic consequences of the Covid-19 pandemic in the United States?
On the one hand, fatalities per capita rank among the highest in the world, and in places like New York and New Jersey exceed those of the hardest-hit provinces in Italy. Lockdowns in the Northeast and parts of the Midwest were harsh and long. There is an ongoing surge in Covid-19 cases in Florida, Texas, and western states like Arizona and California that has forced governments to reverse some of their measures to reopen bars, restaurants and other businesses.
Airlines are threatening to slash tens of thousands of jobs and retailers large and small are under immense pressure. The storied American menswear company Brooks Brothers, in business for over 200 years, this week filed for bankruptcy.
On the other hand, many states have been relatively unaffected by the virus, avoiding either high numbers of cases, harsh lockdowns or both. The US stock market, as measured by the S&P 500 Index, fell by around 34% from mid-February to late March, but has recovered to sit at less than 10% below its pre-pandemic peak. Commentators such as the IMF, World Bank and OECD expect the economic fallout for America to be significantly less dramatic than for the Eurozone and Latin America.
It is obvious that any full accounting of the economic implications of the Covid-19 pandemic in the US and elsewhere will not be possible for many months or even years. However, the central role of the United States to the global economy makes an assessment of the ongoing impact of the pandemic important. It is unclear what the relative positions of the US, European and Chinese economies will be as they emerge from the crisis. And given that the virus seems set to be with us for some time, the experience of different parts of America until now can give us some information on how the country will fare in the future.
As I have discussed in a previous column, New Zealand's statistics on unemployment are reported only quarterly and with a long lag, making any real-time analysis of the economy very difficult. However, the US Bureau of Labor Statistics releases unemployment data monthly, after around three weeks. The unemployment estimates for May, which were published towards the end of June, give us a picture of the effects of the first phase of the virus's effects in the US, which began in earnest in Washington State towards the end of February.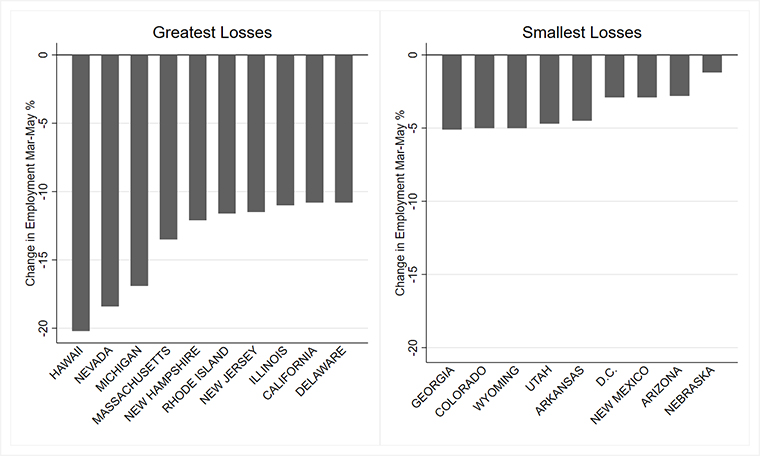 The picture painted by these data is very diverse. Unemployment through May was affected catastrophically in some states such as Hawaii and Nevada, who depend on tourists flying in from around the nation and the world, but much less so in Nebraska and other sparsely populated states in the South and West.
Assessing total losses in employment from March-May, they average 8.1% across all 50 states plus the District of Columbia, but range from 20.2% in Hawaii to only 1.2% in Nebraska. The hardest-hit states included tourism-dependent Nevada, but also some heavily affected by the virus such as Massachusetts and Michigan. States experiencing increases in unemployment of 5% or less were mostly in the West, including Arizona and New Mexico, with the notable exception of D.C, with its high levels of government employment.
The question is, will this trend continue, given that some states that were relatively unaffected by Covid-19 through the end of May are right now experiencing significant outbreaks that are causing renewed restrictions on economic activity?
We can go some way to answering this question by assessing the correlation between the severity of lockdowns and the collapse of employment during the first phase of the pandemic through the end of May. Google has published data, derived from the use of its products such as Google Maps, that compares trends in mobility in specific regions to a baseline in January-February.
I used these Google data to measure state-level changes in the frequency and length of visits to places through Friday, April 16th when states were yet to begin to loosen their restrictions. I excluded activity in the parks and residential categories to focus on changes in economic activity.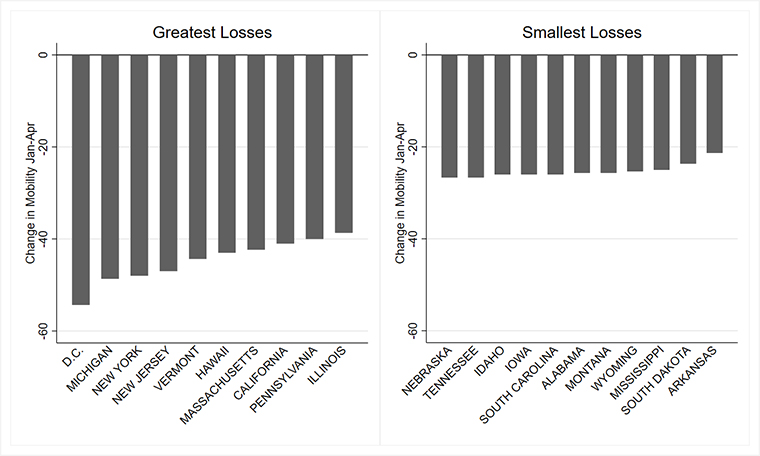 The greatest losses in mobility were in the states we know had the most severe lockdowns in the Northeast, alongside D.C., Michigan, California and Illinois. The smallest losses tended to be in the Midwest, South and West.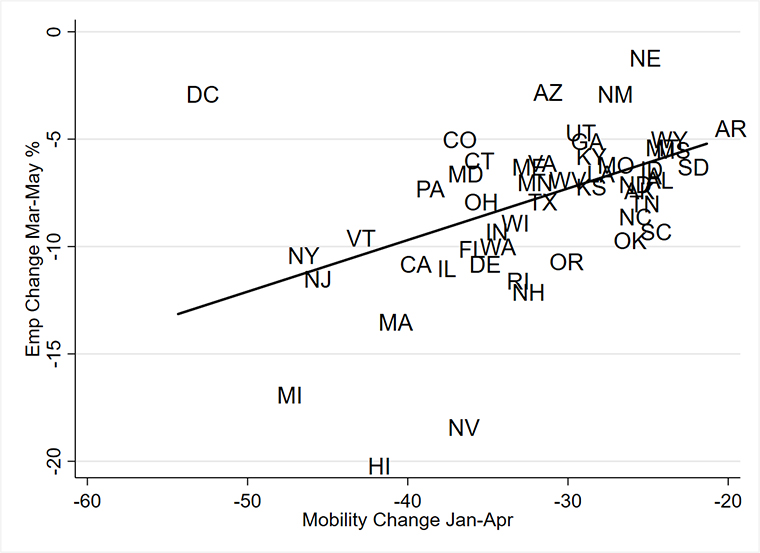 A very simple analysis shows that there is a robust correlation between losses in economic activity and losses in employment. Quite simply, states that experienced greater reductions in the Google mobility indicator also saw greater reductions in employment.
There are some outliers: D.C. saw a huge reduction in mobility but saw very little effects on employment; this is likely due to the large numbers of government employees there, and others who were able to relatively easily work from home. The reductions in employment in Hawaii, Nevada and Michigan were relatively large compared to their reductions in mobility. For Hawaii and Nevada, this illustrates their reliance on tourism, while for Michigan shutdowns in the auto industry are likely to blame.
Extrapolating from this early experience, it is likely that states such as Arizona, Texas and Florida are at risk of slipping down the employment rankings as their new restrictions on economic activity begin to bite while other states' are lifted. If we include California on this list, we have a large proportion of the US economy. Although these states are unlikely to fare as badly as the worst-hit states because their economies are more diversified and less dependent on travel, America is not out of the Covid-19 woods yet.
---
Henry Thomson is originally from Amberley, North Canterbury and is now an Assistant Professor of Political Economy at Arizona State University. His research focuses on the political economy of authoritarian rule and transitions to democracy. You can read more about his research here and follow him on Twitter @HenryRThomson. His earlier letters are here.