ANALYSIS: How can Grant Robertson prepare a budget if he doesn't know how much of the $62 billion ring-fenced for COVID-19 has been spent?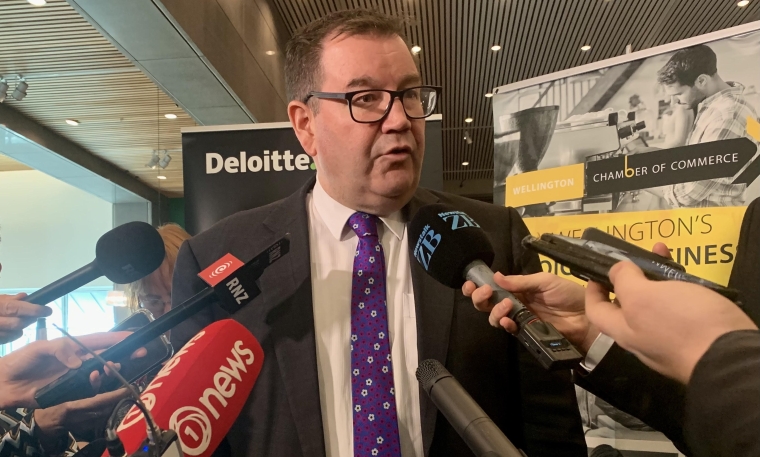 By Jenée Tibshraeny
Delivering on its bold promises is this government's weakness and it knows it.
Of all the things Finance Minister Grant Robertson could've previewed in his first pre-Budget speech on Tuesday, he chose to announce an "Implementation Unit" will be created to ensure the Government does what it says it will.
He said funding would be allocated in the May 20 Budget to hiring a handful of people to sit in the Department of the Prime Minister and Cabinet and monitor the Government's large, inter-departmental initiatives around the likes of infrastructure and climate change.
The unit will report to Robertson - who stepped into a de facto 'Minister of Delivery' role after last year's election, when he was given the Infrastructure portfolio.
Pulling off major infrastructure projects is central to the Government's economic recovery plan, so coupling the portfolio with Finance and giving it to a safe pair of hands made sense.
Nonetheless, Robertson knows he still doesn't have enough oversight of where all the funding he allocates ends up.
He couldn't on Tuesday tell interest.co.nz how much of the $62 billion allocated towards the COVID-19 recovery last year has actually been spent.
Individual government departments have this information, but Treasury hasn't tallied it all up. 
Auditor General unhappy
Robertson said this was an issue both he and the Office of the Auditor General (OAG) were concerned about.
Indeed, the OAG in February said in a report: "It would be difficult, if not impossible, for Parliament and the public to track how the COVID-19 funding decisions (by initiative) have been assigned to the various funding authorities (appropriations)."
The issue stems from the public sector's long-standing accounting systems prescribed by the Public Finance Act 1989.
"How funding is sought is frequently different from how funding is appropriated and expenditure is reported in departments' annual reports," the OAG explained.
"Government departments' annual reports include statements of expenditure incurred under each appropriation authorised by Parliament. But there is no requirement for those reports to separately identify expenditure funded in accordance with the Covid-19 funding packages…
"In our view, transparency and public accountability would be better served, and greatly enhanced, if the Government were to provide a regular, easy-to-access report summarising how much of the Covid-19 funding has been allocated, how much of the available funding remains unallocated, the actual amount of spending to date on main initiatives and, ultimately, what has been achieved.
"We recommend that the Treasury consider how such an overview of the Covid-19 funding and expenditure could be usefully presented."
Treasury work still months away
Nonetheless, two weeks out from the Budget, Treasury still can't provide what the OAG said it ought to.
Treasury told interest.co.nz additional reporting will be available on its website in "coming months".
The OAG said Treasury had "responded positively" to its suggestions and kept it informed on its progress.
Robertson eyeing Public Finance Act reform
However Robertson is eyeing an overhaul of the Public Finance Act.
"I believe the Public Finance Act has served us well from a transparency point of view, but often not at a project level. That's because that's simply not how the Act was set up," he said.
"We do need to keep looking at that to see if we can improve that."
But the question in the here and now is, should Treasury have set up a system last year to ensure the billions of dollars being allocated in the COVID-19 response are accounted for at a central point?
Interest.co.nz asked Victoria University of Wellington's Institute of Governance and Policy Studies director, Simon Chapple.
He responded: "I'd thoroughly endorse the OAG's position. Financial reporting on spending is Treasury's core role, I would have thought, and the responsibility to track COVID spending would seem to be primarily theirs.
"That said, they've had a lot on their plate in recent times."
Indeed, Treasury has had a huge year. But keeping track of what comes in and what goes out is surely at the core of its job - even more so at a time we are talking seismic amounts of money that'll shape New Zealand for years to come. 
The pressure is now on Robertson to see if he can deliver on a framework to help us measure whether he's delivering on the Government's spending plans.