Brendon Harré says we need to transition from concrete and steel to wood for construction, and not only is that starting, the engineering basis for building commercial structures is already developed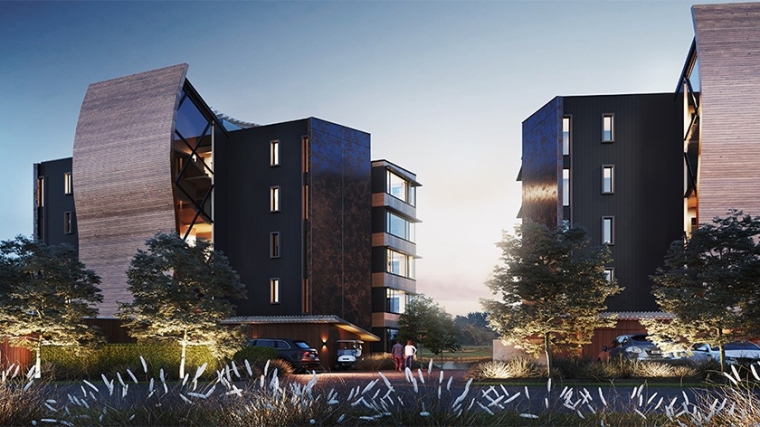 By Brendon Harre*
An abridged report.
The planet is on fire. Humanity is responding - hopefully fast enough.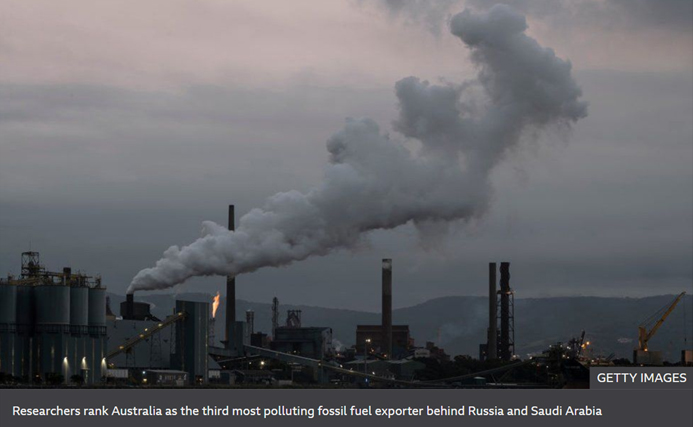 Source BBC News article — Australia attacks sweeping EU climate plan to tax imports 
Europe's coal and steel union evolved into the European Union. Which is now evolving into an environmental union that intends to tax imported carbon. Such a tax would make exporters to the EU pay more for goods like steel and cement.  
The global warming threat to humanity and the international response has significant implications for New Zealand. The country should carefully consider its position. 
Australia is attacking the EU plan, but if the US follows the EU lead, then Australia will eventually follow too. 
It is not in New Zealand's best interest to align with Australia's slow game plan.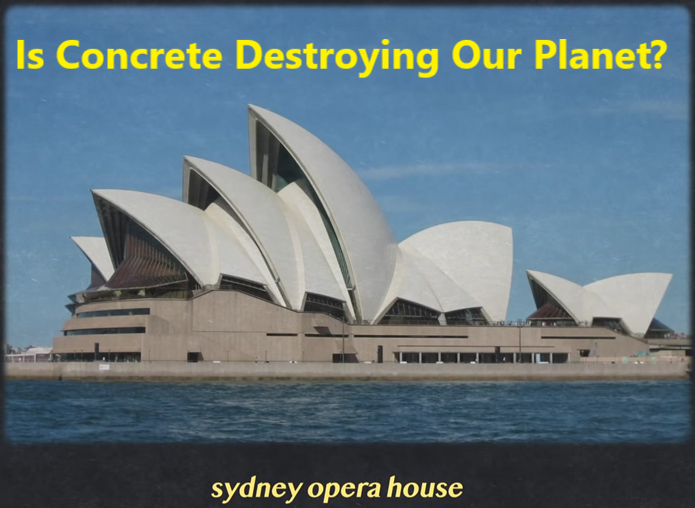 Cement and steel in reinforced concrete is one of the least mentioned contributors to greenhouse gas emissions. Source — YouTube video — Is Concrete Destroying Our Planet? 
A fast climate change agenda has economic opportunities for New Zealand — an open-minded view of the situation would see the opportunity. In particular, that New Zealand can take a globally important role in reducing construction related CO2 emissions.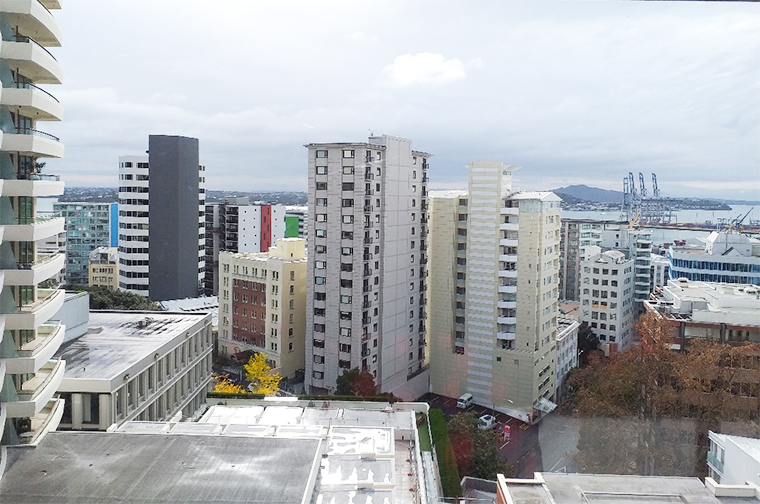 Photo taken by author from Auckland's Pullman Hotel MIQ. Constructing this built environment must have emitted thousands if not millions of tonnes of CO2. Yet it represents one of the solutions to the climate emergency. It is a genuine walkable environment where the requirements of life — employment, residential, retail, entertainment, education, healthcare, and so on — are in close proximity. 
For a century-and-a-half large buildings in the world's cities have been constructed from steel and concrete.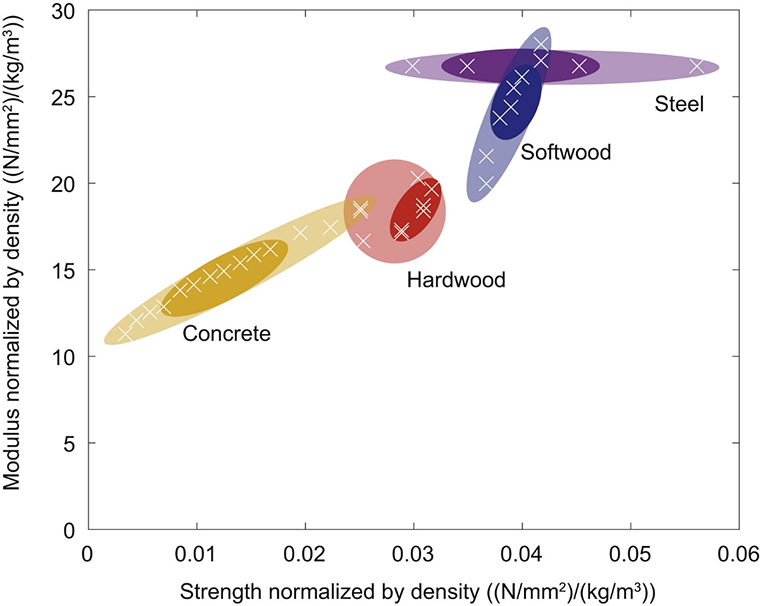 Fig. 21. Compression strength and modulus of construction materials normalised by density, according to the relevant design standards — the dark colors represent the more widely used grades of material. Design values of strength and stiffness, including partial factors, are shown, based on the Eurocode design standards for concrete, steel and timber. Source 
There is now an alternative — wood has the structural properties to be an engineered building product.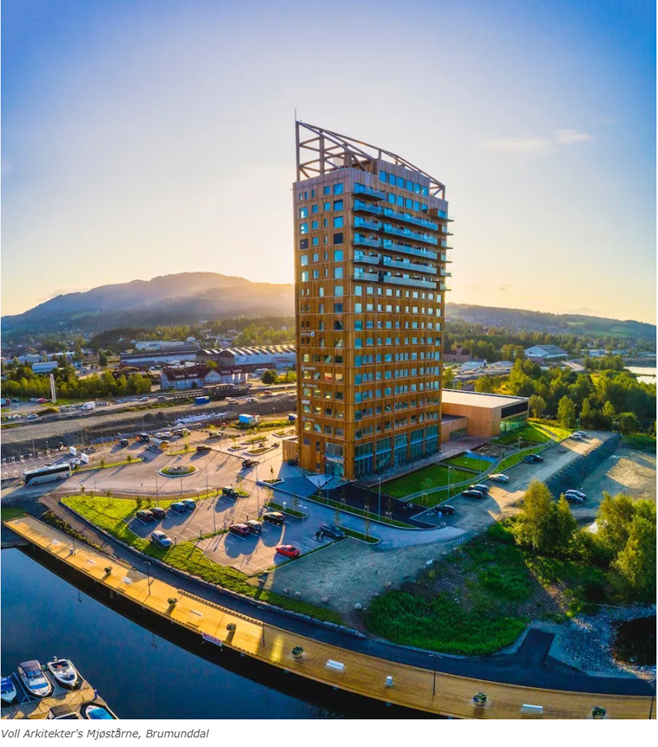 Source — Top 5 tallest timber buildings in the world article 
As a result of timber research, on issues like fire protection, restrictions on building larger buildings from wood have been relaxed.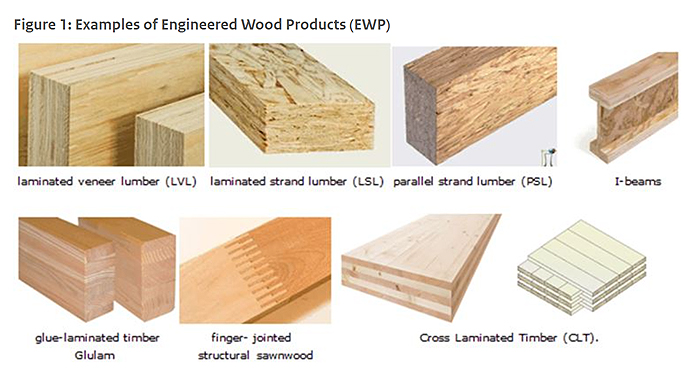 Engineered wood products are becoming increasingly sophisticated.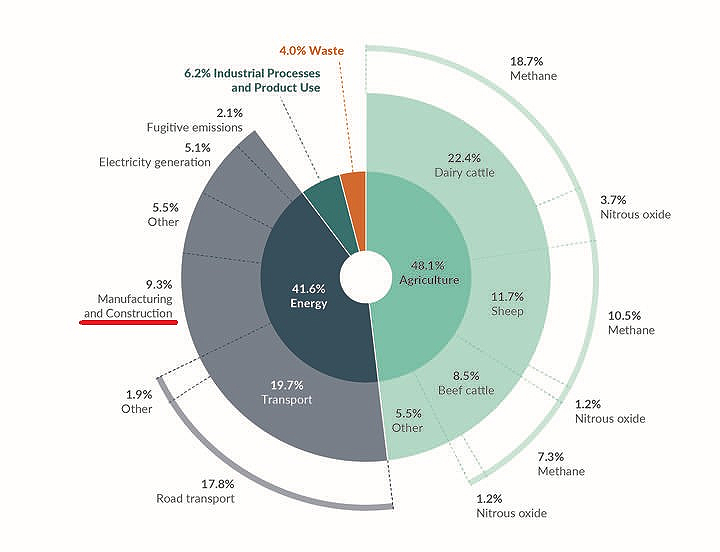 Gross greenhouse emissions for New Zealand in 2019. Construction emissions are smaller than some other emitters, such as, transport but it is significant. Note gross emissions refers to total emissions. Net emissions are gross emissions minus emission removals from land use, land use change, and forestry. Source. 
Concrete and steel together account for 14.7% of global carbon dioxide emissions. Construction and manufacturing are 9.3% of New Zealand's gross emissions.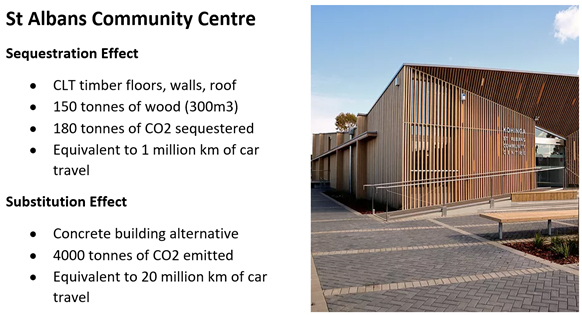 Carbon stored (sequestered) in Christchurch's engineered wood constructed St Albans Community Centre building compared to concrete and steel construction. Figures provided by Prof Buchanan in a talk about timber buildings and carbon forestry 
The proposal is simple — for climate change reasons cities need a new diet. Less concrete and steel — and more plant-based construction materials that sequester carbon, such as, engineered wood. This could be called the vegetarian city model. 
Currently, the majority of New Zealand's wood exports go to China as raw logs. Last year 80 per cent of the country's $2.8b log trade was earned in China. There are concerns that New Zealand is overly reliant on this one market. 
There are also concerns about the methyl bromide gas used to fumigate logs for export.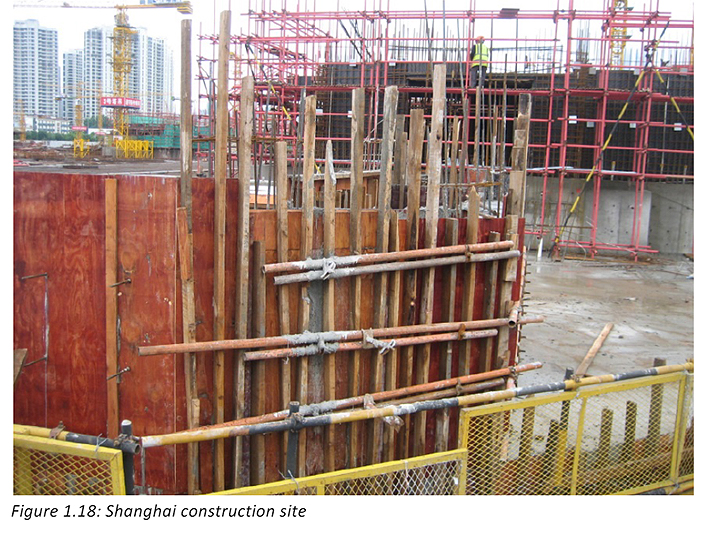 About half of NZ log exports to China becomes solid lumber or plywood used for concrete formwork. Source — Material flow and end-uses of harvested wood products produced from New Zealand log exports. Technical Report. August 2016 
A 2016 technical report showed that from New Zealand's 10.38 million cubic metres of log exports to China – 2.48m m3 was processed into solid lumber and 2.36m m3 into plywood, both of which were used for temporary purposes as form-work for concrete construction. Because of these factors the timber exports were estimated to have an average half-life of only 6.6 years. 
New Zealand produces tens of millions of cubic metres of sustainably managed wood each year, much of which is exported. Currently there is a global shortage of wood products which is further discussed in the extended version of this report.  
New Zealand should aim for its pipeline of timber exports to go into long life-cycle products that sequesters carbon for decades — centuries even — not years. 
What technologies can help cities go on a plant-based diet? 
Accoya — British company Accsys Technology manufactures Accoya using an 'acetylation' process in a Netherlands factory that turns fast-growing, sustainably-managed softwood into Accoya – a wood that has the durability and dimensional stability properties of slow-growing, tropical hardwoods without the accompanying deforestation and habitat loss. 
The proprietary acetylation process removes water-loving hydroxyl compounds and replaces them with naturally occurring acetyl groups. This means Accoya has barely any swelling, warping, or cracking, and a much slower decay rate. Accoya offers an unrivalled 50-year warranty for wood durability. Accoya is non-toxic and 100% biodegradable. 
Pinus radiata is recognised as the wood most suited to the Accoya process. In New Zealand pruned logs are processed into dried clear boards that are then exported to the Netherland factory for the acetylation treatment and some Accoya is re-imported back into New Zealand. The value-added process according to Farmers Weekly is as follows. The pruned log is sold by the forest owner for about $180 m3, the clear board processing in New Zealand raises its value to about $1000 m3, and the Accoya that is re-imported back to New Zealand sells for about $3500 to $4000 m3.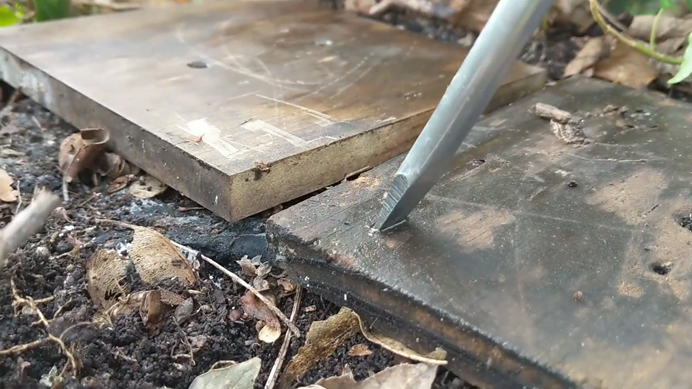 A seven-year field experiment where Accoya nailed to a stump is compared to a typical softwood 
Accoya is used to make windows and doors in the UK. A joinery manufacturer explains why Accoya is such a good option for his industry in this video (the field experiment is very revealing). 
Wood City Helsinki — the harbourside city block where the buildings are constructed with engineered wood. These buildings are clad in Accoya.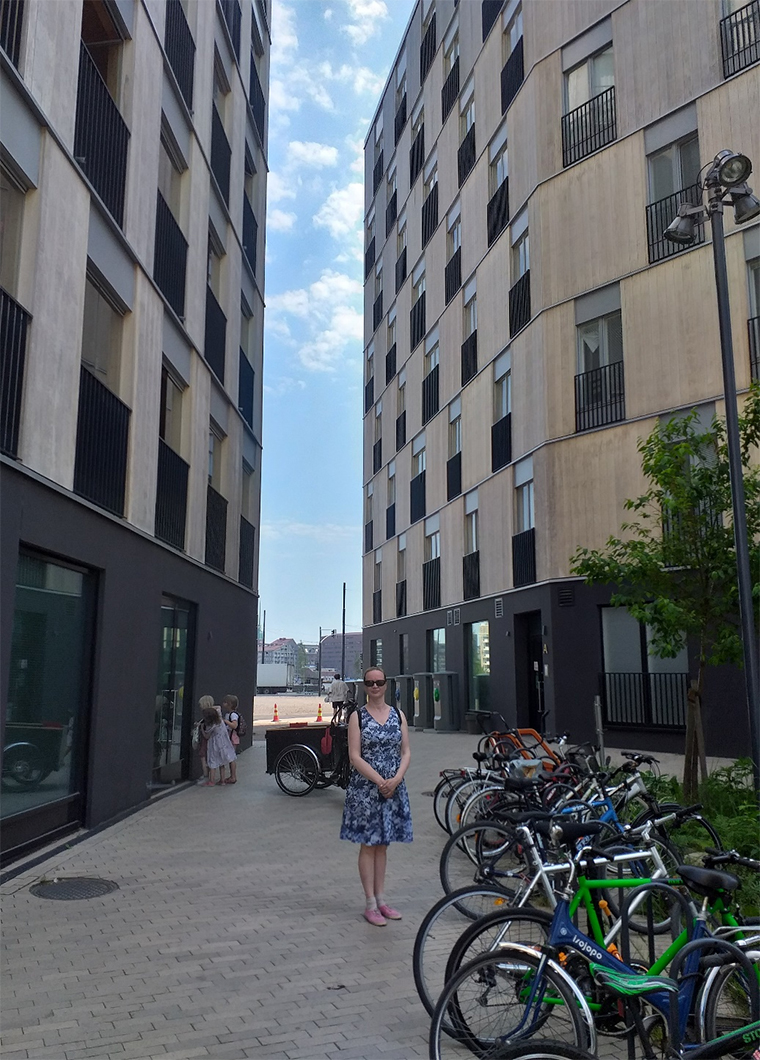 Cladding in Finland. 

Achterbosch Sneek bridge and one of its arches. Source 
A motorway bridge and canal walls in the Netherlands.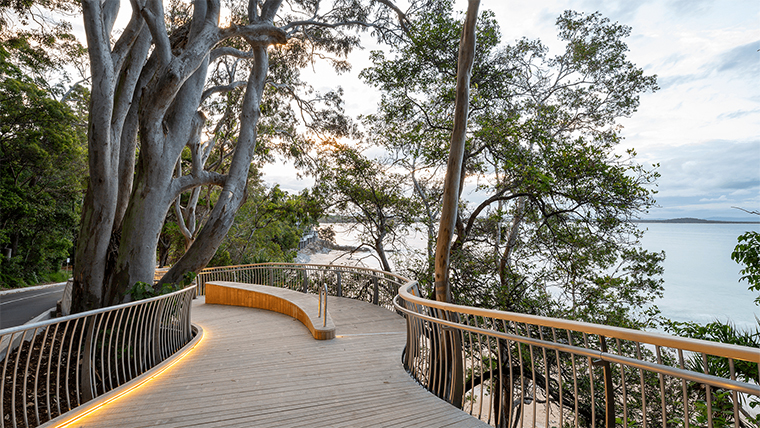 400m long boardwalk — Sunshine Coast 
Decking in Australia.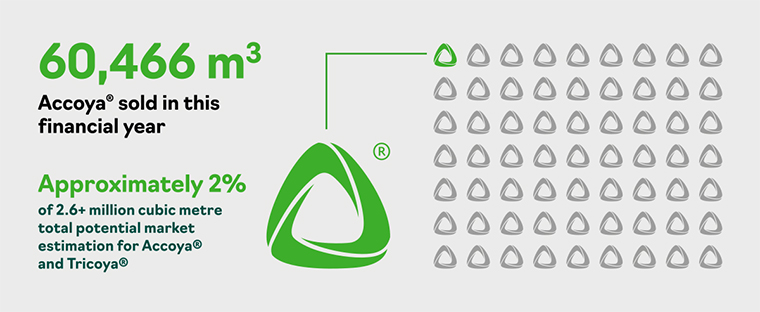 Source — Accsys-Our Markets viewed 6.7.2021. 
Going forward, both Accsys and the New Zealand wood industry want to expand and diversify its markets — Accsys believes it is currently only catering for 2% of its potential market.  
Optimised Engineered Lumber (OEL) – is a commercial product developed in New Zealand. It is structural lumber beams constructed from the stronger and weaker parts of a tree trunk in a way that optimises the amount of wood recovered from each log and the strength of the resulting wood products.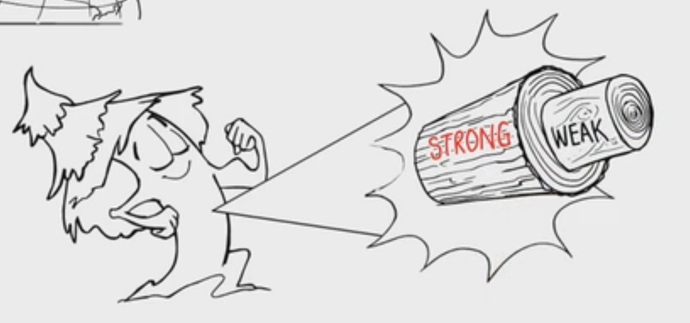 OEL learns from trees — one of nature's strongest organisms — how to combine the strong and weak parts of the tree trunk. Source 
OEL is made from thin strips of wood that are finger-jointed and laminated together. By laminating the wood, the stiffness and strength is improved. The OEL process means the whole log can be used to make high quality structural products, whereas previously much of the log could only be used for low value uses.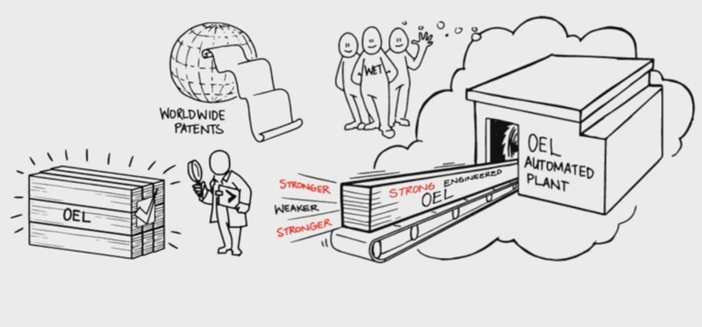 The first OEL plant was opened in Gisborne by Wood Engineering Technologies (WET) in June. When fully completed it will have six production lines producing up to 140,000 cubic metres of OEL — enough for more than 11,000 houses — and employing more than 130 people. 
Cross laminated timber (CLT) — Red Stag Timber, an independent and privately owned timber company based in Rotorua, will shortly open a new $50 million wood processing plant. The Red Stag facility will have the capability to produce CLT panels that exceed 16 metres by 4 metres in size. This will allow for fewer connectors and an overall faster construction process. 
The plant will add 5% to the capacity of the New Zealand wood processing sector. That equates to around two thousand dwelling units. 
Red Stag group CEO, Marty Verry, said 
"CLT has a value sweet spot in large-format structures, buildings of three stories or more, and for mid-floors in terraced housing built to the NZS 3604 standard. Apartment buildings and fast-to-install CLT mid-floors will be our residential focus areas."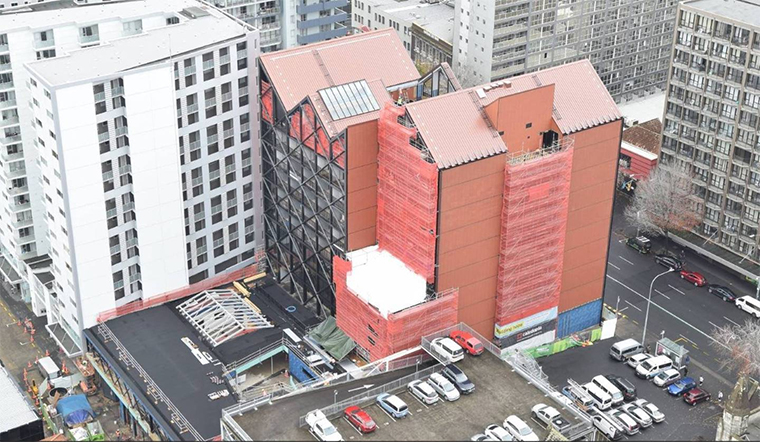 HomeGround building : the new $110m Auckland City Mission HQ is being constructed from CLT 
Substituting for wood in the built environment has already begun to change New Zealand cities. There is plenty of potential for more change. The better New Zealand becomes at constructing its own built environment in engineered wood, the better it will be at exporting these high value wood products overseas for the planets benefit.  
Further reading: 
Engineered-wood can be used in the construction of bridges (link and link). 
There are many technical papers describing the timber construction opportunity. 
Financial investors have identified modified Pinus radiata as an investment opportunity. 
Engineered timber is cost competitive with steel and concrete. 
A farm forester describes the Accoya wood industry opportunity for New Zealand. 
What if wood could be welded like steel? 
What if carbon fibre reinforced wood could replace steel reinforce concrete? 
---
This is a repost of an article here. It is here with permission.