Australia is going to need all its reserves of luck to navigate a fast growing list of threats and challenges, says Ross Stitt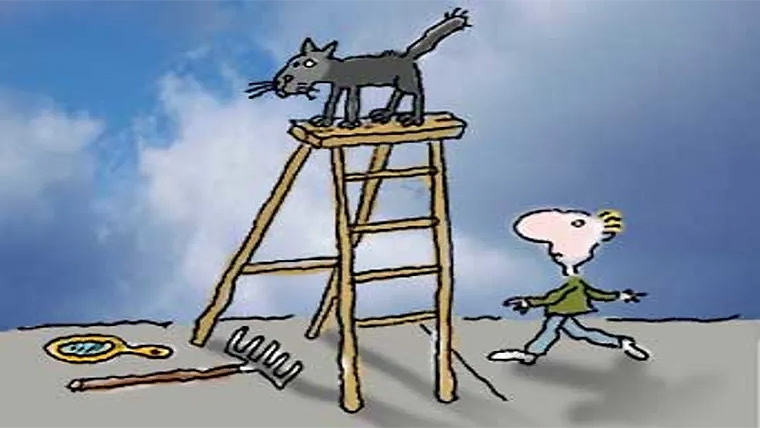 Not since the global financial crisis has Australia faced so much uncertainty.
The country's two largest states have now lost control of the Covid-19 Delta variant. They are both vaccinating furiously as they abandon 'zero-Covid' and embrace a future of 'living with Covid'. As lockdowns and restrictions fall away, the great unknown is the level of hospitalisations and deaths over the coming months.   
The other problem is the conflict between the various states and territories as they pursue different Covid-19 strategies. Try telling Western Australia that it's time to 'live with Covid'. Internal border closures, and all the economic and social difficulties they create, look set to remain well into 2022.
But the pandemic is only one of many challenges currently facing Australia.  
Those challenges include AUKUS-related diplomatic crises, an escalating trade war with China, a collapse in the price of iron ore, the fallout from the Evergrande crisis, ballooning state and federal debt, problems for Australia's coal industry, skyrocketing house prices, and a looming federal election.    
Whatever one thinks of the new AUKUS alliance, its arrival has been messy. The first casualty was Australia's relationship with France. The agreement to buy nuclear-powered submarines from the Americans brought a very sudden end to the previous $90 billion contract to buy subs from France.
The French foreign minister, Jean-Yves Le Drian described Australia's move as a "stab in the back" and accused Australia of betraying "a relationship of trust". The French ambassador to Australia has been recalled. 
This appears to be the end of the closer economic ties that had been developing on the back of the French subs contract. It could also have wider consequences. Australia wants to finalise a free trade agreement with the European Union but there are reports France is now seeking to delay the deal.
The AUKUS alliance has also caused disquiet much closer to home. Indonesia, Australia's nearest neighbour, issued a 'Statement on Australia's Nuclear-powered Submarines Program' in which it said that it is "deeply concerned over the continuing arms race and power projection in the region". Scott Morrison's planned visit to Jakarta next week has been cancelled because the Indonesian President Joko Widodo is no longer available. 
Malaysia has expressed similar concerns that AUKUS will trigger a nuclear arm's race in the region. 
And then there's China's reaction. It is best summed up in an article in the Chinese Communist Party's newspaper Global Times which says that the new alliance makes Australia "a potential target for a nuclear strike".  
Since the AUKUS announcement, China has applied to join the Comprehensive and Progressive Agreement for Trans-Pacific Partnership. Australian trade minister, Dan Tehan, has threatened to veto that application unless China calls off its trade war and resumes minister-to-minister contact with Australia. 
At the same time, Scott Morrison is in Washington for a 'QUAD' meeting. QUAD is the 'Quadrilateral Security Dialogue', a strategic arrangement between Australia, Japan, India, and the US. This is widely recognised as part of the four nations' strategy of 'balancing' against the rise of China in the Indo-Pacific region. 
Even before these latest developments, Australia's relationship with China, its largest trading partner, was difficult. Now it is dire and that will increase the economic costs for Australia. For example, former Australian Prime Minister Kevin Rudd predicts that the decline in Chinese students attending Australia's universities, a significant source of export earnings, will accelerate rapidly.
Australia's largest export earner is iron ore. The commodity's price has been sliding for months. It is currently around half its record earlier this year. That represents a big hit to Australia's iron ore producers and, through lower taxes, to the Australian government.
To date, the price of one of Australia's other key export commodities, coal, has held up. However, Australian coal is subject to a Chinese ban and there are several other threats to the country's coal industry on the horizon, including increasing domestic opposition from environmental advocates, the finance sector's growing reluctance to fund investment in the industry, and yesterday's announcement by Chinese President Xi Jinping that China will no longer fund coal-fired power stations overseas.
In the medium term, coal will suffer from the increasing focus on climate change and the move away from fossil fuels. One example is the European Union's 'carbon tariffs' on the importation of carbon-intensive products.
Scott Morrison, if he goes, is expecting a chilly reception at the COP 26 UN Climate Change Conference in Glasgow in November.    
A more immediate threat to the coal price, and to the price of other commodities exported by Australia, are concerns about the property sector in China, and in particular the emerging problems with Evergrande, known as China's 'Lehman Brothers' moment.
Evergrande is one of China's largest property companies. The Chinese construction industry is an enormous consumer of steel (which requires iron ore and coking coal) and of copper and nickel. If, as has been predicted for some time, the Chinese property sector is overdue for a major downturn, the impact on the price of Australia's exports could be significant.
That is the last thing Australian state and federal governments can afford. They have taken on vast amounts of debt during the Covid-19 pandemic to support the economy. According to the OECD's recent Economic Survey, Australia's initial fiscal response to the pandemic was the largest in the OECD. As a result, net federal government debt is projected to hit a trillion dollars and 40% of GDP in the next few years. The debts of state governments may approach another trillion dollars.
The implications of Evergrande for Australia are not limited to commodity prices. While the company has survived the immediate crisis this week, it has debts of more than US$300 billion and operates in a troubled sector. Some still fear trouble ahead. If Evergrande defaulted on its obligations, there could be a financial contagion with consequences for international financial markets. Australia would not be alone under that scenario.    
China's is not the only property market that worries Australian politicians and regulators. The domestic housing market is running red hot. Is it an unsustainable bubble, a natural response to record low interest rates, or both? According to data from CoreLogic, Australian house prices jumped 18.4% in the year to 31 August. That includes 5.2% in the latest quarter when much of the country was in lockdown.
To top off all the other uncertainties facing Australia, a federal election is due before next May. The Coalition government has the benefits of incumbency, but it has been in power since 2013. At the moment, it's hard to pick a winner.
Of course, when you consider the ongoing Covid-19 pandemic, the fallout from AUKUS, the growing discord with China, the emerging Evergrande crisis, volatile commodity markets, record government debt levels, and an overheated housing market, winning the next election might be a poisoned chalice.
And the way things are going, there may be new challenges just around the corner.    
---
Ross Stitt is a freelance writer and tax lawyer with a PhD in political science. He is a New Zealander based in Sydney. His articles are part of a new 'Understanding Australia' series.