Murray Grimwood traces a long history of 'false narratives', and finds we're now at the point where the consequences are biting hard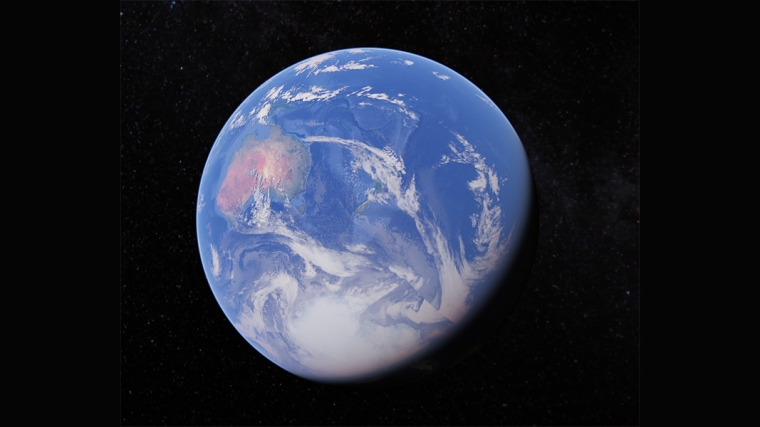 By Murray Grimwood*
All cultures have had narratives. Many were concocted to fill gaps in currently-held knowledge, and some of those gap-filling narratives evolved into beliefs. Problems come when knowledge moves on; those with vested interests in the displaced beliefs fight rearguard-actions; Doctrine Vs Darwin being a classic example.
Our current problem is that our collectively-held narrative was – and still is – incorrectly based, which has led to our beliefs disintegrating and polarizing even as narrative-incompatible knowledge becomes increasingly ignored. We are witnessing the second stage of narrative-change in a lifetime; the first was the exchanging of societal objectives for economic ones in the 1970's. Neither narrative addressed the overarching truth and now the economic one is clearly on the ebb; the imperative is to ascertain what comes next?
What the dominant culture believes:
The dominant culture believed that humankind is superior to Nature, via its superior ability to think. So dominant has this idea become, that many seem to assume we can achieve anything, fix anything, and get by without the rest of the biosphere.  
The dominant culture worships an ever-bigger pile of virtual, keystroke-issued debt-tokens. We call these digital tokens 'money', and expect to be able to exchange them for 'stuff' (processed parts of the planet), any time we choose.
The dominant culture lauds Growth; Growth is the default offering from politicians, Growth is the hope for the disenfranchised; Growth is the argument for the continued expansion of all activities.
The dominant culture has overridden, ignored or sidestepped those who have sounded clear warnings. That list includes Malthus, Mills, Soddy, Hubbert, Hardin, Catton, Meadows et al, and many since. Culprits in this overriding, ignoring and sidestepping, include politics, academia and the media; three sources society turns to for narrative.
The dominant culture is currently having an attack of the guilts. Ignoring the fact that all humans today are the result of countless dominations (survivals of the fittest, in pragmatic terms), it is seeking to assuage guilt by attempting to redress the most recent local domination-event.
And the dominant culture has adopted a weasel-word from economics, with which it has excused itself. The word is: 'Externalities'.  The problem is – they weren't.
The true narrative
Our true narrative can be summed-up in one simple diagram: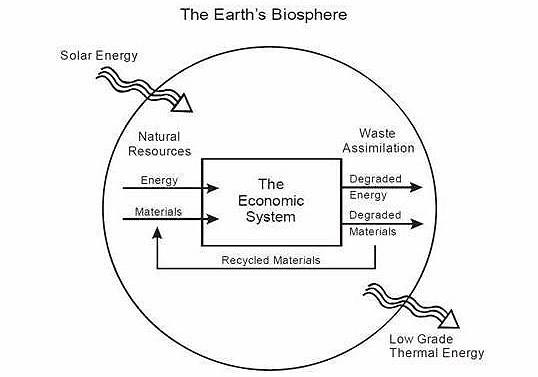 Take time to follow it through. Those injections and ejections of energy and materials (resources) are what we, inside the box, have called 'externalities'. The major portion of the energy we currently use is a finite stock of old solar energy; much more concentrated than the real-time solar supply. Note that without energy and resources going into 'the economic system', the latter……………isn't. Note that energy cannot be recycled; energy degradation (known as 'entropy') is strictly a one-way trip. Note that not all material can be recycled; physical entropy often takes too much energy to parry (which we see as being 'too expensive', and therefore avoid).
Inside that box and ignoring the outer – finite - circle, we chose to believe we could grow both our numbers, and our per-head 'consumption', forever. In short, we chose to believe a falsehood.
We chose to believe those who peddled a different diagram: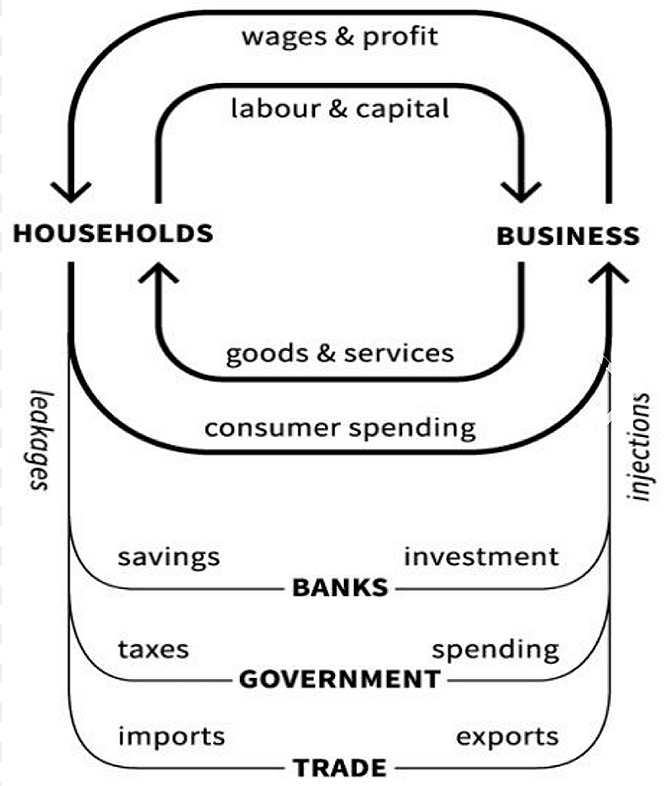 Note the lack of energy and material input; that is the only way infinite growth can be fudged, cranially. In reality, of course, it cannot be fudged, any more than perpetual motion is possible. We can sum up that diagram (and all the other post-Samuelson versions peddled by economics) as: A falsehood.
Compounding narrative failures
Atop the false perpetual-growth narrative, we built others. Human Rights, for instance; a totally invalid concept without population curtailment and/or without linking to resource and energy availability. Child Poverty, for another; again dependent on population and resource/energy availability. Child Poverty is really: Child lack of access to energy and resources. Only via belief in 'money' (keystroke-created debt that we issue in more quantity than the remaining planet can underwrite), could we believe we could achieve universal Rights or alleviate Poverty, without population control.
Another knock-on failure is the generally-held notion that we 'make money'. Actually, we are establishing a socially-agreed claim to a portion of the resources and energy coming into the Economic System box (from the left, figure 1). This could be done in other ways, as long as there is supply to match the demand!
More true narrative
The ability of a finite planet to supply resources (including fossilised energy resources) was inevitably going to peak, then decline. This was going to be exaggerated by our tendency to go for the best, first, which means that every 'next' option becomes 'worse'. Remaining minerals will be more dispersed, remaining energy options will deliver less work. Thus we enter a Red Queen trend; where we run ever-faster just to stay on the same spot. Then we go backwards….. 
Rock, meet hard place
True sustainability means being able to go on near-indefinitely. Clearly, our very recent growth-based-on-resource-draw-down regime does not qualify as sustainable. This tells us that it will end anyway, which tells us we are better replacing it while we still have maneuvering-room. So far, so obvious.
What we need to do is ascertain how much draw-down the planet can support – including ascertaining how much biodiversity we need to maintain or enhance. Then we can ascertain how much (in the way of resources and energy) we want per head; noting as we do, that only an egalitarian society can hope to have that discussion. That will lead to an optimum population figure; simple arithmetic really; shouldn't be too hard. Luckily academia has been there; Victoria University held a two-weekend symposium on this very issue…..in April 1972. They wouldn't have dropped such an important ball, surely?
False narratives and invalid histories
In reality, humankind is already grossly overshot. In reality, lifetimes are too long and remaining resource-stocks too depleted, to resolve this peacefully; thus too-many of us will fight over 'what's left'. To do that, we have to disparage 'others', which begs the question: Is the recent crescendo of anti-terrorism, anti-hate-speech, and pro-prior-indigenous comment, a form of denial? Of avoidance?
This resource-warring probability needs to be contextualized; which means re-writing history. Most wars are fought over energy and resources; most initiatives likewise. Lebensraum fur Herrenvolk, Greater East Asia Co-Prosperity Sphere, Cape-to-Cairo railway, Belt and Road; they're all the same thing; resource-sucks from a repressed periphery, to a powerful centre. To excuse ourselves for winning, we write that the 'others' we defeated, were 'bad'. Thus Lebensraum becomes 'those dratted Nazis' (who wouldn't have existed but for the angst within Weimar Germany). Thus WMD, excusing 'our' control of Iraqi oil. Others are labelled 'terrorist', 'communist'; anything to ostracize, anything to denigrate; but gagging the name-calling cannot gag the overshoot predicament. Are you listening, Prime Minister?
Looking back, looking forward
It is clear that narratives the world over, are disintegrating. The drivers are disenfranchisement, angst, and attempts to define 'self'. Those in turn, are driven by overpopulation, overconsumption and overpollution. Some societies are reverting to mediaeval forms; feudalism and religion-based repression. Some are going rapidly down a Woke rabbit-hole (in NZ, a large part of the Left, parts of the media and academia) by way of self-excuse-slash-virtue-signalling. Polarisation (Other-ising, by any other name) is rife and rising; farmer vs urban, green vs development, race vs race, rentier vs renter, old vs young. The once-standard narrative of owning a house and raising children in it, is being replaced with a rainbow of self-justifying personal explanations as the disenfranchised seek to make sense of their lives. 
No cultural narrative is true; all are largely self-justification. Seeing other cultures through rose-coloured glasses (the Beatles/Maharishi, the Woke brigade/pre-Treaty Maori) is of no assistance when de-constructing an overshot culture back to sustainable levels. Grasping other cranially-convenient narratives on the way down (that we can all live happily ever after if we just swap to EVs or some Green New Deal or MMT-type financial construct)   will be a waste of the remaining energy, the remaining resources, the remaining capacity of the planet to absorb, and most of all; the remaining time. All of which we are running out of.
Currently, we are witnessing exponentially-increasing competition for acreage. This has the ability to distort values of everything from food to timber; a totally predictable result of us using the planet faster than it can regenerate. There is no valid growth narrative, from here on in. We have to concoct another, before this one collapses. 
We need to look ahead in a Systems manner, using integrated science; not of the techno-optimistic kind, but of the 'we have to go with proven technologies' kind. We need to construct a new narrative; one not woven around extraction, consumption and excretion of finite and/or limited resources. We need to look at what worked for indigenous cultures – and what didn't. We need to ask what a less-energised society can keep, what it must discard, and what it can triage. In short, we need to chart a pathway from HERE to THERE.
What we need is clear leadership; clearly stating the problem, clearly putting systems in place to address them. For that we appear to have the heart; we do not appear – yet - to have the head. FDR did it with his fireside chats, Churchill with 'Blood, toil, tears and sweat', Ghandi and Mandela by sheer force of intellect. It can be done. It must be done. Are you listening, Prime Minister?
The new narrative will be longer in vision (seven generations hence, was one old indigenous yardstick). It will have to be more egalitarian; there is no other way to ration finite resources without angst. It will no double reverse some growth-era trends; city-folk going back to the land and food-production, for instance. Energy will be the new gold – as H.G. Wells (and others) predicted long ago. Triage – repurposing – of existing infrastructure will, for a while, be a major activity. Growth-based finance will only be found in the history-books; if of course we are still intact enough to write them. Globalism has already peaked, and will decline then collapse. Perhaps war(s) will interrupt that process, or even precede it.
It is important to note that every past civilisation has declined or fallen, and that for the first time the possibility of decline/collapse is global in scope. It is therefore essential that our narrative becomes based on fact. It will be an interesting time. We need to approach it wisely, we need to do the science, we need to listen to the science. We need to recognise cultural narratives for what they are: self-justifying stories. And those are the last thing we need, approaching this next, very different, phase of human existence.