NZ dollar friendless as global fears mount and markets see only one more OCR hike in 2010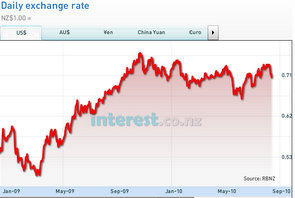 NZ dollar friendless as global fears mount and markets see only one more OCR hike in 2010
By Mike Jones*
The NZD found few friends last week. The twin headwinds of rising global risk aversion and reduced yield support saw NZD/USD tumble from above 0.7300 to almost 0.7050.
A sapping of global risk appetite saw investors flock back into "safe-haven" currencies like the USD and JPY last week.
In contrast, "growth sensitive" currencies like the NZD and AUD were shunned.
The US Federal Reserve issued a noticeably darker assessment of the US economy, and last week's monthly slate of Chinese data failed to reassure investors the Chinese economy can avoid a hard landing.
At the same-time, worries about the fiscal health of peripheral European nations flared up again as whispers about Irish debt difficulties did the rounds and credit spreads jagged higher.
Investors' more cautious assessment of the global economy slammed equity markets, and risk appetite suffered accordingly.
The MSCI World Equity Index plunged 4.3% last week and our risk appetite index (which has a scale of 0-100%) dived from 59% to 48.2%.
But it wasn't just the global backdrop that weighed on the NZD last week.
Locally, markets peeled back the extent of RBNZ tightening expected in 2010 to just one further 25bps rate hike.
NZ-US 3-year swap spreads slipped 15bps to 302bps as a result.
The reduced yield appeal provided an additional headwind for the NZD/USD last week. Looking ahead, this week's selection of largely second-tier local data will likely cast little influence over the NZD.
Offshore, it's a fairly quiet week for event risk as well, albeit with plenty to watch across the Tasman for RBA watchers. As such, we suspect the fortunes of the NZD will rest with equity market sentiment and global risk appetite this week.
Further souring in the global outlook, as indicated by sliding global equity markets, would see the NZD/USD come under further pressure. A convincing break through support at 0.7030 would suggest a deeper pull-back towards 0.6900 is on the cards.
Majors
The USD strengthened against nearly all of the major currencies on Friday. Over the week, the USD rose 3.1% – the biggest weekly gain since October 2008. Friday's Eurozone Q2 GDP result was nothing short of stunning. Growth in the euro region increased 1%q/q in June (0.7% expected), powered by a whopping 2.2%q/q expansion in Germany – the strongest since 1990.
Nonetheless, the upbeat data failed to provide any lasting market cheer, as worries about the fiscal health of the peripheral European nations returned to the fore. Not only did Q2's GDP data reveal further divergence in the fortunes of Eurozone economies (Greek GDP slid 1.5% in June), but an Italian government bond auction attracted only lacklustre demand. The spread between 10-year Greek and German bonds increased to above 800bps for the first time since May 7, helping drag EUR/USD from 1.2900 to almost 1.2750.
A decidedly tepid batch of US data added to the downbeat mood. July retail sales were a tad disappointing (0.4%m/m vs. 0.5% expected), CPI inflation was modest as expected and consumer confidence stabilised. Fittingly, US equities and bond yields ended the week how they began – in decline.
The S&P500 slipped 0.4%, to end the week down 3.8%. Meanwhile 10-year bond yields fell 8bps to 2.67%. Over the week, yields fell around 15bps – indicative of the recent souring in the US economic outlook. Despite the generally risk-averse backdrop, the JPY unwound some of its recent gains amid more attempts to talk it down from Japanese officials.
Over the weekend, Japanese Prime Minister Kan said "the yen strengthening has been bothering me", which will no doubt add to nervousness among traders about the possibility of official JPY intervention. USD/JPY finished the week at 86.30, around 1.7% higher than the 15-year low of 84.70 hit on Wednesday.
Looking ahead, there isn't a lot of key data out this week to either confirm or deny markets' perception that momentum in the global economy is on the wane. The highlights will likely be today's Q2 Japanese GDP data,
Tuesday night's slew of US housing figures and the minutes from recent RBA and Bank of England Board meetings. As a result, fluctuations in equity markets and risk appetite will likely provide key direction for currencies. This is particularly so given market focus has drifted away from relative growth differentials to the "risk on/risk off" type trading that tends to characterise periods of global risk aversion.
* Mike Jones is part of the BNZ research team. 
All its research is available here.