Opinion: Why the 'new normal' means years of deleveraging, slow growth, lower consumption and a new frugality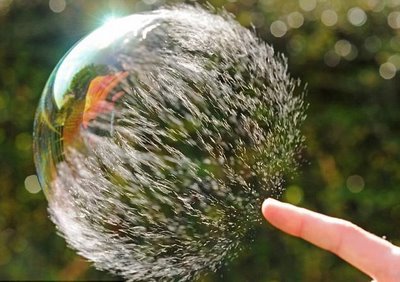 By Neville Bennett
The concept of a "new normal" is transitory. A better phrase could be "the era of debt and deleveraging", contrasting with the previous "era of moderation".
"Moderation" is an ironic name for an era which was characterized by the central banks creating an tsunami of cash which surged around the world, pumping up assets prices into bubbles, especially in housing.
Credit was easy, consumption flourished as never before and the central bankers congratulated themselves on keeping inflation in check. The bulk of their research was on inflation as they assumed markets would correct anomalies.
The New Normal is about contracting economies and households changing their behaviour to pay down debt.
Governments will wrestle with mounting debt-servicing costs and be forced to make severe budget cuts, especially in welfare and education. High structural unemployment will endure in the West and will fall heavily on youth, the unskilled and even mature workers.
High unemployment, higher taxes, foreclosures, and very tight credit will encourage a new frugality to consumers.
The share of consumption in GDP will decline. Savings should increase but savers will find yields low, especially in the deflation prone Japan and the USA.
The "L-shaped" Recovery
I stand by my 2008 prediction that the western-world recovery will be "L-shaped". It took many years to build up to the crash, and deflating prices of assets will take a long time.
New Zealand prices deflated between 1874-1895, and 1919-1938.
Reihart and Rogoff in "This time is Different" show that financial crises have enduring effects.
In the decade following the crisis, growth rates are significantly lower and unemployment significantly higher.
Housing prices take years to decline and then recover. Households and business take around 7 years to reduce their debt to more comfortable levels. The big lesson of history is that crises were preceded by a decade-long expansion of credit and borrowing and retrenchment took almost as long after the crisis.
Massive deleveraging is taking place in many assets, including housing and commercial property in US, UK and New Zealand, and in many securitized products such a mortgages held by many institutions and of course the Fed.
Government indebtedness has reached unsustainable levels in Japan, the US UK and much of Europe. These societies will suffer fiscally to repay this debt and also forgo many services.
Debt competes with new investment. This scales down business growth and may limit yields on equities. There are rebounds in a downturn, sometimes the recovery seems near to complete, but then there is another sharp correction and the trend remains bearish until deleveraging is nearly complete.
Consumption
The chart shows how abnormal US consumption patterns had become.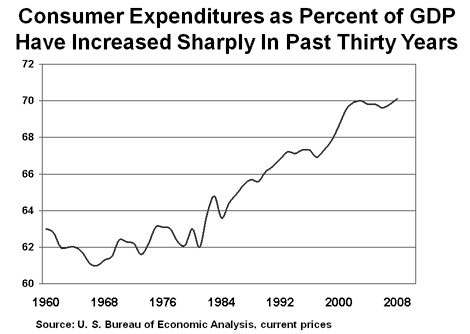 While the US consumers accounted for 70% of GDP recently, the historical average was closer to 60%.
The recent trend is anomalous in comparisons with other countries where consumption share of GDP is 64% in the UK, 56% in Germany, 55% in Canada, 36% in China and about 60% in New Zealand.
New Zealand will be greatly affected by the new normal: household debt will decrease, personal savings will lift, and consumption's shares of GDP will decrease.
The effects of this transition will shuffle though the economy, notably by reducing the bloated retail sector, and encouraging a greater export focus.
The magnitude of the change is uncertain. But a correction is necessary as debt-fuelled consumption ran amok in NZ, the USA and elsewhere where shop-till-you-drop dominated.
Household debt increased even faster. US household debt was around 60% of GDP in the 1970's but then it took off to 102% in 2008.
More accurately, personal liabilities in 2008 exceeded 130% of personal income.
New Zealand was worse: Household debt increased six times in dollar terms between 1990 and 2008 to a massive 160% of disposable income.
Debt servicing took 15% of disposable income. The magnitude of debt provoked few concerns until about 2008.
Banks were anxious to provide 100% mortgages, and consumers often enjoyed the "wealth effect" of rising home values and stock investments.
Consumers used their homes like an ATM: taking loans for home improvements, cars, furnishings and even holidays.
Personal savings virtually disappeared. They were about 10% of income in the 1970's but by 2008, Kiwis spent $1.13 for every dollar earned. Americans behaved similarly.
What now? A Frugal Future?
Wall Street worries when consumption is lower. I would tell them to get used to it. Consumers will spend less.
Treasury thinks Kiwis may spend only $1.06 cents for every discretionary dollar. I think people are already being more frugal in Christchurch.
A formerly popular food hall is now very quiet at lunchtimes: my guess is that office workers take a cut lunch and used the firms Nescafe. \
Life is tough for the unemployed, beneficiaries and students. As some of their fixed costs are rising they have to be even more frugal.
The pressure on charities is intense, and demand for community housing is growing as rents are not abating.
There are many riots in the US where thousands queue for a handful of rent vouchers. More than 39 million people are on food stamps.
The growing fiscal difficulties and rate-payer vigilance is reducing amenities just when demand is rising. Meanwhile, US households are often paralyzed by debt. See more here.
70 % of Americans are economizing. This is slowing down America's recovery.
The US could roar out of some recessions, like that of 1981-2, because the baby-boomers were young (many in their 20's) and high earners with heavy spending on homes, furnishing and cars.
Consumer spending rose 7.2% in 1982. The demographics are different now with many people scrimping in retirement. Personal debt is US$124,000 per household and that takes a lot of paying off, especially as house values have plunged and stock markets been volatile.
I believe that there will be considerable social change.
There was a good link in yesterday's Top 10 to "baby boomers" who have unemployed resentful children living with them.
In brief, my 'New normal' includes:
• Decline in retailing and construction sectors as drivers of growth.
• greater emphasis on export-led growth.
• Bi-inflation. Rising prices for commodities and gold, deflation in much of the economy.
• Structural change: high unemployment endemic in West except for successful exporters like Germany and Australia.
• Structural change: tight credit in the West limits consumption and investment.
• Investors scared of shares: very low bonds and bank yields
• Low economic growth in the West, partly because of:
• High Western debt leads to fiscal austerity.
• Fiscal austerity has severe consequences for much of the population in reduced entitlements and services. Negative feedback loop on employment
• Structural change in the West: less spending on consumer goods. This will compress Funding Western debt crowds out investment.
• Household saving in West moves from negative to positive, but net yield very low.
• Cultural acceptance of frugality and thrift
• Endemic youth unemployment employment
• Ethnic tensions.
• Growing popular resentment of austerity, sometimes expressed in riots and disorder.
• Confrontation between right wing groups and collectivists.
• Criticism of globalization and calls for protectionism