Opinion: Olly Newland details eight reasons why house prices won't crash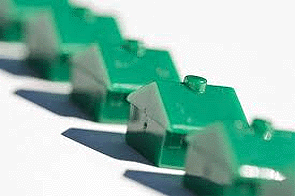 By Olly Newland

A few days ago Quotable Value (QV) came out with its monthly report and the headlines that followed were totally predictable:
"Property prices sliding" or "House values slip again" etc.
What a lot of rot.
Government-owned valuer Quotable Value (QV) has reported house values continued falling in October and are now down 1.6% from March.
QV said prices rose 2.8% between October 2009 and March 2010, but have since fallen.
However, they remain 1.1% above October a year ago.
"The low level of sales activity we have seen all year continued through October, with sales well below both last year and the long term average," said QV.co.nz Research Director, Jonno Ingerson.
"There is no sign of the traditional spring surge in sales, and we don't expect any significant increase in sales before the New Year," he said. Full QV stats and commentary here.
If you read that carefully, the part that really matters is buried three lines down, and that is that prices are actually 1.1% higher than they were a year ago.
The error made by many is to look at monthly sales figures and grab the the most catchy headline ... never mind the facts.
When analysing big ticket items such as house prices (which react very slowly one way or the other) it is the annual trend that must be watched, not the the day-to-day or monthly statistical wobbles. Look at this: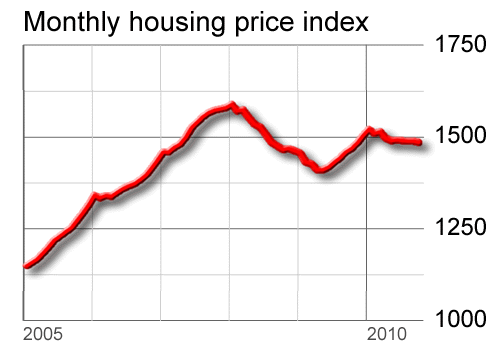 Monthly housing index chart here from interest.co.nz.
So looking back over the last twelve months we see that prices were steady with a UPWARD bias. (If anything.)
Exacerbating the whole matter is the fact that sales volumes are at a very low level. As prices are still staying relatively firm it proves what I have always known that 95% or people might want to sell or buy do not have to buy or sell ... so they stay put instead.
So we have no stampede of property onto the market, and forced sales remain mainly in the poorer areas where investors got tucked into buying slums by the now defunct "gee whiz" spruikers who pushed them into them.
REINZ: No Spring Surge In Residential Property Sales
So much for the doomsayers who predicted a 30% crash in property prices, together with the collapse of civilisation as we know it. (Sorry to keep bringing it up, boys.)
It hasn't happened. And it won't happen, for several irrefutable reasons:
(1) Interest rates are low and will likely remain so for some time.
(2) Building raw material costs keep rising ... which puts a floor on second hand house prices.
(3) Building consents are at an all-time-low which creates an immediate shortage.
(4) GST has now been increased to $15% ... which now totals around $60,000 on the cost of the average new $400,000 home.
(5) Immigration and natural population increase requires at around 20,000 new homes to be built every year and this is not happening. (20,000 houses x 3 people each = 60,000 people which is what natural increase and immigration is approx.)
(6) A whole decade of houses has been lost through the Leaky Homes syndrome as mono-clad houses risk major damage or even falling apart and becoming virtually unsaleable except for the land value of the section. (Considerable in some cases, but still a loss.)
(7) The number of rentals available is static or diminishing
and most important
(8) Rents are rising (see my article Rents sure to Rise )
The last point is very important.
The pointy heads in Treasury who advised Bill English to remove building depreciation from investment property in the 2010 Budget should be taken out and be given regular beatings with leather straps for their stupidity as the flow-on effects come back to bite them.
It is a basic fact that removing income from an investment portfolio (which is the effect of disallowing a tax deduction) simply forces the investor to seek fresh sources of revenue - and that applies to any form of investment whether it be houses or any other type.
And it has happened before, one would think the lesson might have been learned by now.
During the Muldoon regime 25 years ago, punitive taxes were imposed on the caravan and boat building businesses in an effort to raise revenue. It failed, and these two industries virtually collapsed within 18 months at an enormous cost in lost expertise and jobs.
There are now clear signs of these painful lessons not being learnt by our current crop of masters e.g.
Monetary policy
The Reserve Bank issued its half yearly Financial Stability Report. Dr Bollard' s statement correctly pointed out his concerns with regard to the strong NZ dollar and other matters none of which we, as ordinary folk, can do much about.
What did catch though my eye was this paragraph:
"On the asset side, the level of banks' non-performing loans now appears to be stabilising after rising steadily from mid-2007. We expect to start seeing an improvement as the economic recovery continues into 2011. Risks to this outcome would arise if the current softness in house prices were to become accentuated or if agricultural export prices were to drop off their current high levels.
Read the whole statement here.
Do I detect a note of concern about soft house prices? Is Dr Bollard saying that soft house prices pose a RISK to the economy?
I would remind Dr Bollard that he was one of the loudest critics of house price rises a couple of years ago, and indeed, I would go so far as to say he 'declared war' on house prices and said that people had invested too much into the property market and this should be curbed.
So now, we have, in typical double-speak, an admission that soft house prices are detrimental to the recovery. Well he should have a cup of tea and a chat with Bill English and John Key sometime ...to get their story straight.
This lot did their level best to derail and damage the property market and we now are paying the price by obeying like sheep.
It can also be noted with interest that the Goodman Property Trust just announced that it lost $100M because of the tax changes That means tax revenue will be $30M approx less and if the loss is carried forward the tax take shortfall will continue. Multiply that by hundreds of thousands of commercial properties up and down the country and the tax losses will be gigantic. Well done Bill and Alan.
Goodman Property Trust takes $131m depreciation hit
It wouldn't surprise me in the least if sometime in the near future the politicians change their tune and one way or the other try to get the property market moving again by changing or softening the depreciation rules in recognition of this monumental blunder.
There is no doubt in my mind that rents will steadily rise as investors re-align their incomes. Why wouldn't they? I will wager that 12 to 18 months from now we will be seeing headlines about rental shortages. Indeed, we already are starting to see the pressure go on when we read Barfoot and Thompson's latest release and see that rents are now at record levels:
Barfoots analysis October 2010
I am confident that inflation is just around the corner and with inflation comes distortions and opportunities.
Inflation is the "speculator's friend". If you stay on your toes you can do very well out of it.
Just to get into the right mindset, inflation is not caused by speculators (as Bill English and others of his ilk try to suggest) but by Government actions, especially by raising costs (e.g. GST or carbon emissions taxes ) or simply by printing more money.
We are, as ever, at the mercy of international trends. So it is highly likely that when inflation takes off overseas through the printing of money, the effects will be felt here as well.
Dollar at Risk of Crashing, Triggering Inflation: Strategist
Investors can protect themselves by buying into assets for which there is a demand, but with a limited supply. Property fits the bill perfectly.
I would place a bet that in five years time, we will be looking back wistfully at today's prices and wish we had bought more.
Even more satisfying will be the blubbering of those silly sods who were convinced that a property crash would be well and truly here by now and instead chose to rent instead of owning.
How many times have I seen this before?
People rent because it is cheaper in the short term.
But one day they will wake up and find property prices have shot away leaving them stranded as renters who don't even own the letterbox ... forever.
Alternative Investment
Then of course there are other investments that should be considered such as gold (read my book The Day the Bubble Bursts - boy - did I get that one right!) and look at the charts and weep:
I've long advised property investors to park some of their spare cash into alternative investments such as gold, art, antiques and the like. Each market has its day in the sun and can come in very useful when things get tight.
BBC: Art price rises 'driven by high-value deals'
Every dip in the gold price should be used to accumulate more as a hedge against inflation but only buy at the spot price, not some fancy price.
While we are on the subject of gold, or other precious metals, including jewellery and the like, beware of the hucksters out there offering to buy your old gold for cash. In many cases you will be ripped off a treat.
Recently, as a test, I offered some gold sovereigns to one of these outfits and was offered NZ$300 each. (A sovereign is approximately one quarter of an ounce.) The market value using the spot price was NZ$420 per coin (viz USD$1400 per oz) at the time ... and when I queried the price, they said that they only paid the 'scrap value' for gold, whatever form it came in! (One quarter ounce = NZ$1800 approx so one sovereign should be minimum NZ$450 plus a small premium.)
There are reputable dealers out there who will pay and sell gold with reasonable margins. Avoid the hucksters at all costs.
Australia
Much has been said about the Australian "boom" and how Australia dodged the recession bullet.
That's true to a point but the bell is tolling for the Australian economy and I predict that Australia will soon enough have a dramatic down turn driving may Kiwis who immigrated over there of late, to reconsider their actions and perhaps even come to regret them.
Australia's Federal Reserve only last week unexpectedly raised interest rates again by 0.25% putting a dampener on the Melbourne Cup which was run on the same day. (It spoiled the festive mood of the day as was widely publicised.)
This was followed by the Commonwealth Bank of Australia (with equally appalling timing) putting up mortgage rates on the same day by 0.45% which caused near riots as borrowers literally took an axe to them. (One fellow chopped down an advertisement for that bank in protest!)
Melbourne was one of the main "boom" towns of late, as was Sydney, and they have both suddenly turned sour. Many people stand to lose their homes because if the overheated state of the market.
Auction rates sink to two year lows
It is also instructive to note that Australia suffers the same blight as this country with property spruikers pushing deals while clipping the ticket at the same time
link: Property spruikers on the return: Sweeping risk under the carpet
I would remind readers of my column that I am totally independent and do not have any interest in any property that clients may be considering - unlike many others out there who blatantly promote 'wealth through property' (whether here or offshore) and who shamelessly clip the ticket on the way through.
A small investors story
I had a sad story came across my desk last week. A working class man in his mid seventies, now retired, had laboured all his life to make a living for himself and his family.
His greatest achievement was to build for himself some 30 years ago, a nice family home and income which he had long paid off.
But he had a dream all his life and that was to make a new type of bed (yes, it's true) and 2 years ago he completed his dream, took out patents, and made some prototypes.
So good was his idea that his bank lent him some $850,000 on his home (now valued at $1.5 million after all the years) so that he could complete the dream which he did. The bank did the research for him, backed the idea and encouraged him all the way.
He then sold the whole idea, some 12 months ago, patents, prototypes and all for $1.5 million to an Asian firm who paid him $50,000 deposit with the balance to be paid 3 months later. (Where was his lawyer in all this? Gone into hiding it seems!)
But then the buyer went into receivership. The patents are now locked up in the mess with the receivers and it will take a year or more to sort things out, if not longer.
In the meantime, the bank that so willingly had lent him the money turned nasty.
Because my client could not keep up the interest payments, having only a small pension on which to survive, the banks raised the interest rates to the penalty rate of 19% turning an $850,000 loan to $1 million in no time at all. Refinancing is out of the question because of his income and age.
Despite pleas for mercy and some time and understanding, and despite the fact that my client has found another buyer for his patent and dream which would clear everything given time the bank is forcing a mortgagee sale of his home.
Next week or the week after he will be homeless, penniless and suicidal - all because the friendly bank - that backed him all the way in the beginning - has now turned vulture, and wants his blood ... and doesn't give a hoot how it gets it.
Sad as the story is, it happens to the big fellows as well. Read about the harsh and unforgiving treatment being meted out to another developer who was doing his best when it all went downhill:
BNZ counsel dismisses Fontein allegation it passed up better sale opportunity
Lesson: Despite all the soothing words and warm and fuzzy adverts, banks are run by faceless bureaucrats. Take care when dealing with them. When things go wrong they have big teeth.
Olly Newland
November 2010
www.ollynewland.co.nz
© 2010 Olly Newland. Used with permission.