Alex's politico-economic blog roll: Gareth Morgan's wet dream; the left's PPP tennis; thank God for a floating Kiwi$
Here's this week's politico-economic blog roll, a round-up of economic posts on various NZ blogs from the past week. I welcome links to any posts I've missed or over-looked.
A lot out there this week. Seems like Don Brash pushed a few buttons.
From the right
1. We'll begin with the right this week. - Kiwiblog's David Farrar says it's good to see come common sense emerging from Labour Finance spokesman David Cunliffe, who said last week Labour would look more closely at Public Private Partnerships (PPPs) (more on that here).
Cunliffe had talked about using PPPs for new transport infrastructure.
Yay. PPPs should be on the table as an option in pretty much all circumstances. Decisions on whether to have a PPP should be made on the merits of an individual case. Great to see Labour starting to take steps away from ideology and towards rationality.
Farrar's also initially happy that Labour will begin to look at "un-leashing" State Owned Enterprises by allowing private investment...However he takes this back due to Cunliffe's comment that this would only be for new subsidiaries of SOEs.
Now Labour have pointed out that their policy is intended to apply to new subsidiaries only, but that is frankly illogical. Take Kordia for example. A while back they purchased Orcon. This means the taxpayer now owns an ISP. Labour seems to be saying that Kordia is not allowed to sell Orcon.

This is the bizarre outcomes you get from blanket bans. Private sector investment in any state asset should be considered on a case by case basis. There is a pretty strong argument to own Transpower, and there was a very weak argument to own a chain of competitive vehicle testing stations.
How all this would fit with Labour's new foreign investment policy is anybody's guess.
Cunliffe's speech was wide-ranging but included very little detail. He said more detailed policies would be unveiled next year, no doubt after sniffing the wind on these latest comments.
2. Why Ireland went bust -  It was due to big government, not economic liberalisation, Business Roundtable boss Roger Kerr says.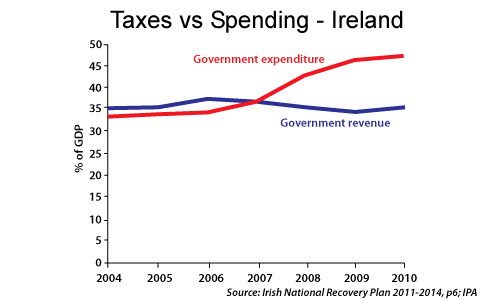 From 2000 to 2009 average public sector salaries increased 59%
In 2004, 34% of income earners were exempt from tax. In 2010, 45% were exempt
In 2007 property taxes generated 6.7 billion euros.  In 2010 that figure will be 1.6 billion
In 2009 interest on government debt was 8% of tax revenues.  In 2014 it will be 20%.

Naysayers try to tell you that the Celtic Tiger was a myth and that free-market policies brought the Irish economy down.

The truth is exactly the opposite. Liberalisation caused the Irish economy to surge until a return to big government crushed it. Membership of the eurozone, poor banking regulation and the government guarantee of bank depositors and creditors were also major factors.
3. Privatise the bastards - Kerr also has a go at Prime Minister John Key for his comment on the live Stuff chat that National had ruled out total sales of any SOEs (more on that here).
Key's was asked Asked: Will the national government ever consider the total sale of any public assets? To which he replied: "We're not planning total sales, and have yet to conclude whether we might entertain the idea of partial floats."
It is an undisputed fact that over time and on average businesses do better in private rather than public ownership.  

John Key is rightly respected as a pragmatic and trusted leader with the common touch and plenty of common sense and business acumen. He has the ability to raise public understanding of the economic gains that would ensue from privatising state assets – particularly lower prices and better services for the public. Privatisation should not be seen as ideological – it is a pragmatic course of action that the public should understand. Why not at least try?
4. Gareth Morgan's wet dream. Cactus Kate takes a look at Hong Kong's new property tax (see post 'You can't stop China'), saying it's gone slightly loopy bringing in 'special stamp duty' (SSD).
I agree with the government that Hong Kong currently is "m" for mental. Most blame the Chinese "hot" money but lending and deposit interest rates of next to nothing brought on by the HK dollar peg to the USA are I think more the issue with most of the market.

Think in New Zealand of the effect on property if interest rates were say 2% floating, liquidity was reasonably easy to come by and rents were say double what they are now. Which is precisely the HK residential property market. It is stuck with USA pegging with superior economic conditions to the USA.

SSD is something that Gareth Morgan can only have a wet dream over. Details are here.

It's like a CGT on methamphetamine.

The buyer AND the seller are jointly liable. The SSD applies to residential and not commercial property, such is its specific targeting. It is a punitive duty on the total sale price of your property. It is dutied now on all sales and if your property is sold within 2 years of purchase a sliding scale applies on the higher of the consideration or the market value:

15% for property held for six months or less

10% for property held six to twelve months

5% for property held twelve to twenty-four months

And get this, even if you don't make a profit on the sale - you are still liable for the duty.
Imagine if National tried to impose that here. Pigs flying. I wonder if the Greens would even consider it over their calls for a capital gains tax?
5. 'Good on Don Brash' - The chaps at Not PC have a piece from Libertarianz leader Richard McGrath saying he enjoyed Don Brash's latest Orewa speech (go down to Wednesday's posts).
This is a government is utterly devoid of any vision. Like the Labour one that came before it, the dominant priority is retaining power at all costs.

There is no secret agenda. There are no secret plans to privatize anything. They have no intention at all of liberating New Zealanders from excessive taxation and regulation.

What a complete waste of time these last two years have been.

What a vacuous waste of space this Key-led Government has been.

Even though he must surely know Dr Brash's prescription is correct, I hold no expectation that John Key will have listened to anything that was said to him.

Unless serious moves are made to stop the government living beyond its means, however—which will not happen as long as Bill English retains a ministerial house—the  standard of living for Kiwis will only continue to drop further.
From the Left
6. PPP tennis.. MartyG at The Standard says he was disappointed by Labour Finance spokesman David Cunliffe's remarks on Public Private Partnerships.
Not only because PPPs essentially involve privatising business gains and socialising the losses, or because they've been an abject failure almost everywhere they've been tried, but because one of the major weak-points National has going into the next election is its second-term privatisation agenda.

By effectively backing privatisation Cunliffe has just made it a lot harder for Labour to attack National on the issue.
Cunliffe hit back on Red Alert, saying MartyG misinterpreted his stance.
1.  His opposition to PPPs appears to be as blindly ideologically based as National's blind ideological support for them.  Labour's policy before and since the last election has been based on providing the best value for New Zealand taxpayers, regardless of ideology. 
And
8. Labour is not soft on privatisation. Our opposition to private prisons and SOE sales underlines that.  My recent speech explicitly ruled out any dilution of any Crown equity in any state asset or existing subsidiary.  That bright line test restates our strong "no sale'" policy that provides ongoing strong differentiation form National.
MartyG returned Cunliffe's volly with a backhand to the baseline:
Now, I admit that I painted Cunliffe's mentions of privatisation and PPPs in broad strokes. And I realise that technically this wasn't anything new (which raises the question of why Cunliffe re-announced it). But guess what? In politics your policies will inevitably be characterised by the media and interpreted by the public in simplistic terms. 

There's a difference between National and Labour's policies on SOEs and privatisation  – National: we might part sell SOEs, Labour: we might part sell new subsidiaries of SOEs as long as it doesn't dilute equity in existing SOEs – but they look very similar to the casual observer. Especially since National could just adopt Labour's policy, carve SOEs into 'new subsidiaries', and sell them off for the same result as its policy.
National's seems pretty comfortable about Cunliffe's PPP policy and with the fact the two party's policies are so similar.
7. Key still wants to be like the Irish. MartyG also has a go at Key's comments that he wanted to speed up work on turning New Zealand into a financial services hub for foreign funds that won't be taxed (more on that here). The Standard last week had a go at Key's 2007 wish for New Zealand to emulate the Irish model of a services economy.
An international financial centre is kind of like a Thunderdome for financiers. Despite being in New Zealand, our normal rules, especially tax law, wouldn't apply. You could see this hubs as the ultimate expression of late capitalism – enclaves carved out of nation-states specifically so that the capitalist elite can trade tokens of value that exist many steps removed from the real economy, acting with reference only to the holy 'laws of the market' and not the democratic law of the nation.

...

MED is the most-pro neoliberal ministry by a long, long way and if even they're saying 'hey, let's do this properly and take our time', it's worth listening. But, no, instead the spider fancier has asked the woodwork teacher to slap something together and they're going to use that as the basis of complex financial policy. As one civil servant was saying to me the other day, Labour goes to the ministries for advice and generates policy from that advice, the Nats go to ministries and say 'here's what we're going to do, make it look justifible'.
8. Bedtime for Brash? Someone at Frogblog is sick and tired of hearing Don Brash waffle on.
The upside of Brash's speech is that it was to National Party faithful. While John Key is publicly relaxed, he will privately be spewing.  Brash set out in technicolour the agenda that some in National would like to move much more quietly towards – deregulation, privatisation, and denial of indigenous rights.

I suspect whoever in the National Party cleared Brash to deliver this speech will be (very quietly) getting his or her butt kicked right now.

But there may be an upside.  That would be the divisive impact Brash's speech will have had among the National Party faithful, and the marginalization of Brash and his extremist economic and racial views by the National Party hierarchy.
9. How should Auckland grow? Green MP David Clendon muses about Auckland growth strategies at Frogblog. He says the Greens are opposed to further low density urban sprawl around Auckland or any of out other major cities. You listening Hugh?
The government has already made their position pretty clear – both through the release of their new document "Building Competitive Cities" and through Steven Joyce's recent comments in the Sunday Star Times.

They want to see Auckland grow outwards as they believe that removing the Metropolitan Urban Limit and zoning more land on the urban fringe for development will lower housing prices.

Building Competitive Cities even suggests that councils should allow enough land for 20 years of urban growth on the outskirts of their cities. In Auckland's case, that would involve providing enough land for about 600,000 people or 200,000 houses.

The Green Party is opposed to allowing further low density urban sprawl around Auckland or our other major cities. We'd like to see our cities grow outwards in a planned fashion along public transport links. There are a variety of reasons for that which I hope to cover in some blogs over the next few weeks.
Economics blogs.
10. Brash working on his political legacy. Otago University politics lecturer Bryce Edwards says Don Brash's latest Orewa speech (more on that here) read more like a speech from a member of the Opposition. However, Edwards doesn't think Brash is making a political comeback or wants to regain the National leadership (he's still a member), saying: "It must be clear to Brash that his time has past. But he will be grappling with his political legacy and how to manage this."
Don Brash is clearly seeking to set himself up as the 'critic and conscience' of the National Party. In this way he can be the lightening rod or vehicle for those in the party that are uncomfortable with the John Key-led moderation of the current National Government. There is definitely a large section of the party that is very unhappy with the centrist direction of their own government. This is especially the case when it comes to economic and ethnicity issues, and so Brash has quite astutely taken up these two areas in his speech.

...

Don Brash's speech will go down very well within the National Party. There is a large proportion of the party that would like to see the Government return to its original principles and show a bit more backbone. However, Prime Minister John Key will be very unimpressed with Brash's speech. Not only is the speech a thinly veiled criticism of him and his leadership, it has the possibility of fomenting internal party dissent and dispute, which is never welcomed by a party leader.
11. Matt Nolan at TVHE has some good musings on why our situation is not like the Greek and Irish situations, despite NZ having high debt.
He takes a wee stab at those advocating we peg our dollar, saying the fact we have a floating exchange rate is one of the reasons we're not in the stook.
There are two major differences that have helped reduce the implied risk on our debt, making New Zealand much less likely to experience a bank run:

Our banking system is primarily foreign owned (Eric Crampton expands on why this is a good thing),
We have a freely floating exchange rate – combined with having much of our debt denominated in NZ$ this is useful.

These are important points to recognise.  While many commentators are saying we should "peg" our dollar and set up more domestic ownership of banks GIVEN the risks associated with the GFC, I tend to reach the opposite conclusion – namely, the reason why we haven't suffered as much as these countries has been largely the result of our free floating exchange rate and the fact that a larger economy has a large stake in our banking system.

The terms of trade boost and our proximity and exposure to Asia has also helped, but I would say that the Greek and Irish crises give us a reason to hold onto the status quo – not to chuck it out!
Eric Crampton at Offsetting Behaviour agrees:
We're far more robust to shocks to the domestic economy than we would be if our banks' asset base were heavily New Zealand oriented. The Aussie parents are hardly likely to let their NZ branches fall over in the case of a liquidity problem here. But the NZ branches are operationally separate, subject to local prudential regulation, and hold reserves in New Zealand; if the Australian property market collapses, it would be very tough for an Aussie parent bank to lean on the New Zealand branch for assistance.

Systemic shocks and correlated risks are bad things for banks. Why would a small country ever want to rely primarily on "Local banks for local people"? Yeah, there are lots of systemic risks against which we can't insure easily. But that's no reason to try to make things worse.

Perhaps America should encourage Canadian banks to set up branches in the States....