Alex's politico-economic blogroll: The Greens' Clendon doesn't like sprawl; Farrar says our borrowing's unsustainable; How Auckland's rate rise could hurt Hide
Here's my politico-economic blogroll for the week. Some good fun down here in Wellington what with the government accounts, Savings Working Group and everything else over the last few days.
Week also included the annual press gallery party which Bernard came along to as well (he actually stayed longer than me - that fizzy water was pretty good eh Bernard). (Cheers Alex- ed)
What's more, I just bought a holiday cricket set from Kathmandu for NZ$30. It was down from NZ$90. That is called pre-Christmas discounting folks. Fantastic. There is no depression in New Zealand.
I welcome any links to other posts you've seen in the comment space below. Hope you have a great weekend all.
From the right
1. NZ$300 million a week is unsustainable, cut spending! This is from Kiwiblog's David Farrar after the government announced it would increase its borrowing program to NZ$300 million a week when it released it's half year economic and fiscal update.
This level of borrowing is simply not sustainable. The answer is not to tax and spend as Labour has promised (they have indicated they will increase at least the top tax rate) but to restrain or even reduce spending.

The OBEGAL (Operating Balance Excluding Gains and Losses) is forecast to just his surplus in 2015. To achieve that will require massive fiscal discipline – no spending sprees in both the 2011 and the 2014 election years. And even after 2015, massive restraint will be needed to give us a cushion going forward.

By 2015 core expenses are forecast to be 31.7% of GDP, down from 34.9% this year. That is going in the right direction but still too high in my opinion. I'd like to see both National and Labour indicate what their desired level of spending as a % of the overall economy is. These would not be legal straitjackets, but targets they can be measured against.

I think a realistic long-term goal is in the mid 20s – maybe as high as 28% but no higher. If we keep spending down, then the average economic growth will be significantly higher – and that is how we create jobs, grow wages, and close the gap with Australia.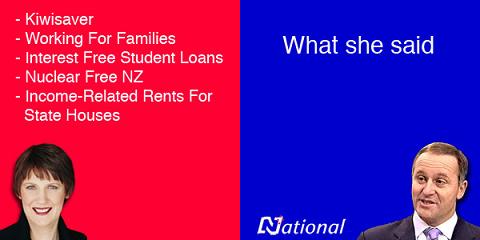 2. Will Auckland's rate rise be the (political) death of Rodney Hide? NotPC has a go at Rodney Hide after the Auckland Council indicated it would look to raise rates by 4.9% in the 2011/12 year. This comes after an Auckland planning document (which was written by Hide) indicated a rate rise of 3.9%. Hide said he was disappointed about this as a ratepayer, but he wouldn't tell me what he thought as Local Government Minister. I should have asked what he thought as MP for Epsom.
Ironic, isn't it, that the both the super-sized government and the rates increase were delivered by the leader of a party purporting to believe in lower taxes, smaller government, and restraints on political power.

Apparently not.

So given that Epsom voters will be opening their rates demands about the same time next year they'll be opening election campaign literature—many of whom will be wondering why their MP devoted all his party's hard-won political capital to raising their rates, and to expanding the power of planners over their lives and property—I'm looking forward to watching voters to take a very large Rodney on him at every public meeting, and in the final vote.
3. Here is Hide in Parliament last year avoiding saying how much the implementation of the Super City would cost. Rather farcical.
From the left
4. Drown government in a bathtub. The Standard bloggers have been having a good ole go at the government for managing to run a hefty deficit while maintaining the tax cuts were fiscally neutral. Eddie at The Standard reckons he knows what's going to happen next.
Grover Norquist put it colourfully when he said "I don't want to abolish government. I simply want to reduce it to the size where I can drag it into the bathroom and drown it in the bathtub."

This is what is happening all over the world. During the boom years, governments everywhere cut taxes, even Left ones like Labour, who at least cut them to the bottom end more. It seemed like they could afford to, with the massive surpluses they would otherwise have been running (except the UK and US, which ran deficits even in the boom years). Along came the great recession and more tax cuts, this time to stimulate the economy – even though the evidence is that greater government spending is more stimulatory.

Now, the deficits are out of control here and abroad. Does anyone say 'hey, lets just return tax levels to where they were when we didn't have a structural deficit?' No. Because the Right has been very very successful, with the centre-Left's meek acquiescence, in making raising taxes nearly impossible. Instead, the 'only solution' is austerity cuts to public services.

There's no crisis without opportunity, and this crisis is playing perfectly into the right's hands. We'll be told that 'extravagant' public services are no longer affordable and health and education will get big cuts. We've already been softened up for welfare cuts. And asset sales will also become 'necessary' to pay off our debts.

We've been here before – 20 years ago. Starve the beast worked then, and it's working now.
5. Solution to Auckland housing is not sprawl. Greens MP David Clendon elaborates on his thinking about Auckland house prices and how to provide cheaper housing in our biggest city. He doesn't like the sprawl idea because we would have to provide costly infrastructure to the fringes. Releasing greenfields for development is only a short-term solution, he says. We'll get his solutions next week.
Unfortunately, it seems the government has brought into the myth that the best way to increase housing affordability in Auckland is to encourage greenfields development on the fringes of our cities.

This is at best only a short-term solution to housing affordability. Houses on the urban fringe may cost less for first time buyers but over time they'll cost us all more. Why? Well, the cost to local and central government of providing new infrastructure and services (e.g., waste disposal, water, electricity, roads, public transport) to spread out developments on the peripheries of cities is high.

...

Right now, it might still be cheaper to buy a house in Ranui and commute than live in the CBD. But given the various reports coming out about the likelihood of increases in oil prices (and petrol has cracked the $2.00 / litre mark again) , it seems very likely that the cost of transport (particularly private vehicles) will rise dramatically in the near future.

Finally, the more people live on the outskirts of our cities in areas with poor public transport the more likely they are to commute by car. Added congestion on motorways heading into the cities costs us all in terms of lower air quality, wasted time, and stress.

And, of course, when they get into town they need to park their cars somewhere - taking more space in the centre of our cities that could otherwise be used more profitably for housing or commerce.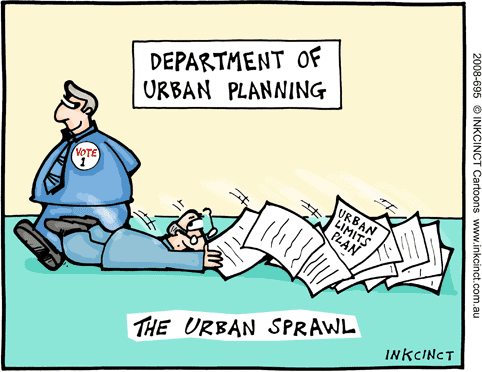 Economics blogs
6. We borrowed to buy bigger houses. Economist Matt Nolan at TVHE thinks we were spending too much building bigger houses. Matt was reading Stats NZ's new Institutional Sector Accounts, which showed we are still spending more than we earn, although our dis-savings have been getting smaller.
The key thing to differentiate for me here is – were we spending too much building houses, or simply building up the mortgage in order to consume excessive amounts of non-housing goods.  My impression is generally in the former camp, and I'm hoping that a bit of time looking at this data will give me a clearer idea of which view is more reasonable.

I continue to believe that any adjustment in the NZ economy will come through investment in housing, rather than through a large scale shift in household consumption (which if anything has been restrained in NZ).  In this view we borrowed to build bigger houses, not to buy plasma TVs.  So it will be interesting to see.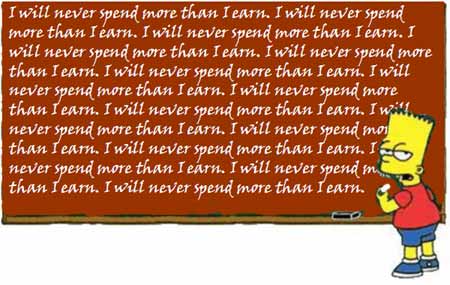 7. Our youth unemployment high relative to adult unemployment. Eric Crampton at Offsetting Behaviour blogs about a chart in the Economist showing we're up there with only Sweden and Luxembourg in terms of our youth unemployment rate being more than four times higher than our adult unemployment rate.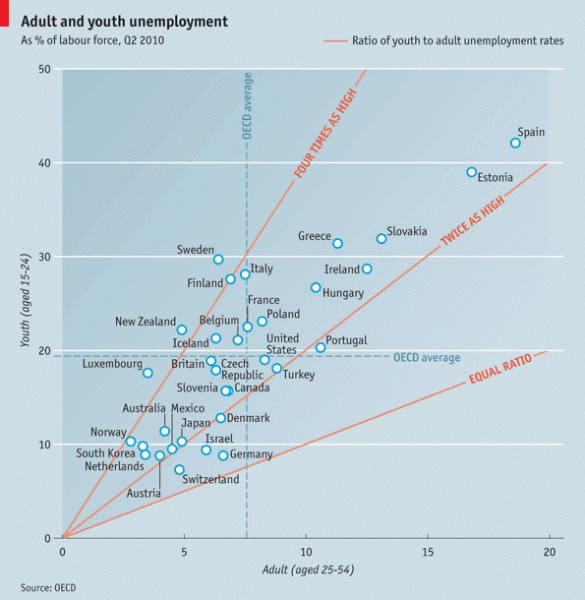 I'd noted that youth unemployment during the current recession, relative to adult unemployment in prior recessions, seemed really high. I'd argued that it looked likely due to the elimination of the differential youth minimum wage.

...

It would be awfully interesting if anybody had compiled a dataset of OECD countries' youth minimum wage policies. The multiple's correlate with the ratio of youth to adult minimum wage, coupled perhaps with some measure of the bindingness of the minimum wage, would be worth investigating. 
Video
8. Here's Labour's Jacinda Ardern seeking to table her own press statement in Parliament. Ha, was that was because no one would have read it otherwise? I guess you learn from experience.